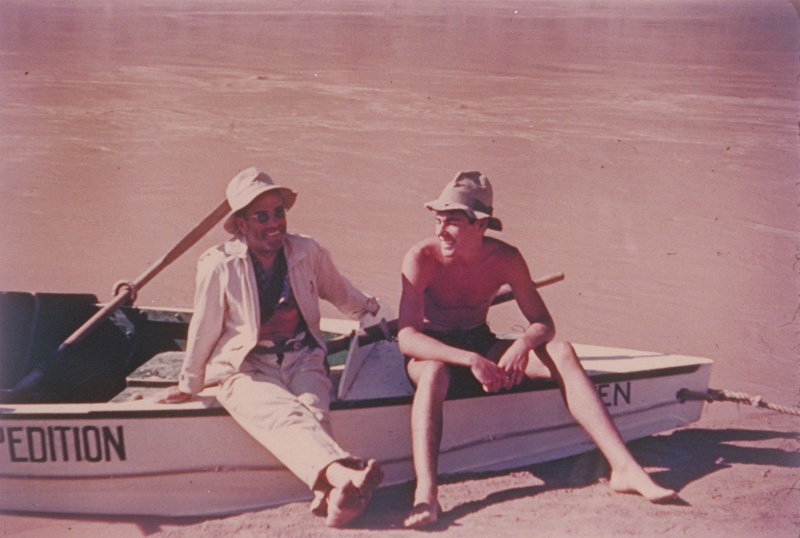 If you're not taking your kids on a trip over spring break, you are likely starting to make plans for summer vacation. Perhaps you're sketching out an itinerary for some new destination, or maybe you are returning to a favorite locale that beckons you and your family again and again, turning it into a lifelong passion.
Recently the Huntington Digital Library added a collection of 35,000 images that reflects just such a passion—the Otis Marston Colorado River Collection. This collection is the result of many travels up and down the Colorado River through the Grand Canyon by Otis "Dock" Marston, often called the dean of Colorado River historians and fast-water boatmen. And it all began with a single trip in 1942 that Otis took with his son, Garth.
As related by Jeffery Marston in an obituary for his father, Garth:
The Marstons' first trip on the River was purely a matter of luck. Two of Dock's Bohemian Club friends had found out about [a] new adventure idea and had signed up with their sons for the 1942 trip. One of the pairs dropped out and Dock's Bohemian friend contacted him about having [Dock] and his son replace the other father-son team. It is not too farfetched to speculate that Dock may not have gone on the trip if he did not have an athletic teenaged son at the time.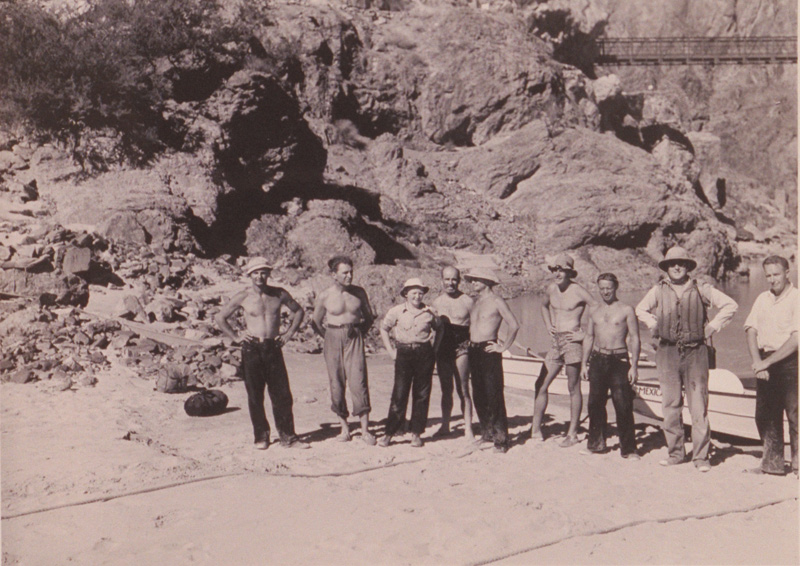 From that singular trip, a lifelong passion grew. Dock spent the next 30 years traveling the Colorado River and its tributaries in nearly every type of vessel. And in the last 37 years of his life he accumulated literally everything that he could on river-running, history, landscape, and individuals in the Colorado, Green, San Juan, Salmon, and Snake river basins for the period 1870–1978.
That extensive archive came to The Huntington in the 1970s, including an amazing set of images, culled from numerous sources and then correlated by mile on the river. These images capture not only Dock's many trips, including a historic 1960 river run on jet boats, but those ventures of John Wesley Powell, Robert Brewster Stanton, the Kolb Brothers, and many others. Much of this photographic archive is now available online through the Huntington Digital Library (HDL).
The HDL was launched last summer and features more than 150,000 images, including items from the Solano-Reeve Map Collection, the Jay T. Last Collection of Graphic Arts and Social History, and digital reproductions from rare books by the likes of William Blake and William Shakespeare. There are also sketchbooks of two brothers, William Rich Hutton and James D. Hutton, who travelled to California in the late 1840s.
You can browse through the HDL at hdl.huntington.org. Information about permissions to reproduce and publish images can be found on the HDL website.
Captions, top: Dock and Garth Marston, Grand Canyon traverse of 1942. Photo by Neil Wilson. Bottom: The 1942 group on the beach at Bright Angel Creek: Norm Nevills, Ed Olsen, Bruce Wilson, Dock Marston, Neill Wilson, Garth Marston, Pres Walker, Ed Hudson and Wayne McConkie. Photo by Ed Hudson.
Mario Einaudi is the Kemble Digital Projects Librarian at The Huntington.