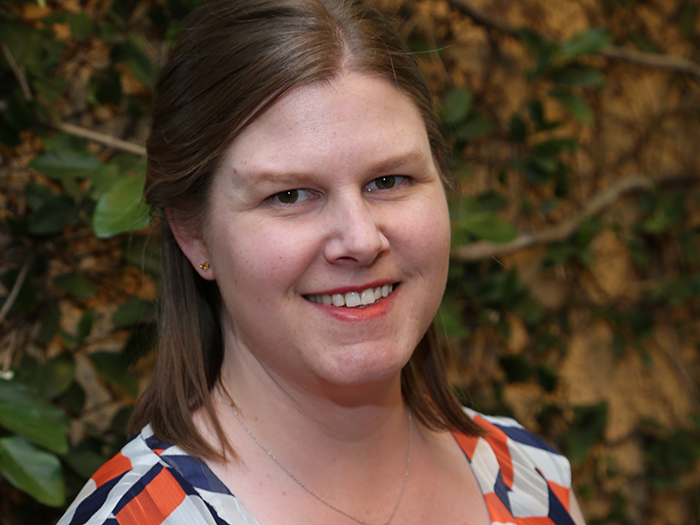 Jennifer Allan Goldman has been the institutional archivist at The Huntington for the last eight years.
Today is my last day as institutional archivist and curator of manuscripts at The Huntington. Just over eight years ago, I came here to be the first person to hold the official title of "institutional archivist." Though various curators before me were responsible for the records of The Huntington's various departments, I was the first person to have the title on my business card. I experienced a pretty steep learning curve—some of the volunteer docents at The Huntington had been studying and sharing the history of the institution before I was born. But through their knowledge, the amazing collections, and my fellow staff members, I quickly got up to speed.
One of my favorite things to do is test some of the myths that have floated around The Huntington for decades. Though this sometimes means disproving some favorite stories, having documentary evidence to support our claims makes us a better place and allows for a deeper understanding of our history and the lives of the men and women involved. In my first year here, a docent asked about Arabella Huntington's receiving a speeding ticket outside of Paris, France—a story mentioned in a Smithsonian magazine article. I took it as a personal challenge to prove or disprove this story.
I went to the Pasadena Public Library to find a copy of the article, but the author did not cite a source. I chalked it up to another Arabella myth (there are many) and moved on to other research questions. Nearly a year later, a researcher going through the Henry E. Huntington Collection mentioned a letter from Henry's daughter Marian, dated 1901, in which she writes: "Aunt Belle and Archer [her son] have developed quite a craze for automobiling, and have both been arrested for going over time." Questions such as these would often come up, only to be answered months later by another person looking for something unrelated. Unexpected discoveries of this sort were like little surprise presents.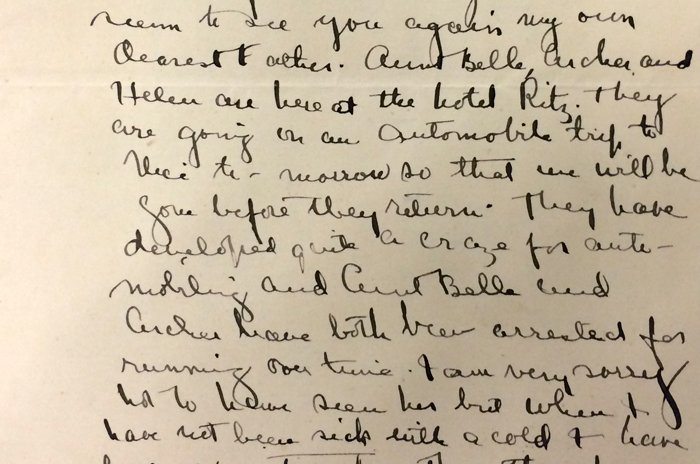 A 1901 letter from Marian Huntington to her father, Henry E. Huntington, in which she mentions that Henry's wife, Arabella, and Arabella's son, Archer, have received speeding tickets while driving outside of Paris, France.
There are still a few myths that will remain with us: Henry's buying and building the Japanese Garden to woo Arabella; Henry's asking Myron Hunt to move the site of his new house to accommodate a large English oak, which is supposedly the reason why the house and the North Vista are not perfectly perpendicular. I was never able to find concrete evidence to prove or disprove these legends, and they are such amusing stories that they pass easily between staff, docents, and visitors. I leave these myths for others to confirm or dispel.
Another favorite part of the job has been connecting researchers and visitors with the collections: hearing Sam Watters talk about how the drawings of Henry Huntington's proposed house done by E. S. Cobb compare to the drawings by Myron Hunt, and how both connect to houses of the day; seeing visitors connect to the photographs and letters in the exhibition "Cultivating California: Founding Families of the San Marino Ranch," especially some fourth graders who were very interested in General George Patton's report cards; receiving e-mails from scholars complimenting our finding aids, which led them to exactly the item they were hoping to find. Seeing these connections happen confirmed that my work was furthering research and expanding the ability of people to understand the world around them, which is why I first went into the information profession.
While creating the permanent installation "Remarkable Works, Remarkable Times," the curators and Library staff were asked to name their favorite item in the Library collections. I have two rather disparate favorites: our amazing miniature book collection and the box of material in the Los Angeles Times Records related to the birth and growth of the National Football League's Pro Bowl.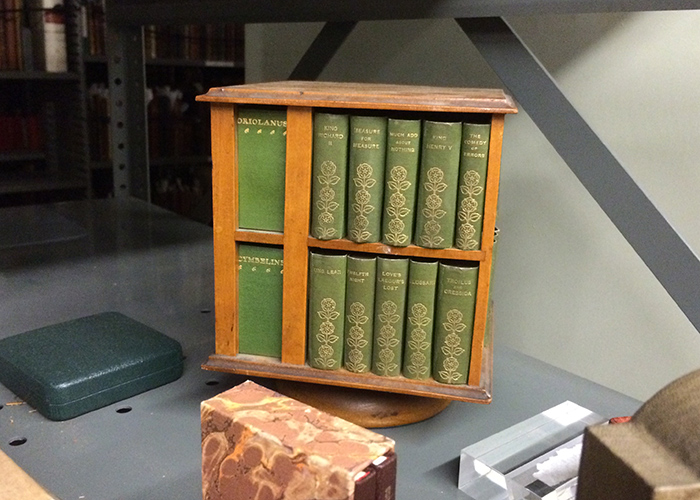 Miniature Shakespeare books in a six-inch-high, rotatable bookcase.
As the owner of a few mini books, I appreciate how much information can be contained in books that fit in your hand. My tiny Webster's is abridged—but not as much as you would think. The craftsmanship that goes into creating a book half the size of my iPhone is astonishing, especially when you realize that some of the earliest mini books were printed without the aid of a computer or other machinery. Plus who can resist the complete works of Shakespeare in a six-inch-high, rotatable bookcase?
The Pro Bowl material is just so anachronistic to most people's image of The Huntington. It includes early correspondence between NFL commissioner Pete Rozelle and the Pro Bowl's co-director Glenn Davis, as well as an early TV contract for the game and player contracts stipulating exactly how much each man received for food each day. This box contains the first twinklings of the NFL as we know it and includes requests by star players for special helmets and cleats and enormous (for the time) television revenue. As a lifelong football fan, I considered the day I found this box a red-letter day, and I may have spent a little too much time reading the folders while I cataloged.
Though I am off to new pursuits, The Huntington holds such an important place in my heart. I look forward to returning—as a Member—for the opening of the Steven S. Koblik Education and Visitor Center and spending time appreciating our collections from the other side of the desk.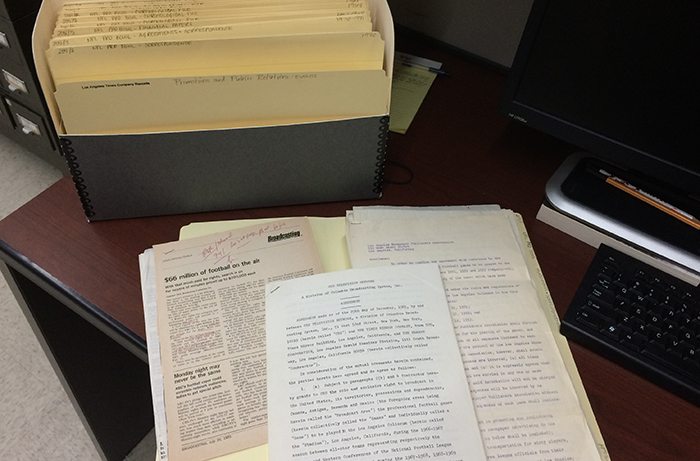 Box of material in the
Los Angeles Times
Records related to the birth and growth of the National Football League's Pro Bowl.
Today is Jennifer Allan Goldman's last day as institutional archivist and curator of manuscripts at The Huntington.