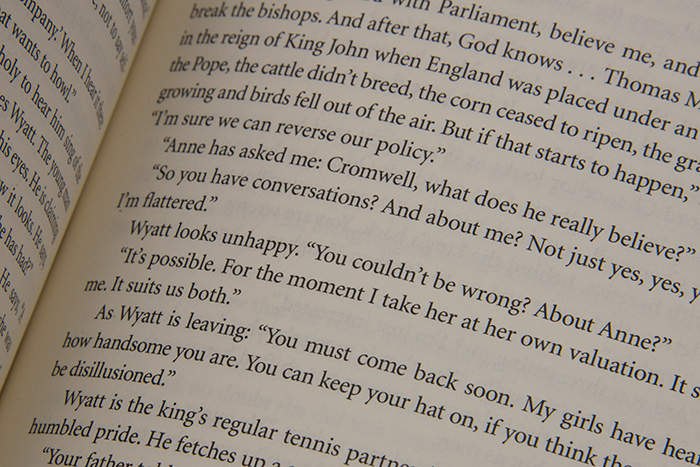 Detail from Hilary Mantel's historical novel
Wolf Hall
, winner of the 2009 Man Booker Prize. Photo by Kate Lain.
The last decade has seen a surge of interest in historical fiction. Led by Hilary Mantel's Wolf Hall and Bring Up the Bodies—novels that chronicle the rise to power of Thomas Cromwell (1485–1540) in the court of King Henry VIII—these stories have dominated bestseller charts and shortlists for literary prizes. Meanwhile, public appetite for their adaptations on stage and screen continues to grow.
Many historians and literary scholars welcome this trend, contending that historical fiction gives readers new ways of understanding historical experience and encourages them to engage with history in more critical ways. Others argue that, in an era of fake news, we should keep facts separate from fiction.
A conference I'm convening at The Huntington takes the recent popularity of the historical novel as a starting point to explore relationships between various calibrations and understandings of history and fiction. Titled "Fictive Histories/Historical Fictions," it takes place on May 12 and 13 in Rothenberg Hall.
The conference delves into the connection between history and fiction from many different angles. We will look at the boundaries that might exist between them, and in what ways they overlap, considering the intrinsic ethical and political implications. We will also examine whether the recent success of historical fiction can be viewed as a new development, or rather, should be seen as a return to (or inflection of) an older literary tradition.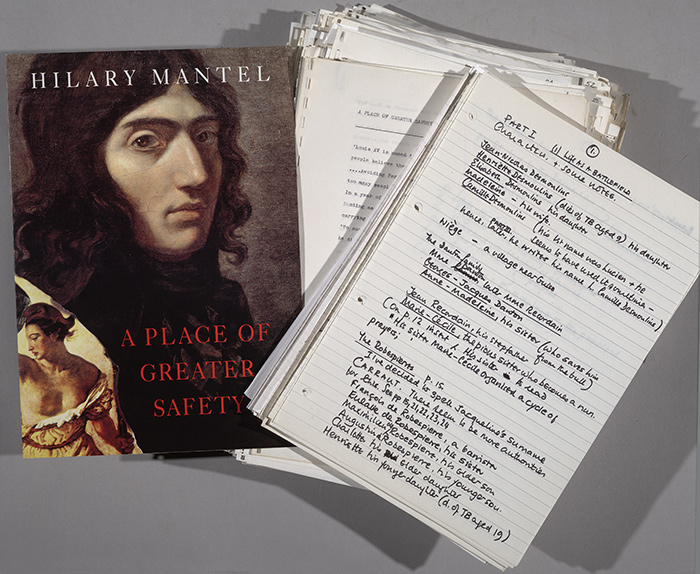 A display of several items from the Hilary Mantel Papers. The Huntington Library, Art Collections, and Botanical Gardens.
Another angle will be to study whether this success poses any danger to academic history and literary historicism. Or might it rather offer opportunities to bring critical and creative approaches together to develop new lines of thought and practice? Finally, we will look at how creative and critical manifestations of history respond to cultural and political imperatives of the 21st century.
The papers of Hilary Mantel, who has been at the forefront of the renaissance of historical fiction, are housed at The Huntington, which began acquiring her papers in 2001 and continues to receive additional material. The collection contains more than 1,300 items, including literary manuscripts, correspondence, photographs, and ephemera. Reflecting these strengths of The Huntington's collections, the focus of the conference will be the interplay between fictional histories and historical fiction written in or about Britain—and Mantel's writing in particular. This topic will be embedded and addressed within wider international, methodological, and generic contexts.
The creative-critical focus of the conference will be replicated in its line-up of speakers and in the forms of their presentations: historians and literary scholars will speak alongside novelists. (Indeed, many of our speakers perform more than one of these roles simultaneously and will reflect on that experience). The first day will focus on calibrating new understandings of the relationship between the creative and the critical, and the second will focus in a more granular fashion on the ways in which historical fiction, past and present, frames and articulates these relationships.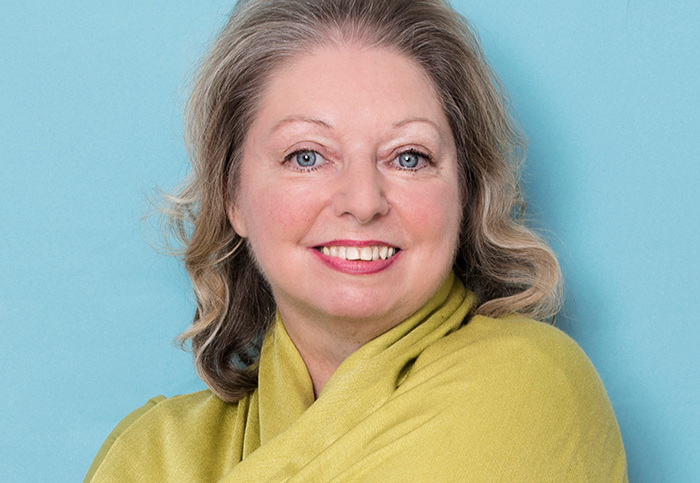 Prize-winning historical novelist Hilary Mantel. Photo © Els Zweerink.
Hilary Mantel, whose work inspired the conference, will be delivering two plenary sessions over the course of three days. On Thursday, May 11, at 7:30 p.m., she will deliver the Ridge Lecture, "I Met A Man Who Wasn't There," in Rothenberg Hall. (The lecture is already sold out, but you may watch it in real time on Livestream.)
As she works to the conclusion of the Cromwell trilogy that began with Wolf Hall, Mantel will describe her 10-year effort to pin to the page her compelling and elusive subject. On Saturday, May 13, at 4:15 p.m., she will reflect further on her own work and the themes of the conference in a conversation with Mary Robertson, a Tudor historian and former curator of British manuscripts at The Huntington, to whom Mantel dedicated Wolf Hall. (This event is restricted to conference attendees.)
You can read more about the conference program and registration on The Huntington's website.
In conjunction with the conference, The Huntington is displaying two items of special interest for readers of historical fiction in the East Foyer of the Library's Main Exhibition Hall through Monday, May 8. One page of Hilary Mantel's notes for Wolf Hall is on view. (Another page of notes may be viewed nearby in the "Library Today" gallery.) Also on display is a first edition of The Scottish Chiefs (1810), by Jane Porter, a best-selling British novelist of the early 19th century. The Scottish Chiefs, which tells of the exploits of William Wallace (1270–1305), a leader of the Wars of Scottish Independence, is one of the earliest examples of the historical novel. The Huntington holds the archive of Jane Porter's papers.
Sophie Coulombeau is lecturer in English Literature at Cardiff University.