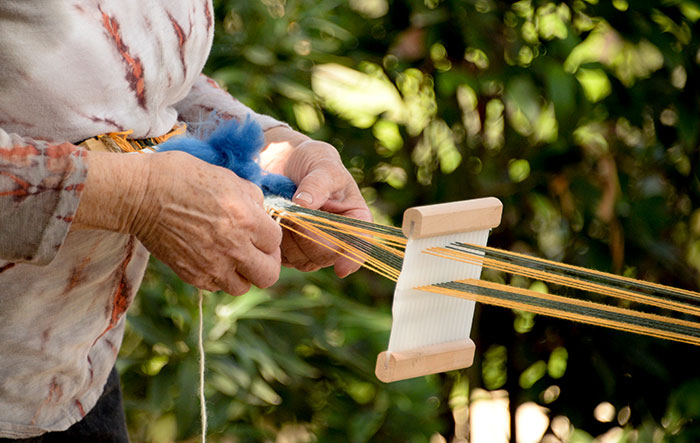 Weaving on a backstrap loom. Photo by Deborah Miller.
A group of Herb Garden docents gathered in the Botanical Center's headhouse one recent morning to begin work on a textile installation piece they plan to display at the upcoming Fiber Arts Day, taking place on April 14 from 10 a.m. to 5 p.m. in and around the Huntington's Herb and Rose Gardens.
As most of the dozen or so docents were new to weaving, fiber arts teacher Anna Zinsmeister began the workshop with a lesson on using a backstrap and table loom. She demonstrated carding cotton (a process that disentangles and cleans fibers) and twisting fibers on the reproduction 18th-century spinning wheel she brought along. Terms such as "warp" and "weft" were bandied about, and spinning facts dispensed—such as that flax, once spun, becomes linen.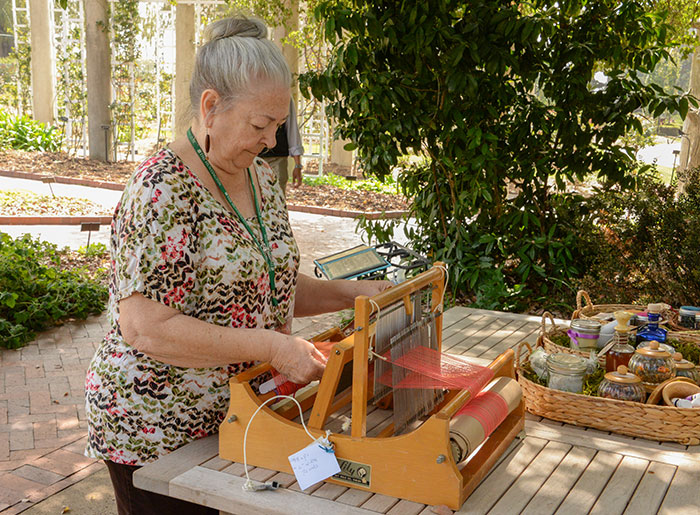 Lorynne Young, Herb Garden docent chair, weaves on a table loom in the Herb Garden. Photo by Deborah Miller.
The docents' ambition to learn to weave and create a fiber arts installation piece was predicated on their desire to be more knowledgeable for Fiber Arts Day, a popular annual Huntington event that draws fiber and textile artisans from throughout the Los Angeles area to showcase their hand-weaving and textile-related craftsmanship. For the event four years ago, the docents learned to dye fibers using natural plant pigments culled from such Herb Garden plants as madder (Rubia tinctorum) and indigo (Indigofera tinctoria).
"It's fascinating to see the end products of some of the plants," said Leslie Rasmussen, a five-year docent who sees the docents' collaboration as both an experiment and a chance to have a great time.
This year's Fiber Arts Day may prove to be the biggest ever, said Herb Garden gardener Kelly Fernandez. Almost 50 craftspeople from local craft guilds are slated to set up their looms and spinning wheels and demonstrate many traditions of this ancient craft. Visitors can see various kinds of looms used for weaving techniques that range from inkle and Navajo to tapestry and free form. Huntington docents will present throughout the day to talk about relevant plants in the garden used by the weavers, spinners, and dyers.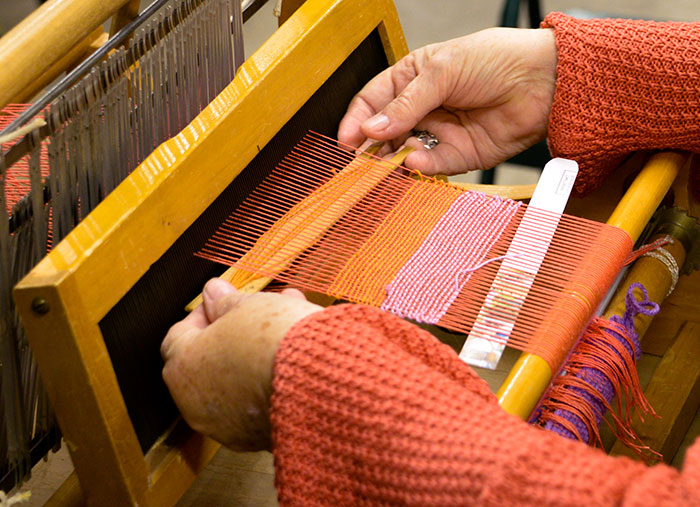 Weaving on a table loom. Photo by Deborah Miller.
"What I love about fiber arts is that it's an accessible art form," said Fernandez. "Everyone is fascinated by the process. It's for everyone, for beginners and advanced people."
Because craft guilds—such as the Southern California Handweavers' Guild, the Bobbinwinders Handweaving Guild, and the Greater Los Angeles Spinning Guild—have so enthusiastically embraced the event, as has the public, Fernandez is hopeful it will one day grow to include workshops and a symposium.
This year's event will include the addition of Pasadena fine artist Valérie Daval, whose textile sculpture "Spindles 100: Hers" will be installed on a tree between the Huntington Art Gallery and the Library. Inspired by the shapes of tree seedpods, chrysalises, distaffs and spindles, Daval enlisted 50 women to use red paint to put their handprints on white, spindle-like cones of textiles that will hang from tree branches throughout the day. "Distaffs and spindles are old instruments used for spinning natural fibers," she said. "They symbolize exclusively feminine work and are symbols of life and time."
As the Herb Garden docents gamely focused on their own artistic creations, they were glad for the extra support from fellow docent Jane Leese, a retired arts teacher from a Pasadena private school who previously taught backstrap weaving to her fourth-grade students.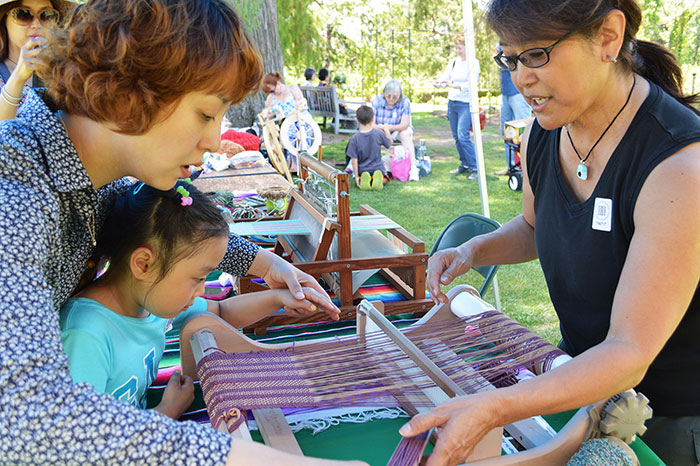 Fiber Arts Day takes place on Saturday, April 14, 2018, from 10 a.m. to 5 p.m in The Huntington's Herb Garden. Photo by Kelly Fernandez.
"Did you get your tension problems solved?" she asks a colleague who had been struggling with this loom issue. Docents were instructed to continue working on their weavings at home, then bring them back so that they could be assembled into the greater installation piece.
"I just love textiles and weaving," said Leese. In fact, it was through attending a Fiber Arts Day that she decided to become an Herb Garden docent. "When I saw the cotton, flax, and madder growing, well, it just opened my eyes to what's possible."
Fiber Arts Day takes place on Saturday, April 14, 2018, from 10 a.m. to 5 p.m in The Huntington's Herb Garden. Skilled craftspeople will demonstrate the tools and techniques for carding and combing fibers such as cotton and linen, spinning the fibers into yarn or thread, weaving, and making natural dyes using herbs and other plant materials. General admission.
Manuela Gomez Rhine is a freelance journalist based in Pasadena, California.