For months now, we have been looking forward to an unusual exhibition—a display of works created by the Southern California sculptor John Frame. For the better part of five years, Frame has been assembling a body of work that features, at its core, an eclectic cast of fully articulated characters. The figures are a combination of meticulously carved wood and found materials, and together they inhabit a complex universe—one that, he says, speaks to the age-old questions "Where did I come from? What am I to do while I am here? And what, if anything, happens when I'm gone?"
"Three Fragments of a Lost Tale: Sculpture and Story by John Frame," comprising three dozen sculptures and accompanying still photography and stop-motion animated film, opens in the Boone Gallery on Saturday, March 12. An eight-minute film about the artist's process will also be screened in the gallery.
In the book that accompanies the exhibition, David Pagel, an art writer for the Los Angeles Times and associate professor of art theory and history at Claremont Graduate University, writes, "Frame's meticulously sculpted figures, painstakingly made props, consummately tailored costumes, and elaborately fabricated sets, not to mention his sensitively lighted scenes, gorgeously scored story, beautifully composed photographs, and extraordinarily poignant frame-by-frame animation bespeak the multiplicitous, mix-and-match talents of a jack-of-all-trades." Frame and his work is all that. And more.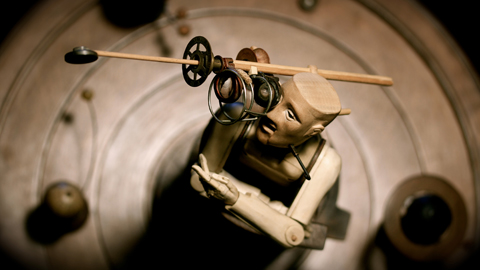 Frame has said he is not of this century, and his work seems a throwback to a time when productivity was a more deliberate, patient, and quiet process. He says his art making is best expressed by a quotation from John Ruskin: "Fine art is that in which the hand, the head, and the heart of man go together." And each figurative sculptures certainly reflects that belief—gorgeously rendered, and so alive each seems poised for movement, nearly about to fly. But Frame does not toss out the 21st century altogether. In fact, through his savvy use of cameras and computers, he produced a saturated, hauntingly beautiful animated film scored, incidentally, by himself, on keyboard and computer. And, also via computer, Frame made great use of eBay, where he purchased antique odds and ends for use in his sculptural forms. More on that in a future blog. Meanwhile, mark your calendar: The exhibition opens this weekend. Check out what the LA Times has to say about it.
Also opening: A concurrent exhibition curated by John Frame in the Works on Paper Room of the Huntington Art Gallery. "Born to Endless Night: Paintings, Drawings, and Prints by William Blake Selected by John Frame." Frame is an avid reader with broad interests, whose works relate in diverse ways to the collection at The Huntington. He says he was influenced heavily as a young artist by Shakespeare's writings and the illustrations and writings of Blake; both figure deeply into the "Three Fragments" exhibition.
Captions: John Frame MMVI - MMXI by Johnny Coffeen, Music by John Frame. Copyright 2011 The Huntington; O-Man. Photo by John Frame.
Susan Turner-Lowe is vice president for communications at The Huntington.