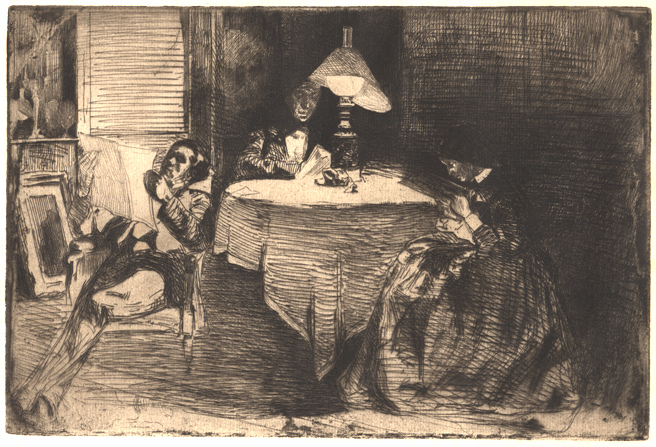 Google "Whistler's Mother" and you'll get 504,000 results. But even famous painters had a "before" period. For James Abbott McNeill Whistler (1834–1903), it was when he was allowed to crash at the London home of his half sister and brother-in-law before his career took off. That's when a rich and productive relationship developed between the young artist and Francis Seymour Haden (1818–1910)—his brother-in-law—over the art of printmaking.
"Whistler, Haden, and the Gentle Art of Etching" (on view in the Works on Paper Room in the Huntington Art Gallery through April 16) is a new exhibition of 17 works primarily drawn from The Huntington's collections that takes a focused look at the results of that fruitful relationship.
Haden was a surgeon by profession, but also was an amateur printmaker and important print collector. His interest coincided with Whistler's interest in etching.
"Soon after this period, Whistler's first international recognition would come from his prints," points out Victoria Sancho Lobis, curator at the Print Collection and Fine Art Galleries at the University of San Diego, who curated the exhibition for The Huntington. One of the works in show, The Music Room, as an example of the etching virtuosity Whistler was developing at the time—using his living circumstances as subject. It depicts a room in his sister Debroah's house in London. Haden, Deborah, and a friend are sitting around a table, each absorbed in a separate activity, yet all in close physical proximity—it seems a very informal, everyday domestic scene.
Lobis draws your eye to Whistler's technique: "It's an interesting depiction of light and shadow. The light from the lamp is described through an absence of line. Darkness is made with dense hatching and cross-hatching. He also creates a very heavy interpersonal atmosphere. Both Whistler and Haden were interested in portraying atmosphere, in describing the invisible and intangible qualities of space and time."
See for yourself in Lobis' concentrated and thoughtful installation.
Captions: Top: James Abbott McNeill Whistler (1834–1903), The Music Room, ca. 1858. Gift of Hannah and Russel Kully. Bottom: Francis Seymour Haden (1818–1910), Hands Dry Pointing, 1877. The Huntington Library, Art Collections, and Botanical Gardens. Gift of Russel I. Kully. The Huntington Library, Art Collections, and Botanical Gardens.
Thea M. Page is art writer and special projects manager at The Huntington.