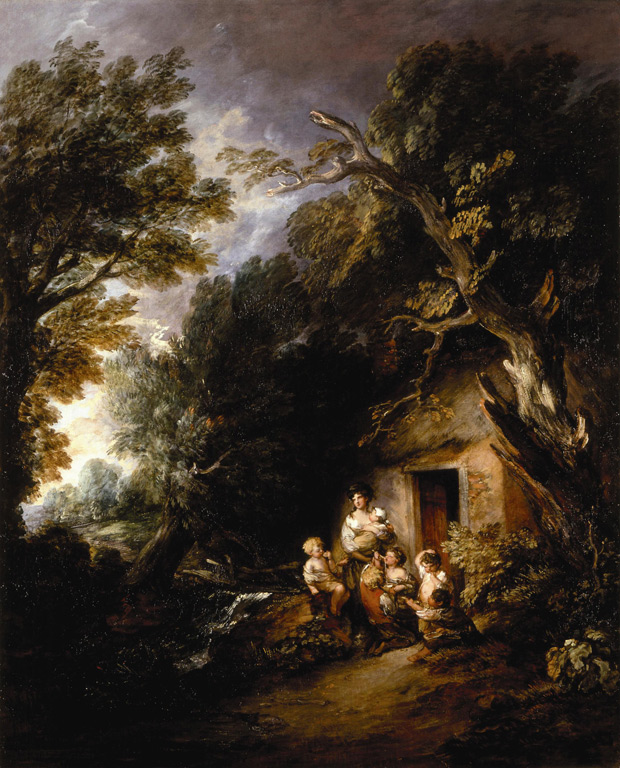 Thomas Gainsborough (British, 1727–1788),
The Cottage Door
, ca. 1780, oil on canvas. Huntington Library, Art Collections, and Botanical Gardens.
The love affair between The Huntington and the paintings of Thomas Gainsborough is nearly 100 years old. Since Henry E. Huntington began collecting Gainsborough's work in 1911, the institution has presented numerous exhibitions, publications, and special programs dedicated to various aspects of the 18th-century British master's work. Soon, another tribute will be paid in the form of a focused look at The Cottage Door, one of the artist's most famous paintings.
The Huntington's painting is widely considered a masterpiece and was exhibited at the Royal Academy in 1780. But that wasn't the end of it for Gainsborough. Both the subject (an idealized scene of rustic country life) and the composition continued to haunt him, and he repeated the design twice during the course of the decade, according to Gainsborough specialist and guest curator Hugh Belsey. From June 1 to Dec 2, 2013, all three paintings will be shown together for the first time in "Revisiting The Cottage Door: Gainsborough's Masterpiece in Focus" upstairs in the Huntington Art Gallery, providing a rare opportunity to compare the subtle difference among these paintings. The two later versions, on loan from two separate private collectors, are less finished than The Huntington's, and there are other variations in tone and detail that give each painting a distinct mood and emphasis.
"On one level, 'Revisiting The Cottage Door' reveals fascinating new information about the working methods of a great artist, but we can also think about it as a glimpse into the exciting and sometimes controversial world of the connoisseur," said Melinda McCurdy, associate curator of British art at The Huntington. "A display like this, with all three paintings side by side, will provide a unique opportunity to really consider the question of what makes a Gainsborough a Gainsborough."
A new book by Belsey, Gainsborough's Cottage Doors: An Insight into the Artist's Last Decade, complements the installation. Inspired by the recent attribution of the third version of the painting, it examines the radical changes Gainsborough made to his work in the last years of his life.
Thea M. Page is director of marketing communications at The Huntington.