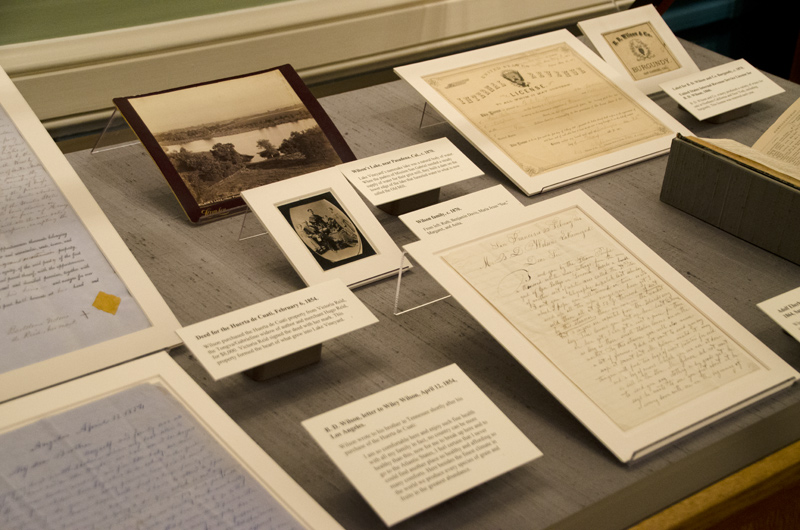 Items on view in the exhibition "Cultivating California: Founding Families of the San Marino Ranch."
Deciding what goes into a library exhibition is far more difficult than you might expect. After months of research in books and archival collections, you're expected to concentrate all of that knowledge and insight into fewer than 100 items. In my case, the effort to select appropriate pieces often means that I need to decide between two items, such as a letter or photograph. Both would be excellent pieces for historical and visual value, but only one will make the cut.
For example, when I was selecting the items for "Cultivating California: Founding Families of the San Marino Ranch," I had to choose between two letters. One was from the second elected mayor of Los Angeles, Benjamin Davis Wilson, to his wife, Margaret, who was in St. Louis visiting family. The letter, dated 1856, details the dangers of living in the city of Los Angeles and how happy he was with the "place at the vineyard," their future home in the San Gabriel Valley. The second letter was from Adolf Eberhart, Wilson's wine and citrus merchant in San Francisco, in which Adolf asks Wilson to send more oranges and lemons to stock the empty markets in San Francisco. Wilson's letter is personal and gives a detailed account of why he was moving to the San Gabriel Valley, whereas Eberhart's letter reflects Wilson's business interests and indicates the process by which Los Angeles growers in the 1850s were selling their citrus to San Francisco and beyond. Each letter was legible and one page long, two great traits of a manuscript for exhibit. Believe me, this was not an easy decision. Curious which piece made the cut? You'll have to visit "Cultivating California" to find out.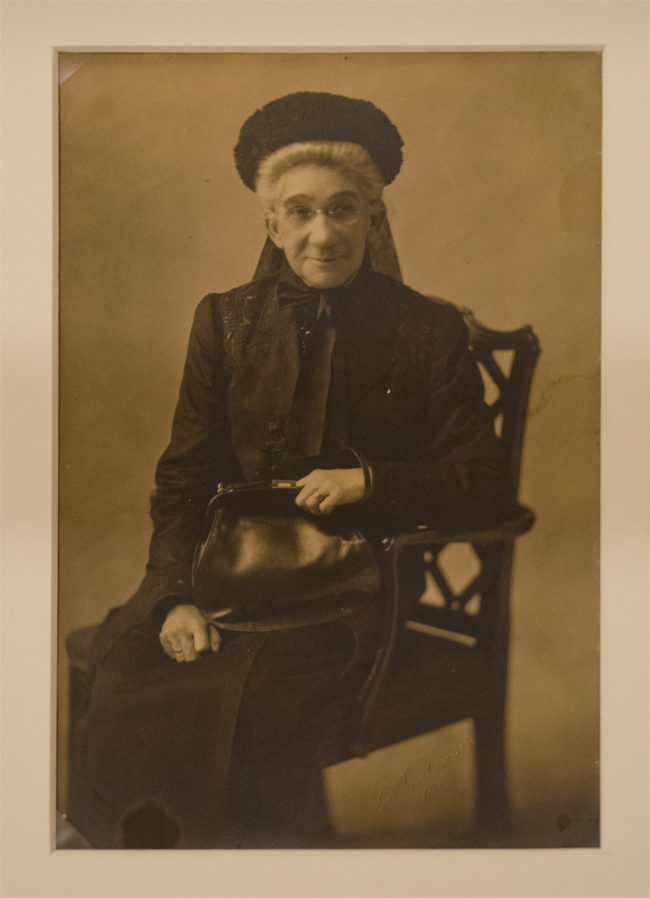 Maria de Jesus "Sue" Wilson Shorb, ca. 1915. Huntington Library, Art Collections, and Botanical Gardens.
On occasion, selecting an item isn't difficult at all. While I spent hours with the photographs in the Wilson, Shorb, and Patton family collections, the seated portrait of Maria de Jesus "Sue" Wilson Shorb struck me immediately. Here was a woman at the end of her life, still in mourning garb for her husband, who had died some 20 years before—and she was carrying the coolest purse! She was adorable and seemed genuinely happy. Even though the date of the photograph (ca. 1915) was out of my self-imposed date range of 1854–1905, there was no question I would include it in the exhibition. I placed the photograph next to items from the court case brought against her by Farmers and Merchants Bank over nonpayment of loans. She puts a face on the transcript, open to her testimony lovingly describing her husband James De Barth Shorb and adds a bit of lightness to some very difficult circumstances, including financial trouble and health problems.
The portrait also begs the inevitable question—What happened to Sue after she lost her property? I will admit I didn't read too far beyond my date range, but from what I can tell, she moved to San Francisco, where many of her children had relocated. She spent her final years between San Francisco and Los Angeles, visiting relatives and grandchildren. And she never stopped loving James De Barth Shorb. Our collections include a photograph of Sue on her deathbed; sitting on the ornate headboard is a picture of her former husband, he of "the most sanguine temperament."
"Cultivating California" is on display through May 13, 2013, in the West Hall of the Library.
Jennifer Allan Goldman is a manuscripts curator and the institutional archivist at The Huntington.