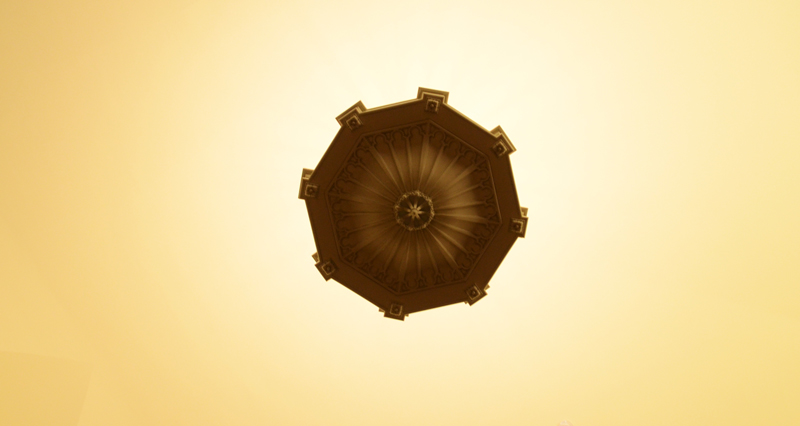 One of three new chandeliers in the Library Main Exhibition Hall.
Don't forget to look up next month when you visit the new permanent exhibition "Remarkable Works, Remarkable Times: Highlights from the Huntington Library." Beginning Nov. 9, you'll be able to re-enter the Library Main Exhibition Hall for the first time since it closed for renovation 17 months ago. And hanging above the 150 rare books, manuscripts, and photographs will be three chandeliers that have a remarkable story of their own.
Over the past year and a half, exhibition designer Karina White has paid equal attention to both the rare items that will be on display and the architectural features of the building, including the wood-paneled walls, marble and cork floors, and distinctive chandeliers.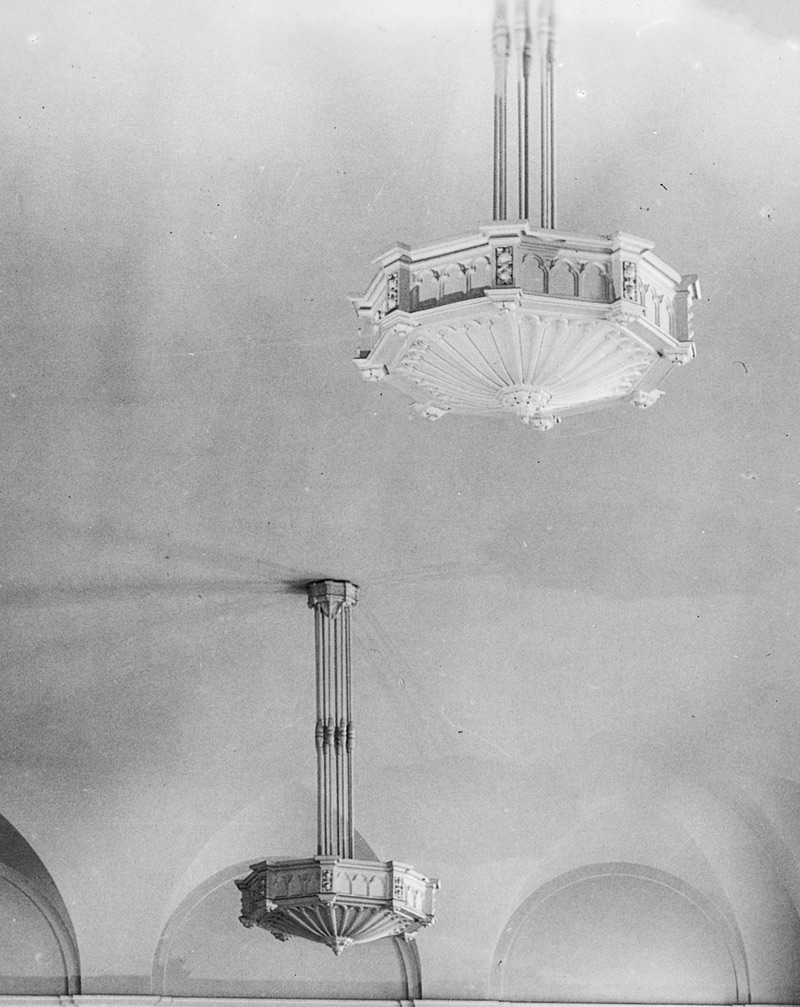 Historic photo of the original chandeliers.
To complete this restoration, White looked through old records related to the original construction and decoration of the hall. She sifted through early correspondence between Archer Huntington (son of Arabella Huntington), and Myron Hunt, the architect designing the library; sketches of the interior and exterior; photographs of the completed reading room/exhibition hall; and invoices by William Hertrich regarding the now-closed south-facing windows.
The walls and the floors were fairly straightforward; the chandeliers were not. Despite White's efforts, no plans or purchase details were found. What she did find, however, were photographs of the original chandeliers, dated from 1920, when the building was under construction. These photographs then served as blueprints for the redesign and construction of three new chandeliers.
"Having these chandeliers built and installed was a huge thrill," says White. "I think everyone involved has been both challenged and gratified by the process of using archival photographs to create three chandeliers of significant beauty."
Paul Ivazes Quality Lighting in Grass Valley, Calif., built the chandeliers. After some detailed computer rendering, Quality Lighting created the new chandeliers out of cast plaster, attaching the pieces to a steel frame. The new chandeliers can be raised and lowered with the original pulley-system located in an attic space above the exhibition hall. The chandeliers' warm glow comes from the light of LED modules, one significant change from the originals: they use just a fraction of the energy of the originals.
For more images of the installation, including animated GIFs, visit The Huntington's Tumblr.
Jennifer Allan Goldman is a manuscripts curator and the institutional archivist at The Huntington.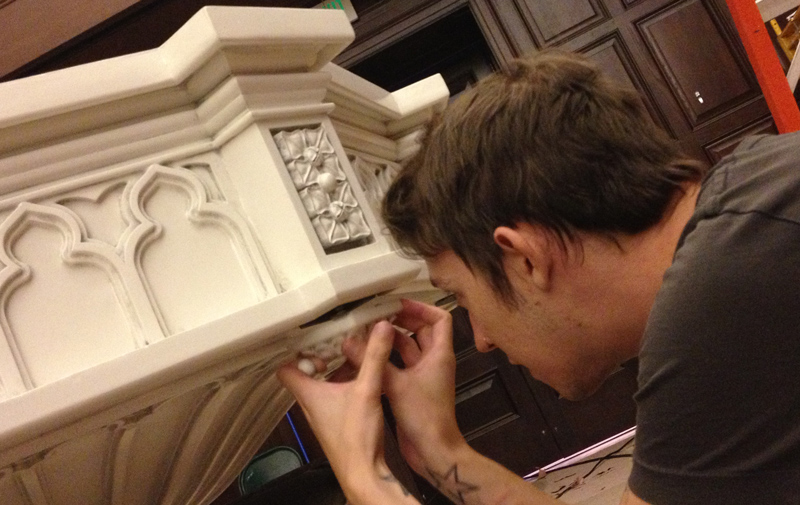 Wes Ivazes makes some final adjustments to one of the chandeliers.