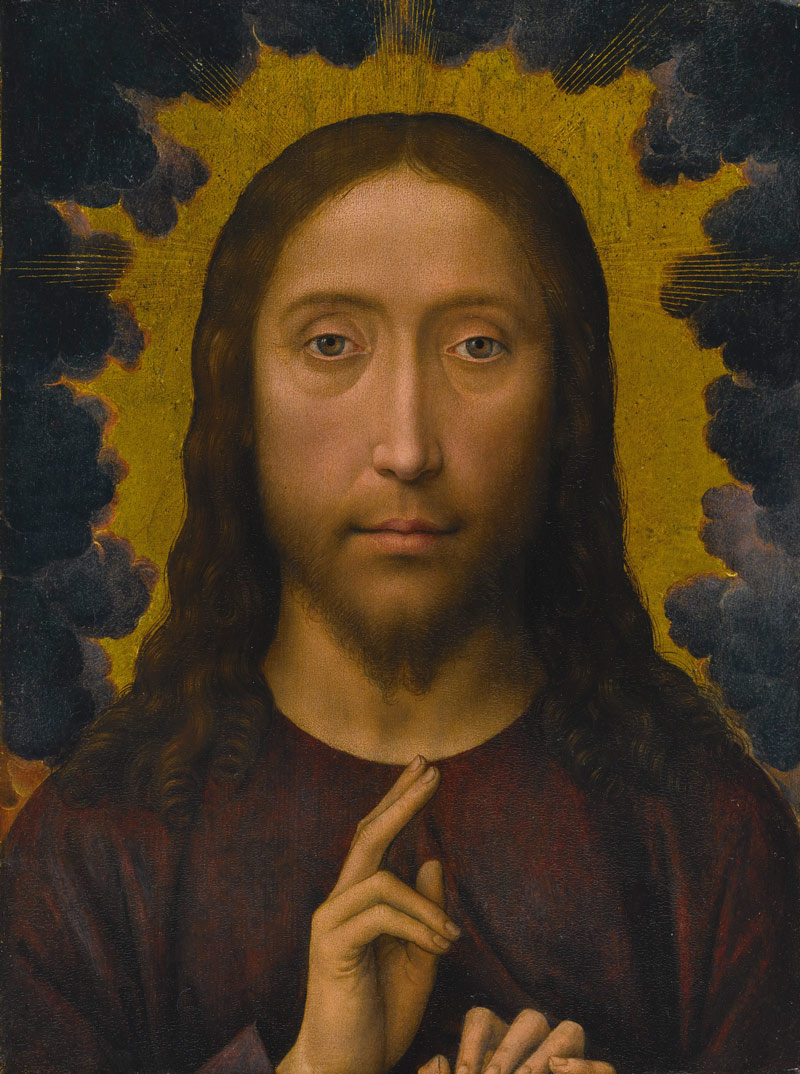 Hans Memling,
Christ Blessing
(ca. 1480–85), oil on Baltic oak panel. Lynda and Stewart Resnick Collection.
"Face to Face: Flanders, Florence, and Renaissance Painting" is a jewel of an exhibition that is about to get even more lustrous.
From Dec. 13 until the close of the show on Jan. 13, 2014, a very special painting will be added to the installation of 35 resplendent master works on loan from some 20 different collections: a previously unknown version of Christ Blessing by Hans Memling (ca. 1430–1494) that was recently acquired by Los Angeles collectors Lynda and Stewart Resnick. The work had been hidden in the private collection of one family for more than 150 years.
"We can't thank the Resnicks enough for lending this painting," said Kevin Salatino, Hannah and Russell Kully Director of the Art Collections. "Its significance in the context of this exhibition is immeasurable. How fitting that it will go on view alongside another version of the same work. This is an extraordinary moment for art lovers, scholars, and visitors alike."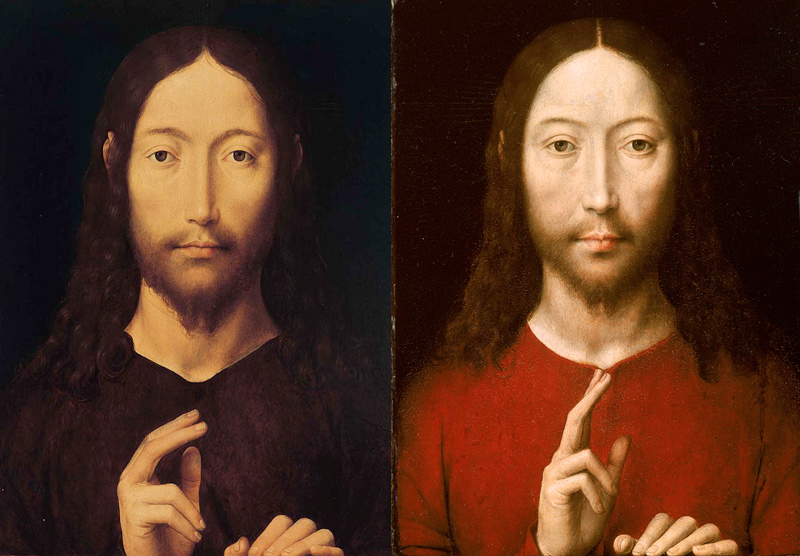 Left:
Christ Giving His Blessing
, 1478, oil on panel. Norton Simon Art Foundation, Gift of Mr. Norton Simon. Right:
Christ Blessing
, 1481, oil on panel. Museum of Fine Arts, Boston. Bequest of William A. Coolidge. Photo © 2013 Museum of Fine Arts, Boston.
On loan especially for "Face to Face," Christ Blessing (ca. 1480–85) will dramatically enhance the exhibition's section on "The Face of Christ." That section, which compares Flemish and Italian images of Christ, already displays a version of Memling's Christ Blessing that is on loan from the Boston Museum of Fine Arts. Until earlier this year, there was only one other known version of the work by the Flemish master, and that is among the holdings of the Norton Simon Museum in Pasadena.
In all three of the portraits, Memling depicts the subject with right hand raised and left hand coming toward the viewer in an extraordinarily realistic device—with fingers seeming to rest outside the painting and on the frame. But the paintings differ in several ways; most noticeably, the Resnick version features a gilded halo surrounding Christ's head that is set among a profusion of puffy clouds, placing the subject in a heavenly setting.
As explained in the exhibition, intimate, portrait-like depictions of Christ were designed to invite direct engagement between image and worshipper. In the Memling paintings, the subject seems physically present, with the purpose of helping the viewer contemplate Christ's humanity and feel inspired to engage in direct and personal devotion.
"Memling's ability to portray Christ as a person, using extreme realism and an uncanny human sensitivity, always stops visitors in their tracks," said Catherine Hess, chief curator of European art. "The Resnick painting also will add to scholars' understanding of the artist, who is one of the most influential Flemish painters of the 15th century. This addition to the show is a blessing in itself."
Thea M. Page is director of marketing communications at The Huntington.