"The Long Leg" by Edward Hopper has been a favorite painting with Huntington visitors since its debut in 1984 as one of the artworks that established the American art collection. On Aug. 24 it received the additional distinction of being issued as a postage stamp, the latest in the U.S. Postal Service's American Treasures series.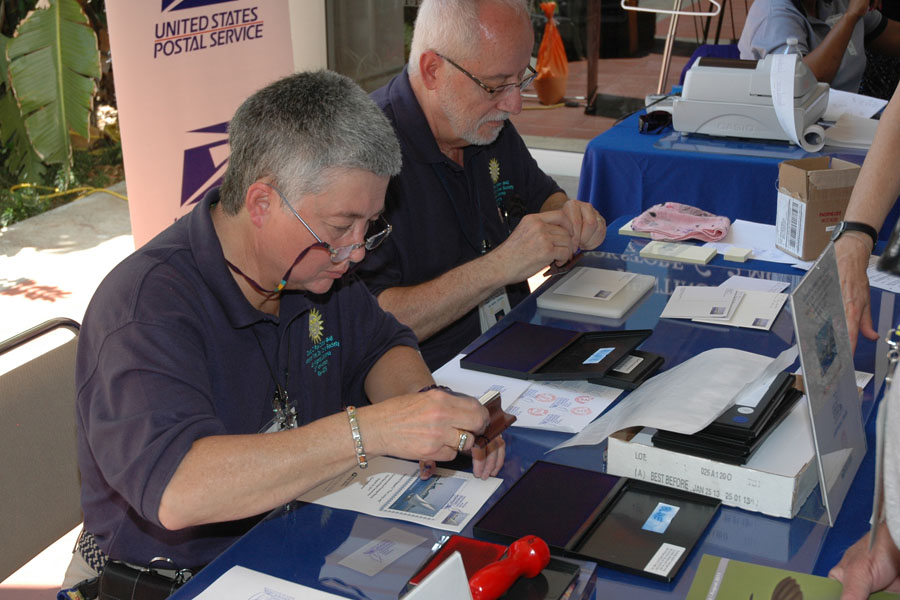 To mark the occasion, The Huntington and the USPS teamed up on Wednesday for a special first-day-of-sale cancellation event and ceremonial unveiling. (The official event was held earlier in the day in Provincetown, Mass., the setting of the painting.) Art aficionados and philatelists alike lined up to purchase the 44-cent "forever†stamps and have them inked with a commemorative pictorial postmark. Hopper postcards and note cards from the Huntington Bookstore & More were also selling briskly: with a reproduction of the painting on one side and the stamp and first-day cancellation on the other, they made ideal collectibles.
Many visitors, clutching their envelopes of freshly-minted Hopper stamps, made a beeline to the Virginia Steele Scott Galleries to see the original painting. One look and it's clear to see why the iconic work was selected for the American Treasures series. Painted around 1930, "The Long Leg" depicts a sailboat near the Long Point Light at Provincetown, on Cape Cod. The boat sails against the wind in a zigzag series of short and long tacks, or legs (hence the title). The artist's precise observation of light and of the behavior of the boat link him to a tradition of American Realism, but the stark, reductive composition and mood of isolation reflect the abstract, impersonal spirit of Modernism.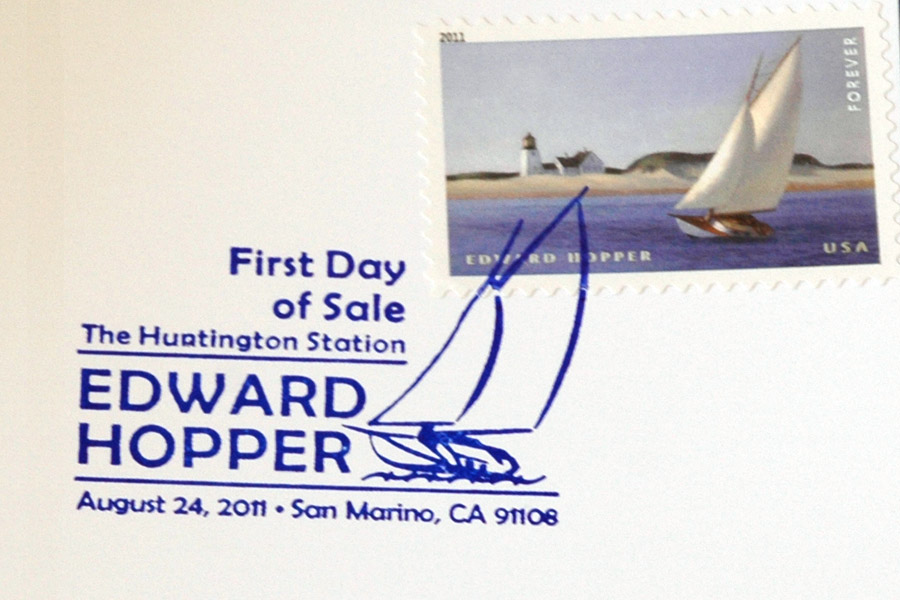 "This is one of my favorite paintings at The Huntington, and I'm thrilled it was chosen for a stamp," said Jessica Todd Smith, Virginia Steele Scott Chief Curator of American Art, during her remarks at the ceremony. "I'm going to be putting it on all of my letters, in perpetuity. And since it's a 'forever' stamp, I can!"
If you missed the first-day-of-sale event, the Bookstore & More will be selling Hopper postcards bearing the stamp and first-day cancellation for $5 each while supplies last. Hopper stamps are also available from your local post office or the USPS website.
CAPTIONS: Volunteers Kathy Clements and Michael Litvak of the American First Day Cover Society (Claude C. Ries Chapter 48) apply the special pictorial postmark to Hopper stamps on envelopes, postcards, and event programs. A close-up of the Edward Hopper stamp and special first-day-of-sale pictorial postmark.
Lisa Blackburn is communications coordinator at The Huntington.