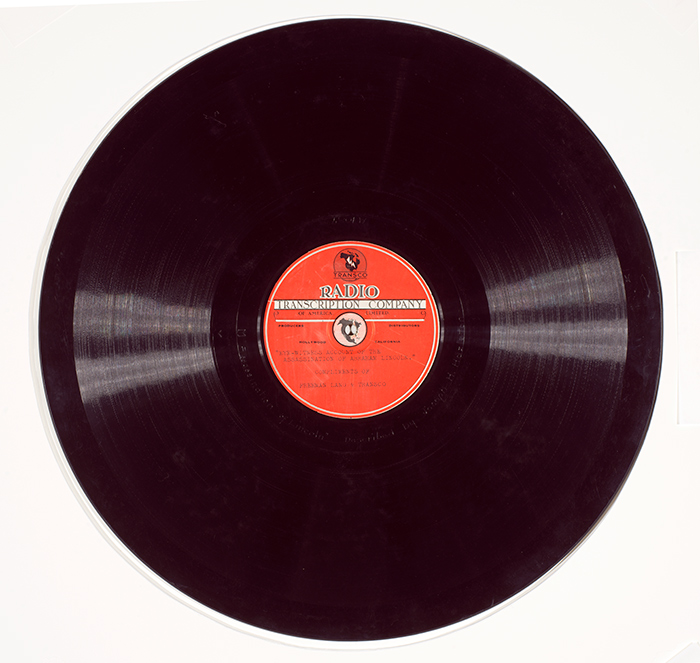 Phonograph record of actor Joseph H. Hazelton reminiscing about Abraham Lincoln's assassination. The recording was made in 1933 at Freeman Lang's studios in Hollywood, California. The Huntington Library, Art Collections, and Botanical Gardens.
The Huntington Library is a vast treasure box, replete with more than nine million items, including rare books, manuscripts, photographs, and maps. In addition, the Library houses a variety of oddities—such as a set of false teeth, an Oscar statuette, and a collection of vintage light bulbs. For someone like Aric Allen, our staff video producer, a random chat with a curator can turn into a delightful process of discovery. That's what happened when he learned about a mysterious box in the Library's vault with a warning on it: "Do Not Open."
The curator in question was Jenny Watts, The Huntington's curator of photography and visual culture, who became aware of the box some years ago while researching a major photography exhibition on death and dying in the U.S. Civil War. Inside the box, and off limits, was the only known copy of a large, fragile disc on which was recorded the voice of the actor Joseph H. Hazelton (1855–1936), an eyewitness to the Lincoln assassination when he was just a boy. (While the record itself is much too fragile to spin on any turntable, the Hazelton audio is available online at the Huntington Digital Library.)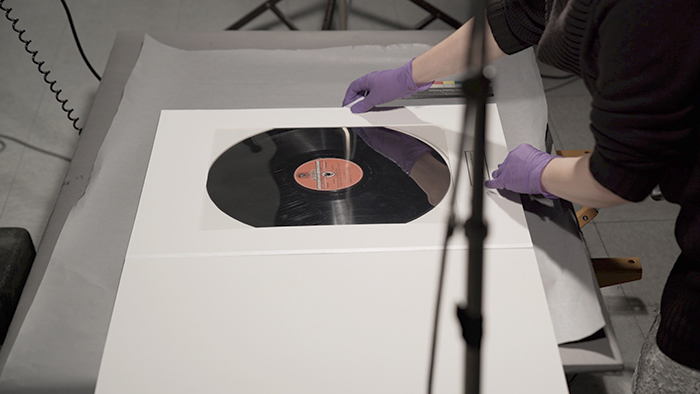 In Aric Allen's video, the Hazelton recording is prepared for its close-up by Jessamy Gloor, a conservator at The Huntington.
In his video, Allen pieces together the curious story of the recording, Hazelton's eyewitness account, and the value of such a historic artifact (especially curious, given that Hazelton's recollection of the assassination was riddled with inaccuracies). In fact, the story seems particularly timely, providing a tiny window into how so-called eyewitness accounts can turn into "alternative facts."
Timely, too, because this weekend marks the 152nd anniversary of Lincoln's death, which occurred on April 15, 1865.
You can learn about highlights in the Library's collections related to the U.S. Civil War on The Huntington's website.
Related content on Verso:
Lincoln's Last Hours (April 14, 2015)
Susan Turner-Lowe is vice president for communications and marketing at The Huntington.
Aric Allen is video producer in the office of communications and marketing at The Huntington.