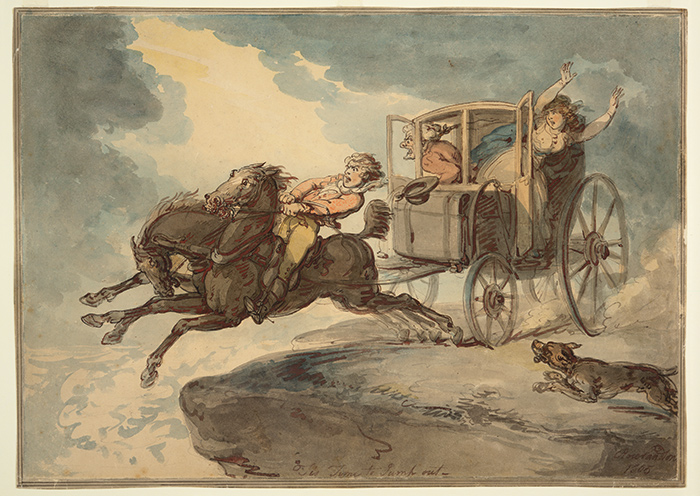 Thomas Rowlandson (British, 1756–1827),
'Tis Time to Jump Out
, 1805. Pen and watercolor. The Huntington Library, Art Collections, and Botanical Gardens. Gilbert Davis Collection.
The painter, social critic, and editorial cartoonist William Hogarth (1697–1764) set the standard for modern English satire. He saw caricatures imported from the Continent and argued for the creation of a distinctly British approach to social satire—one based on observing Londoners going about their daily lives. Soon caricature drawing became jolly good business for British artists.
Thomas Rowlandson (1756-1827) and Isaac Cruikshank (1764–1811) got in on the game and ran with it, helping to create the golden age of British caricature by employing comedic titles, among other techniques. Take a look at a watercolor of a near-death, horse-and-carriage experience from The Huntington's collections. It's on view in "Funny Business: Humor in British Drawings from Hogarth to Rowlandson" in the Huntington Art Gallery's Works on Paper Room through Nov. 30.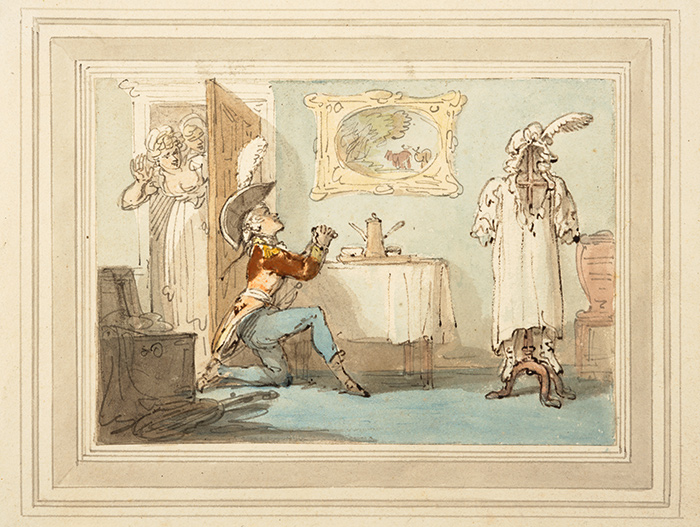 Thomas Rowlandson (British, 1756–1827),
Force of Imagination
, late 18th century, pen and watercolor. The Huntington Library, Art Collections and Botanical Gardens. Gift of Mrs. Edward W. Bodman.
Rowlandson created a dynamic, diagonal composition depicting a terrifying scene of eye-rolling horses with front hooves aloft, pulling a careening carriage and screaming passengers right off the edge of a cliff. Your heart races just looking at the picture, no less so than if it were a scene in the latest Vin Diesel film. You're 100 percent absorbed in the drama, and then you glance down at the title written below: 'Tis Time to Jump Out. Not 'Tis Time to Freak Out and Run like Hell. Not even 'Tis Time to Receive Your Last Rites. But 'Tis Time to Jump Out—an homage to British civility and the art of the understatement, if there ever was one.
Other chortle-inducing works in the show include a purely visual bit of romantic humor by Rowlandson that shows an impassioned suitor down on one knee proposing marriage to a nightgown that he's mistaken for his beloved. Another is a slapstick scene by Cruikshank of loose pigs wreaking havoc on shoppers and apple carts in a London street fair. Livestock was commonly driven through the area twice weekly. Cruikshank seems to be raising an eyebrow, figuratively speaking, and saying, "Really? Should we be allowing such mayhem?"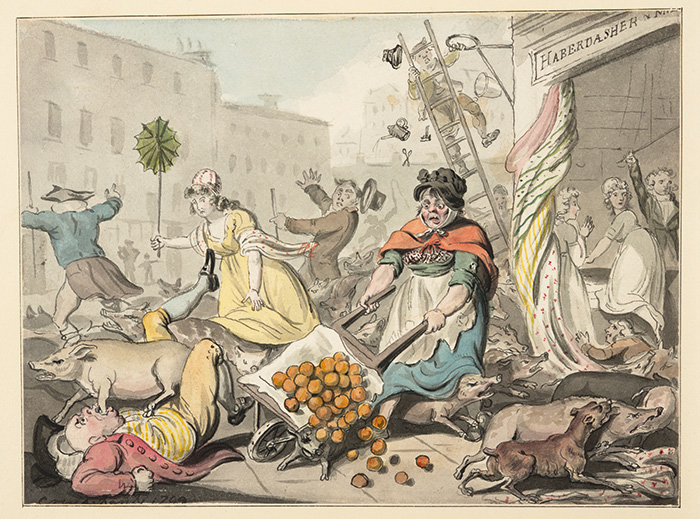 Isaac Cruikshank (British, 1764–1811),
Unruly Pigs
, 1799, pen and watercolor over pencil, The Huntington Library, Art Collections and Botanical Gardens.
'Tis Time for a Vote in Parliament might be the proper response. Or, even better, 'Tis Time for a Spot of Tea.
Thea M. Page is the director of marketing communications at The Huntington.