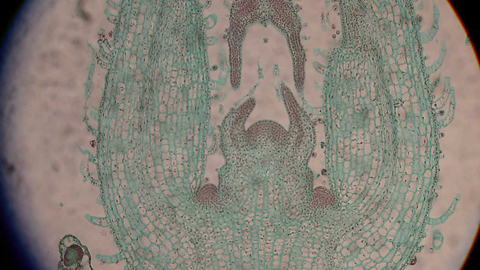 Twenty-five volunteers gathered in the auditorium of the Botanical Center on a recent Wednesday afternoon for a lecture on plant anatomy. A slide of the apical meristem—the growing tip of the shoot—"was projected on the screen as Huntington botanical educators talked about the major tissues that comprise plant organs. This is Botany I, one of the core courses of the institution's Volunteer Academy.
"I'm seeing many things about plant processes that are similar to human ones," says volunteer Linda Sader.
She and the other students in the class are volunteers that are part of the new class of Herb Garden docents. Once they've completed training, they'll help maintain the garden's culinary, perfume, and medicinal herb beds by weeding, raking, watering, and planting. They'll also provide important interpretation for garden visitors. But before they take their places in the garden, they have to finish the series of classes that will give them a solid foundation of plant science and Huntington history and culture. Their Volunteer Academy class series began with Introduction to The Huntington, then Botany I and II, and finally a series of specialized Herb Garden training classes. Since The Huntington began offering the Volunteer Academy in the fall of 2007, more than 130 volunteers have completed the core curriculum and have gone on to "graduate" from different areas of specialization.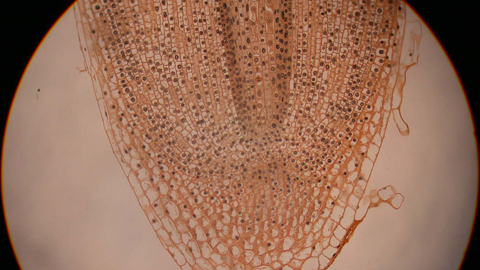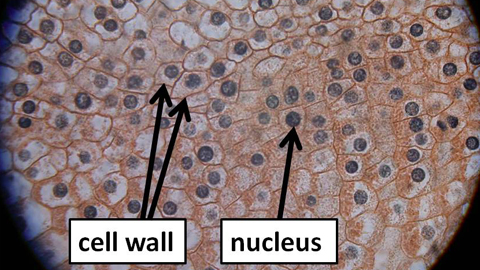 In Botany I, the students learn about the basic components of the plant cell. The next slide on the screen showed a longitudinal section of an onion root tip. The cells are interconnected by strong cell walls, looking almost like the brickwork on a building. The students can clearly see two important cell structures: the cell wall and the nucleus. The students took notes and asked questions about new vocabulary terms. This information will reappear on the test that will be administered at the end of the third week of class.
"The reason we include tests," says Associate Director of Education Kitty Connolly, "is to focus people's attention. Recent studies have shown, in fact, that people learn better when they know they are going to take a test."
"I like the fact that I'm exercising my brain," says Inez Holliday, "more than a crossword puzzle."
So if you see a group heading to the Botanical Center wearing backpacks and carrying their new pencil cases, they're probably headed to the auditorium to learn about photosynthesis or plant asexual reproduction. And when you marvel at the beauty of the Herb Garden on a sunny day in May, you'll see those same people out there helping make it so.
Mike Kerkman is a botanical educator at The Huntington.
Captions: The longitudinal section of the tip of an onion root (the "brick-like" structure of plant cells is clearly visible); increasing the magnification of the onion root tip helps in identification of important cell structures like the nucleus and the cell wall.