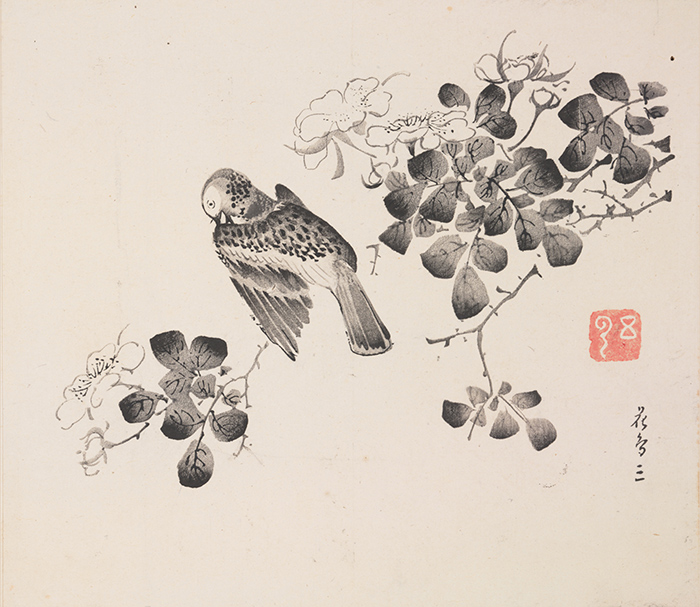 Bird on flowering rose branch by unidentified artist,
Ten Bamboo Studio Manual of Calligraphy and Painting
十竹齋書畫譜, Ming dynasty, Chongzhen period to early Qing dynasty, ca. 1633–1703, compiled and edited by Hu Zhengyan 胡正言 (1584/5–1673/4). The Huntington Library, Art Collections, and Botanical Gardens.
It's easy to imagine that heritage roses—with names such as 'Archduke Charles', 'William R. Smith', and 'Maman Cochet'—originated in England or France. But every repeat-blooming rose today traces its history back to the China rose, Rosa chinensis, says Tom Carruth, The Huntington's E. L. and Ruth B. Shannon Curator of the Rose Collections. About 1,300 years ago, a plant lover in China discovered a rose that didn't just bloom once a year, in spring or summer, but repeatedly throughout the year. Chinese hybridizers crossed that rose, Rosa chinensis or 'Yue Yue Hong' ("every month red" in Chinese) with Rosa giganteato produce the large, repeat-blooming roses that took Europe by storm in the 19th century, arriving with the tea trade and referred to as 'tea' roses.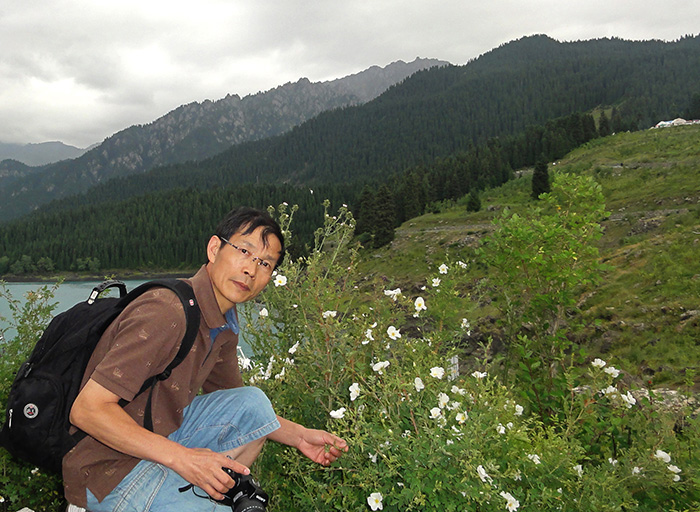 Guoliang Wang, the foremost authority on the ancient roses of China, will speak at two upcoming talks, including the 2016 Great Rosarians of the World lecture on June 11. Photo courtesy of Guoliang Wang.
The history of rose cultivation in China will be the topic of discussion at two upcoming talks by Guoliang Wang, author of Old Roses of China (currently available only in Chinese). A free lecture takes place in Rothenberg Hall on Thurs., June 9, at 7:30 p.m., as part of the East Asian Garden Lecture Series. Called "Explorations in the History of the Rose in China," it will focus on the research Wang conducted in field investigations throughout China to uncover the development of the rose, which reaches back to the Song dynasty (960–1279) and the Qing dynasty (1644–1911). Wang will also deliver the 2016 Great Rosarians of the World Lecture on Sat., June 11, at 2 p.m., preceded by a Fri., June 10, evening reception in the Chinese Garden, The Garden of Flowing Fragrance (Liu Fang Yuan 流芳園). Wang is a professor of horticulture with the Jiangsu Provincial Commission of Agriculture and a lecturer at Nanjing University and the Nanjing Agricultural University. He is considered the foremost authority on the ancient roses of China. If you're thinking of attending one or both talks—or even if you're not—you might want to visit the Tea and China rose section of The Huntington's Rose Garden. You'll find examples of the first China rose to reach Europe, 'Old Blush', as well as the Tea roses that came from it, such as 'Amazone' and 'Mademoiselle Franziska Krüger'. This section comprises beds 32 and 33 in the Rose Garden, located on either side of a concrete path just east of the Tea Room and north of the white trellis that lines the Rose Garden.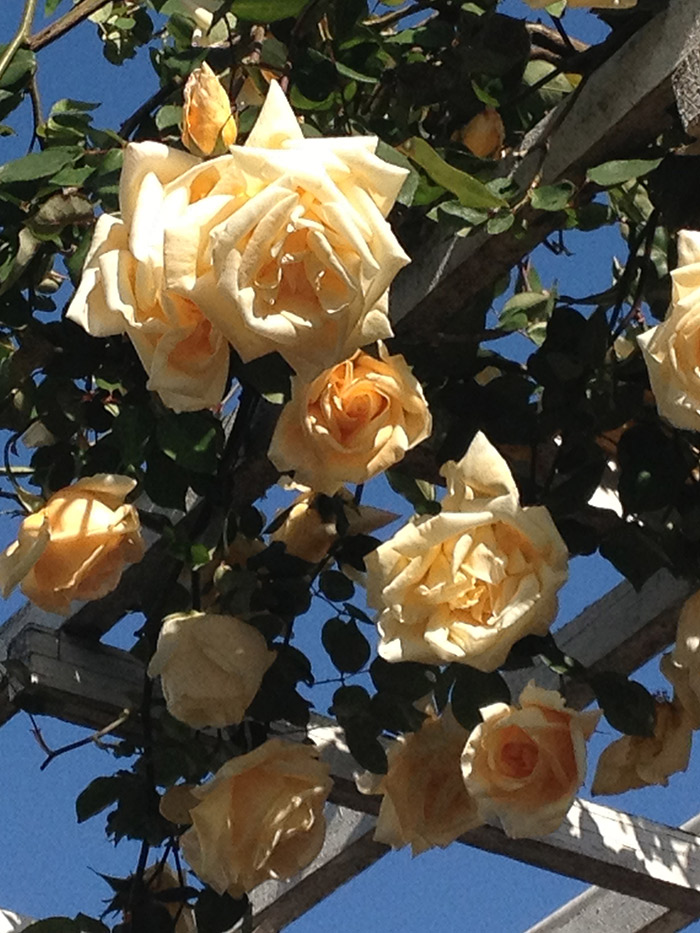 The 'Lady Hillingdon' Tea rose is prized for its apricot yellow blooms and long buds. Photo by Tom Carruth.
Tea roses are taller and wispier than other types. These are the roses that gave us what is today considered the ideal flower form—a tall stem with long, elegant buds that unfurl their petals, says Carruth. But don't expect a huge technicolor profusion of blooms in this section. (Later hybridizers would introduce roses with more robust forms and a wider range of color.) "These have a unique style that some rose lovers adore. They also hold tremendous historical value," says Carruth. On a practical note, if you happen to have China or Tea roses (pure Tea roses, not Hybrid Teas) in your yard, be aware that they have particular pruning needs and a pruning schedule different from those of other roses. At The Huntington, China and Tea roses are the last plants to be pruned—in mid-February, as opposed to early January. Also, The Huntington's famed volunteer corps, the Grateful Deadheaders, know to prune lightly—taking off about a quarter of the plant's size, not the 50–60 percent that hybrids (including Hybrid Teas) want and need to look their best. Carruth looks forward to showing Professor Wang around the Rose Garden. He's also eager to hear what Wang thinks of our Chinese Garden. Might the Chinese rose authority be able to suggest the right type of rose for our scholar's garden? Carruth is betting he'll have an idea or two.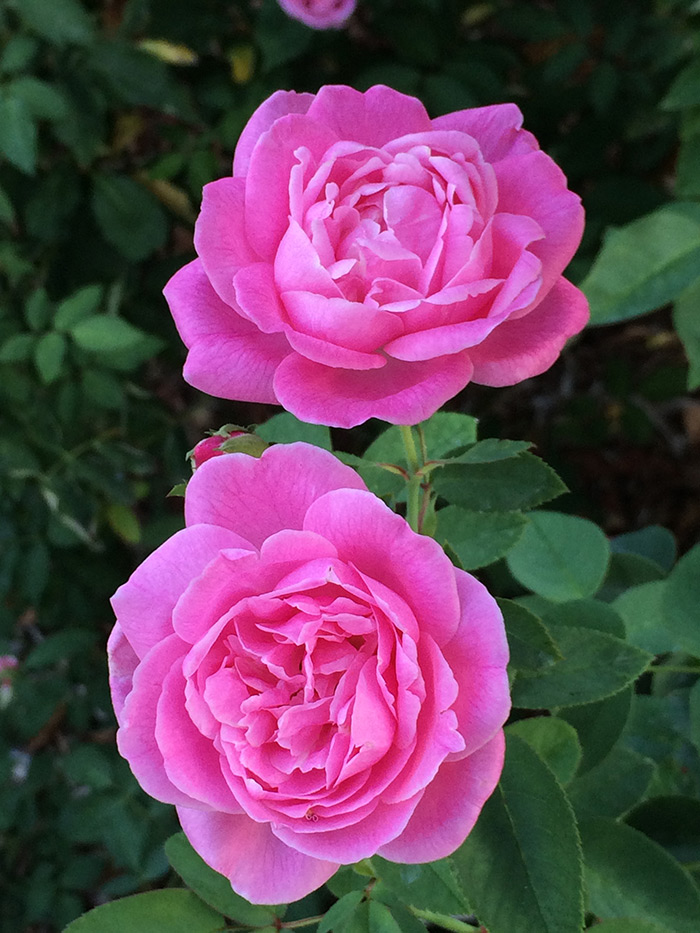 Introduced sometime before 1840, the 'Hermosa' China rose became popular in Europe for its compact shape and lavender-pink blooms. Photo by Tom Carruth.
Another rose-related event this month is a two-day painting class, "Botanical Watercolor: Roses," taught by artist Lisa Pompelli from 9:30 a.m. to 3:30 p.m. on June 11 and 12. Diana W. Thompson is senior writer in the office of communications and marketing at The Huntington.