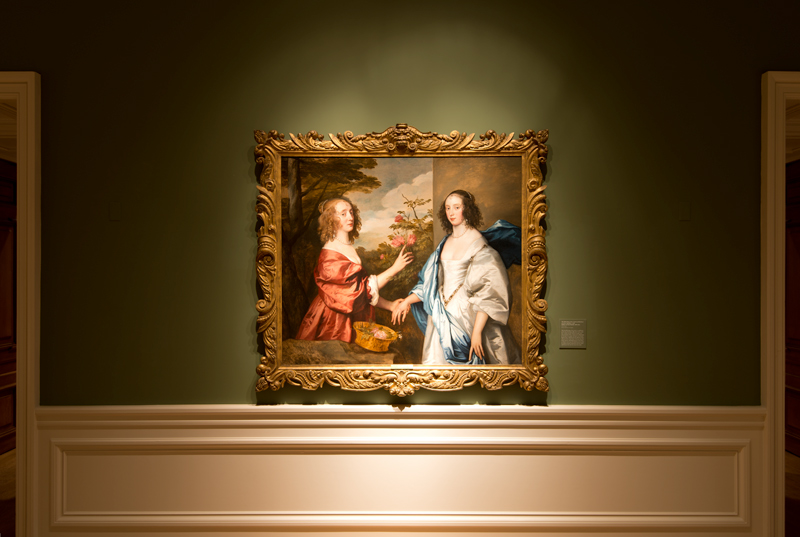 Anthony van Dyck (Flemish, 1599–1641),
The Cheeke Sisters: Essex, Countess of Manchester and Anne, Lady Rich
, c. 1640. Oil on canvas. Private collection, Los Angeles.
A special treat for art aficionados is now on view in the Huntington Art Gallery. Just outside the Thornton Portrait Gallery (where hangs the famous Blue Boy) is a rare double portrait of The Cheeke Sisters: Essex, Countess of Manchester and Anne, Lady Rich, painted around 1640 by the great Flemish portraitist Anthony van Dyck, who was born on this day in 1599.
The detailed, touching portrait of two sisters—an elegy on marriage and love—belongs to a small and distinguished group of double portraits painted by Van Dyck in England during the last years of his life. On the left side of the painting, Essex Cheeke (who is already married) meets the visitor's gaze tenderly but knowingly—her finger on the rosebush, symbolizing her knowledge of carnal love. On the right, dressed in virginal white and soon to marry, is her sister Anne. In taking her sister gently by the hand and guiding it toward a basket of roses, Essex symbolically encourages Anne and shows her she has nothing to fear—the roses have no thorns, and the pleasures of love await.
But don't let this painting long await your visit. The Cheeke Sisters is on loan from a private collector and will be on view for a short time.
While you're in the gallery, be sure to check out the portrait of Anne Kirke, ca. 1637, also by van Dyck and part of The Huntington's permanent collection.
Thea M. Page is director of marketing communications at The Huntington.