This photograph and illustration depict the same scene—black soldiers undergoing punishment on the "wooden horse." The illustration comes from Frank Leslie's Illustrated Newspaper (Dec. 10, 1884), and the illustrator assures that his "drawing is from life...and brings the truth vividly to the spectator's mind." The author of the corresponding article uses the image to support the claim that the "obtuse sensibilities" of "negro troops" saves them from the inherent shame in punishment, and controlling them required far more force than what was needed to discipline white soldiers. Meanwhile the photograph, which comes from The Huntington's James E. Taylor collection of Civil War images, captures just two soldiers straddling the suspended beam with stoic faces (this in contrast to the newspaper's illustration, which shows many more soldiers, some playing cards while others nap).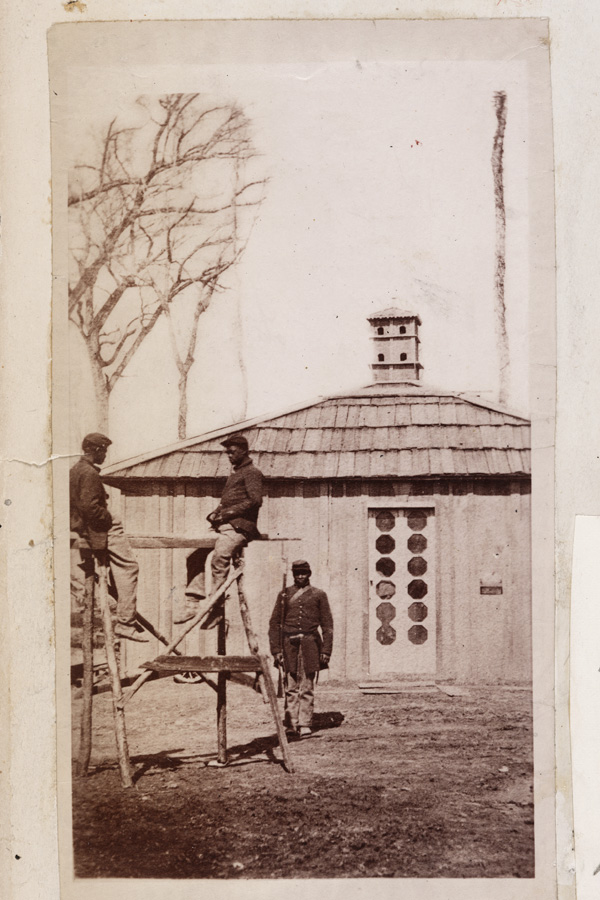 Juxtaposing these two images certainly exposes racial stereotypes, and also reminds us that in the 1860s photography was still in its infant stage. But photography matured during the Civil War from a scientific tool into an irreplaceable graphic medium. Men like Mathew Brady, Alexander Gardner, and Andrew J. Russell fathered photojournalism, while ambrotype, daguerreotype, and tintypes brought families to the battlefield in the pockets of fathers, sons, husbands, and brothers. However, due to limitations in technology, editors could not easily incorporate photographs into print media, and so newspapers and magazines relied on illustrators to translate scenes into a form that could be mass-produced. This translation allowed for some creative adjustments on the part of the illustrators, apparent in the discrepancies between these two images.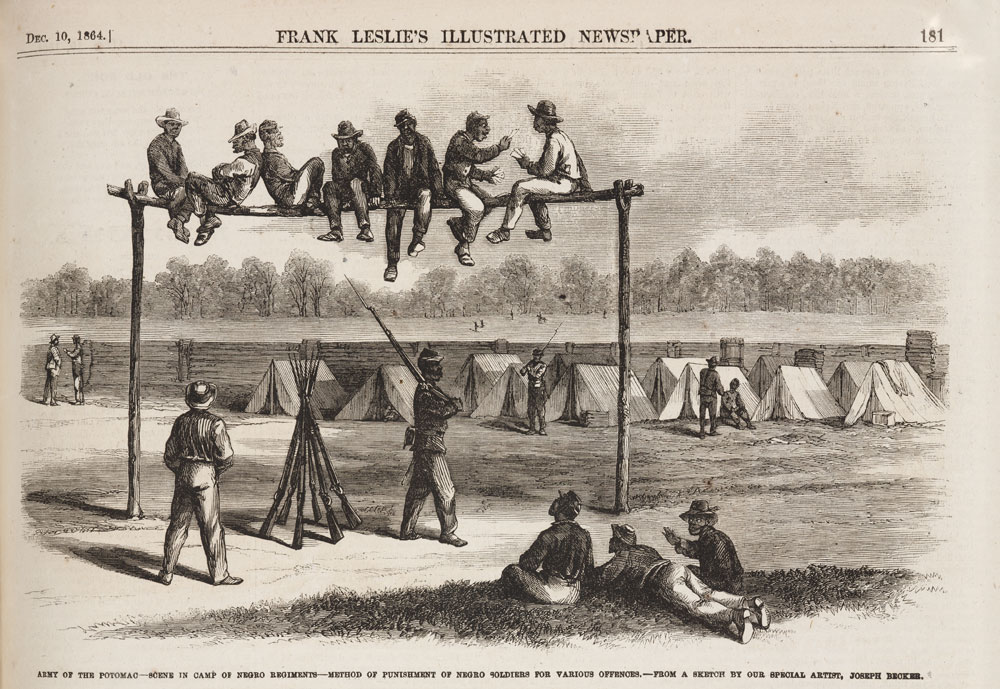 The Huntington's James E. Taylor collection captures this translation process. Taylor, a Civil War veteran, also illustrated for Leslie's during the last half of the war. To inform his illustrations, Taylor collected thousands of images while traveling with the Union Army. After the war, he became a painter of Civil War battle scenes.
The Huntington is planning a Civil War exhibition for the fall of 2012. Drawing primarily from its unparalleled photographic, print, and ephemera collections, "A Strange and Fearful Interest" will be a visual exploration of the ways in which death and mourning in the Civil War have informed American memory. The exhibition will also present an opportunity for The Huntington to share rare and never-before-seen Civil War images.