Growth had slowed on this coast live oak (
Quercus agrifolia
) near the Boone Gallery. Photo by Kate Lain.
Huntington arborist Daniel Goyette first investigated the two-story-high coast live oak (Quercus agrifolia) near the Boone Gallery to address concerns that its growth had slowed. Soil was built up around one side of it, and it appeared to be listing. On closer inspection, the tree doctor determined that the tree was slowly suffocating and required a root collar excavation. Say what?
Over time, soil, leaf litter, and other natural materials can accumulate around the base of a tree—literally cutting off the tree's ability to breathe. In this case, the problem was exacerbated by gopher activity, which had created a mound of soil on one side. The additional soil also gave the impression that the tree was leaning.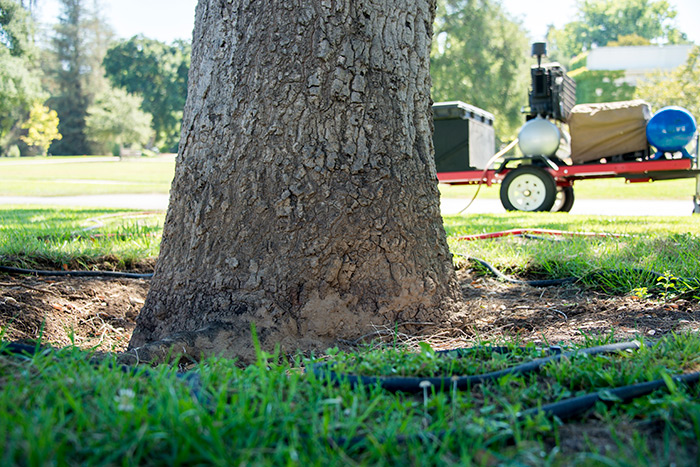 Over time, soil accumulates around a tree's trunk, cutting off the air supply. Help is on the way, in the form of an air spade attached to an air compressor, seen here in the background. Photo by Kate Lain.
"For a tree to breathe, it needs to have its root collar unencumbered and exposed," says Goyette. "Especially with native oaks, you don't want to put soil or mulch up against them."
In a healthy, mature tree, large buttress roots rise partway out of the ground, creating root flare—where the root meets the ground and flares out. Goyette couldn't even see the buttress roots. So he brought out one of his favorite tree-care tools: the air spade.
Attached to a compressor, the spade shoots 110 pounds per square inch of air through a metal tube and nozzle. The blast of air is just powerful enough to dislodge soil without damaging delicate roots.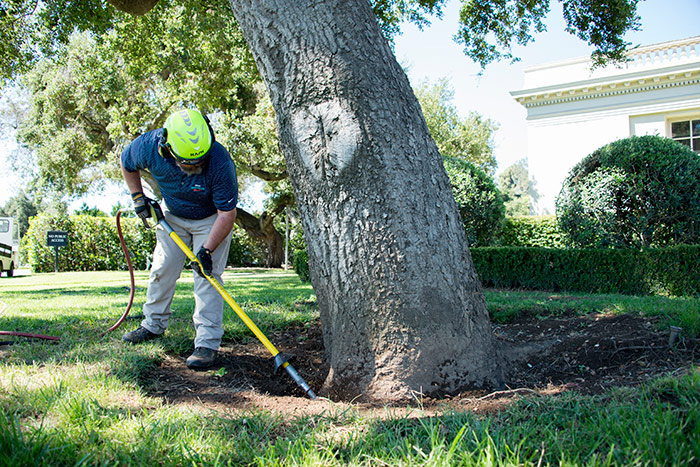 Huntington arborist Daniel Goyette uses an air spade to dislodge excess soil and expose the tree's buttress roots. Photo by Kate Lain.
Before using the air spade, Goyette takes a few precautions. He turns a soaker hose on overnight so that the soil around the root flare won't create a dust storm during excavation. Then he dons ear plugs and protective glasses. A loud whirring noise fills the air as Goyette points the nozzle at the tree's base. He angles the nozzle to nudge loose the soil around small feeder roots, and then he works his way around the tree.
Several hours of excavation were enough to finally reveal the start of the buttress roots. They've been completely covered with soil, subjecting the tree to ongoing stress. Uncovering them may require removing about a foot or more of soil from the tree's trunk, says Goyette. Once he uncovers the roots, he can make sure nothing else is negatively impacting the tree. "I'm hoping that, by next spring, we'll see a whole new flush of growth," he says.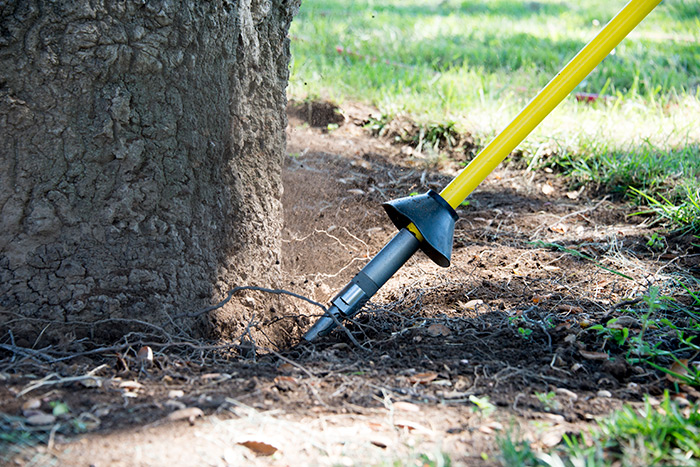 A compressor supplies a powerful jet of air to the nozzle. Photo by Kate Lain.
Wind and the raking of leaves off nearby paths eventually causes soil build-up around trees. "We're fortunate to be a botanical garden that's close to 100 years old," says Goyette. "But we need to keep up with this sort of maintenance."
Considering that The Huntington possesses roughly 10,000 trees, many of which date to its founding, Goyette clearly has his work cut out for him. But when you stand under the dense canopy of the oak, its shade cutting the temperature by 10 or more degrees, you're grateful that he's on the job.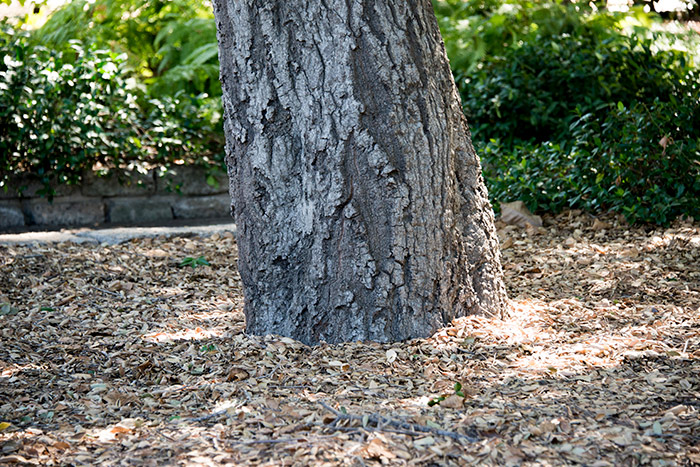 Another coast live oak requires treatment. The base of a tree trunk should flare. When it looks like a straight telephone pole, there's generally a problem. (Homeowners sometimes create a similar issue by planting a tree too deep.) Photo by Kate Lain.
Diana W. Thompson is senior writer for the office of communications and marketing at The Huntington.