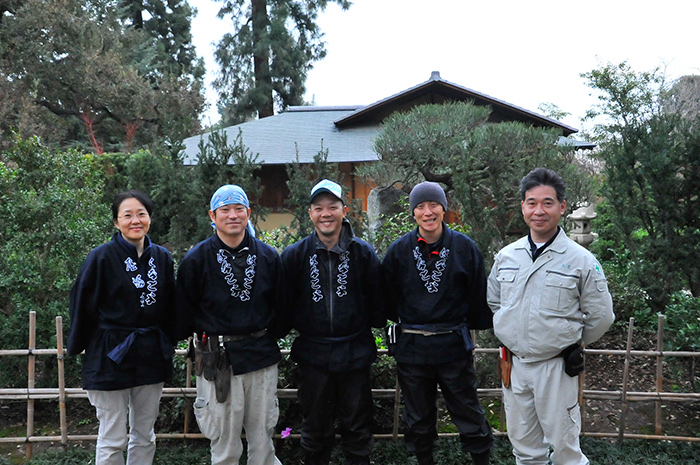 Kyoto-based landscape designer Takuhiro Yamada (far right) and his pruning crew, from left to right: Kaori Ashida, Tomohiko Kawamura, Yusuke Nakabayashi, and Shigeki Masuda. Photo by Andrew Mitchell.
For Kyoto-based landscape designer Takuhiro Yamada, the tea garden he designed in The Huntington's Japanese Garden is a work in progress. Each year, he returns to check on its development and chooses a few areas where he can help infuse the plants, shrubs, and trees with a design aesthetic that harks back to Japan—or, more specifically, to Kyoto.
In the long growing season of Southern California, quite a bit of growth occurs in a year. What struck Yamada when he returned earlier this year was that the leaves and branches on many of the pine trees had become so dense and thick that they started resembling big bonsai.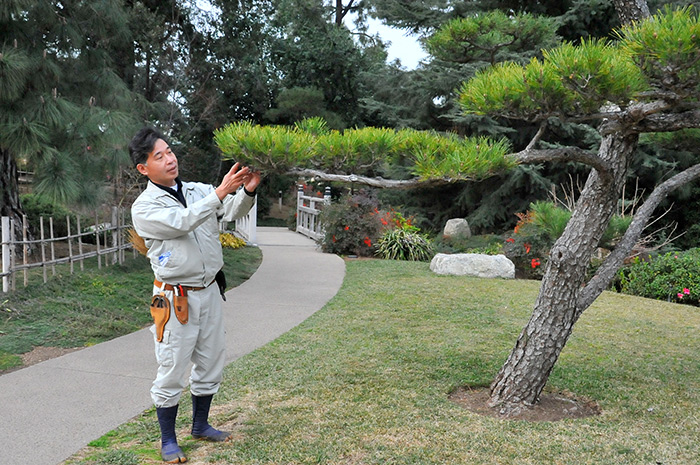 During his annual pruning visit to The Huntington's Japanese Garden, Yamada noticed that the branches of the black pine
(Pinus thunbergii)
near the teahouse were looking too much like a big bonsai. Photo by Andrew Mitchell.
He looks at a black pine (Pinus thunbergii) near the teahouse, for instance. "The top part is open the way I like it but the bottom has too many small branches clustered together," says the designer. To him, the shape reads too much like a bonsai, which by definition has a compact form. By contrast, a landscape tree needs to have a nice, open shape.
A tree's contours also contribute to a visitor's mood, says Robert Hori, The Huntington's gardens cultural curator. "If a tree is too tightly cropped, you'll feel tension," he says. "By opening up a tree and letting more air circulate, it gives it a more relaxed feel, encouraging the visitor to relax, too."
Yamada walks to the Zillgitt bonsai court and points to another black pine planted in the center. This tree also has a compact shape. In this case, though, it works, he says. Its location in the bonsai court makes it okay for its style to imitate the small trees in pots.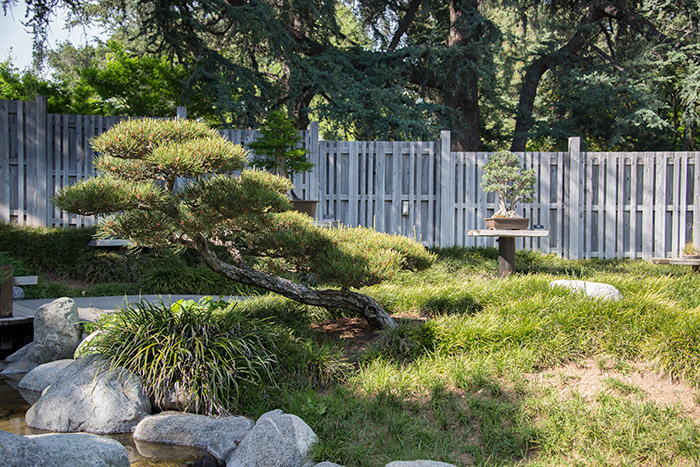 The compact form of this black pine didn't bother Yamada because of its location in the Zillgitt bonsai court. Photo by Kate Lain.
Descending a few steps further into the Japanese Garden, he assesses other trees. He walks up to a black pine that he's been pruning for about five years. "I've been thinning this one to create lightness and airiness," he said. When he thinks about its shape, he imagines the branches as different levels of a terrace. At the same time, the overall feel must be a relaxed, soft form, not flat or rigid.
Pine trees benefit from pruning two or three times a year—once in winter as Yamada does, but at least once in spring to early summer when the upright buds at the branch tips, called candles, form. Selectively pruning the candles is another way to nudge the tree in the right direction.
The Japanese landscape designer does what he can with once-a-year pruning. Standing back, he appraises its form. "It's on the way," he'll allow.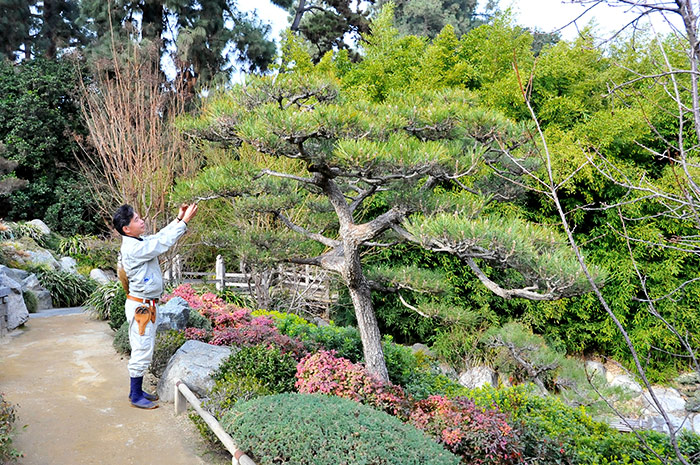 Yamada has been pruning this black pine for about five years. It doesn't quite have the softness he's after, but it's "on the way." Photo by Andrew Mitchell.
Yamada has also been making his mark elsewhere in the Japanese Garden. Last year, he noticed that the azaleas on the upper banks of the garden were looking very manicured. "I advised the landscape crew to leave them more natural and take off only the pieces of the plant that were really sticking out," he says.
He evaluates the azaleas now and appreciates their rolling, mounding appearance. They look better, he says, more in keeping with a style that you'd see in Kyoto's famous gardens, such as Ginkaku-Ji or Ryoan-Ji.
Installing a Japanese garden correctly is crucial, says Yamada, but so is maintaining it. Knowing that, he happily returns each year, gently pruning and shaping the plants in keeping with the centuries-old traditions of his hometown of Kyoto.
Related content on Verso:
LISTEN>> Japanese Tea Ceremony (June 3, 2016)
Pruning, Kyoto-style (March 14, 2016)
Worth the Wait (Aug. 7, 2015)
Diana W. Thompson is senior writer in the office of communications and marketing.