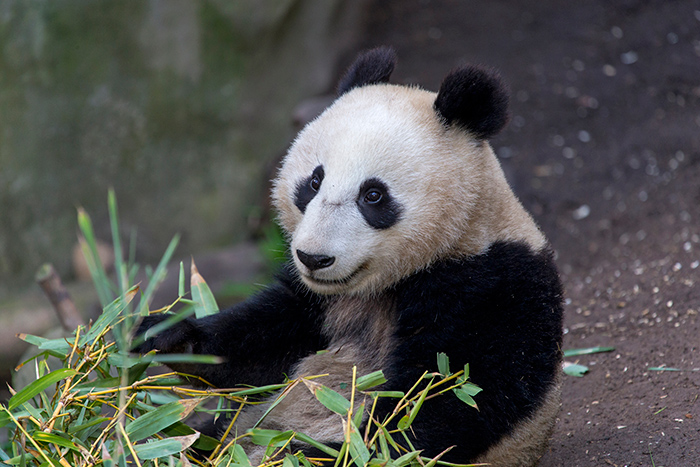 Xiao Liwu, one of San Diego Zoo's three giant pandas, dines in his Zoo enclosure on bamboo harvested from the gardens at The Huntington, among other sources. Photo courtesy of San Diego Zoo Global.
When the pandas at the San Diego Zoo crave a bit of variety on their menu, zookeepers know exactly what to do. They order up some Chinese takeout.
That's what led the Zoo to partner with The Huntington this year to obtain bamboo from the Botanical Gardens to help satisfy the appetites of its three star attractions: giant pandas Bai Yun, Gao Gao, and three-year-old Xiao Liwu. The Huntington's plant collections include some 70 different species of bamboo, many of them native to China, offering a range of delicacies to tempt even the most finicky panda palate.
"When the zoo dietician contacted us about harvesting some of our bamboo, we were happy to help," says David MacLaren, curator of Asian Gardens at The Huntington. Thinning the groves is healthy for the plants because it lets in more light and encourages new growth, he explains. "We've got plenty of bamboo to spare, so it's great to be able to donate some of our surplus growth to such a worthwhile cause."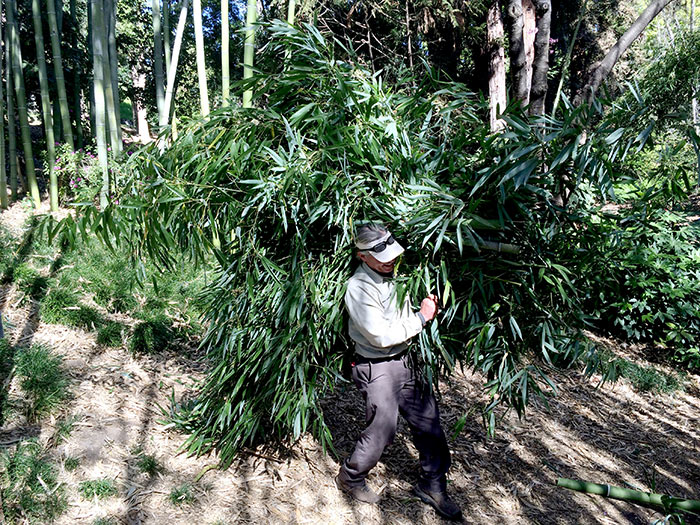 Carry-out order: Daniel Ramos, a senior horticulturist with the San Diego Zoo, carries a bundle of freshly cut timber bamboo (
Phyllostachys vivax
'Wubujizhu', a Chinese native) out of a grove in the Japanese Garden. Photo by Lisa Blackburn.
The Huntington's harvest supplements bamboo grown in the Zoo's own groves and vegetation obtained from the San Diego Botanic Garden and other sources. In addition to expanding the pandas' menu, using outside resources gives the Zoo's heavily used bamboo stands a rest, allowing the plants to grow more fully for future harvesting.
Once a week, a team of the Zoo's browse horticulturists (specialists in growing dietary plant material for zoological collections) makes the trek up from San Diego to San Marino. On a recent visit, senior horticulturists John Updike and Daniel Ramos cut tall stems, or culms, from three different varieties: Bambusa beecheyana, a clumping type that grows by the Lily Ponds; Phyllostachys vivax 'Wubujizhu', a towering timber bamboo that lines the path at the south end of the Japanese Garden; and P. aureosulcata f. spectabilis, a willowy, yellow-caned bamboo in the Chinese Garden. All three species are Chinese natives. (Visitors to the gardens needn't fear that harvesting will diminish the bamboo groves; the cutting is done selectively and in limited quantities from any given area.)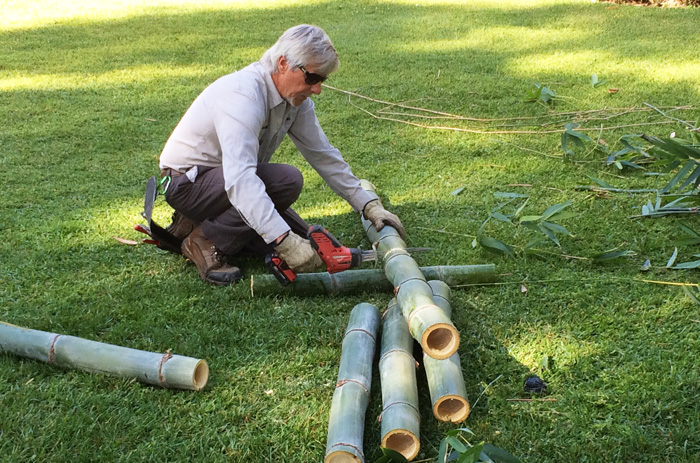 Senior horticulturist John Updike of the San Diego Zoo cuts thick culms of Bambusa beecheyana into smaller sections. Pandas peel these tough, fibrous stems into strips and eat them along with the tender leaves and branches. Photo by Lisa Blackburn.
"Dietary diversity is essential for nutrition, and it also keeps the pandas interested," says Daniel Simpson, the Zoo's horticulture manager. "Feeding a panda a new type of bamboo is like offering a chocolate chip cookie to someone who's been eating only rice cakes." He also notes that taste varies among the three animals. The Zoo's animal care specialists take note of the pandas' preferences, and then each week they give Simpson a shopping list. The Huntington's bamboo is particularly beneficial as a food source, explains Simpson, because it's chemical-free and regularly irrigated, which enhances its nutritional value.
After felling a tall culm from a large stand of bamboo, Updike and Ramos strip the leaves and branches from the cut stems and tie them into neat bundles. The hollow culms are cut into smaller lengths, and then everything is loaded onto the truck for the two-hour drive back to San Diego. Roughly 200 pounds of bamboo are collected on each trip. Back at the Zoo, it's wetted down and placed in refrigerated storage barns to keep it fresh.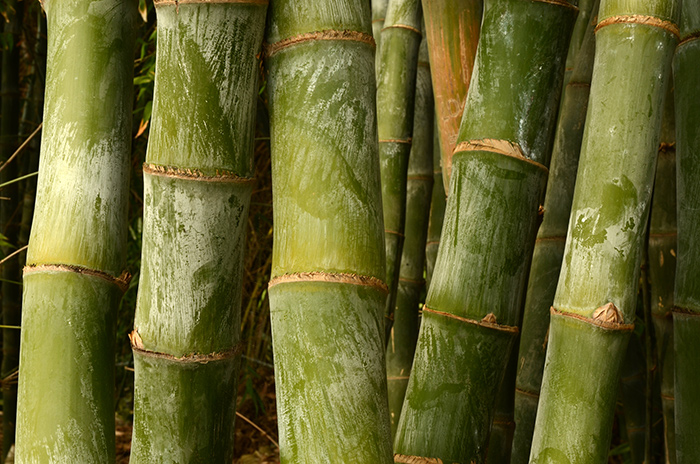 The Huntington's collections include some 70 species of bamboo, many of them native to China. Pictured here:
Bambusa beecheyana
. Photo by Lisa Blackburn.
Each panda consumes roughly 50 pounds of bamboo a day, devouring the tender leaves and branches as well as the tough, fibrous culms, which they peel into strips. By taking careful note of the panda's likes and dislikes as they munch on The Huntington's "takeout," the Zoo's horticulture staff figure out which varieties of bamboo to use to supplement their own groves.
If variety is the spice of life, then three lucky pandas in San Diego are experiencing a very zesty life indeed.
You can watch San Diego Zoo staff harvesting bamboo at The Huntington in a video on the Zoo's website. Panda fans can also watch the animals enjoying their meals (and much more) on the Zoo's live Panda Cam.
Lisa Blackburn is communications coordinator at The Huntington.
Note: The panda in the top photo had been misidentified as Bai Yun. Corrected March 25. We apologize for the confusion.