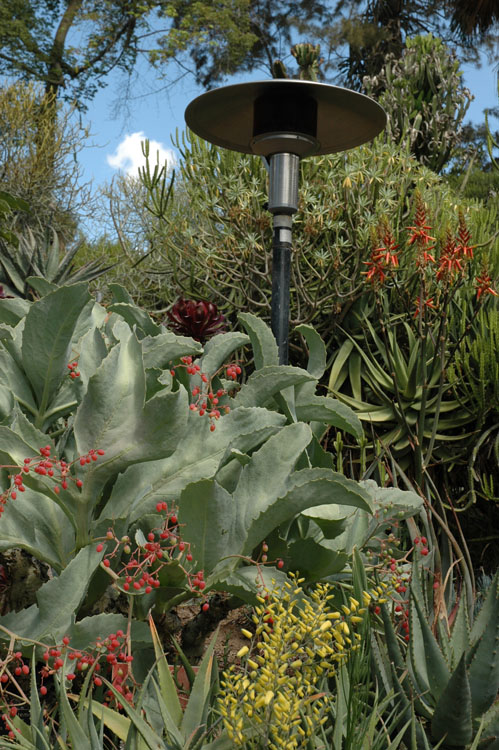 Freezing temperatures are a rare occurrence in San Marino, but when they hit they can be devastating to some of the plants in the botanical collections, including many rare cacti and succulents. In the Desert Garden, heaters are used in certain locations during periods of extremely cold weather to protect some of the most vulnerable and sensitive species that are growing in the outdoor beds. You may have seen these heaters in the upper portion of the garden, interspersed among the plants from Madagascar, Africa, and the Arabian peninsula. They were funded in part by a grant from the Kenneth T. and Eileen L. Norris Foundation in 2007.
"The heaters are put in place when the weather starts to get cold, but they don't come on until the overnight temperatures drop below 35-38 degrees. That's happened several nights this week" says Gary Lyons, curator of the Desert Garden. Thermostat settings vary depending on the bed, the plants, and the degree of exposure.
While heaters help protect these outdoor plants from killing frost, the most delicate cacti and succulents are kept indoors, in the Desert Garden Conservatory. It's open to visitors on Saturdays and is well worth a visit next time you're here.
And be sure to bring your camera when you come! Check out some of the wonderful photos taken by our Flickr members in the Desert Garden at The Huntington group.
Lisa Blackburn is communications coordinator at The Huntington.