Posted on November 15, 2021 by Malik Gaines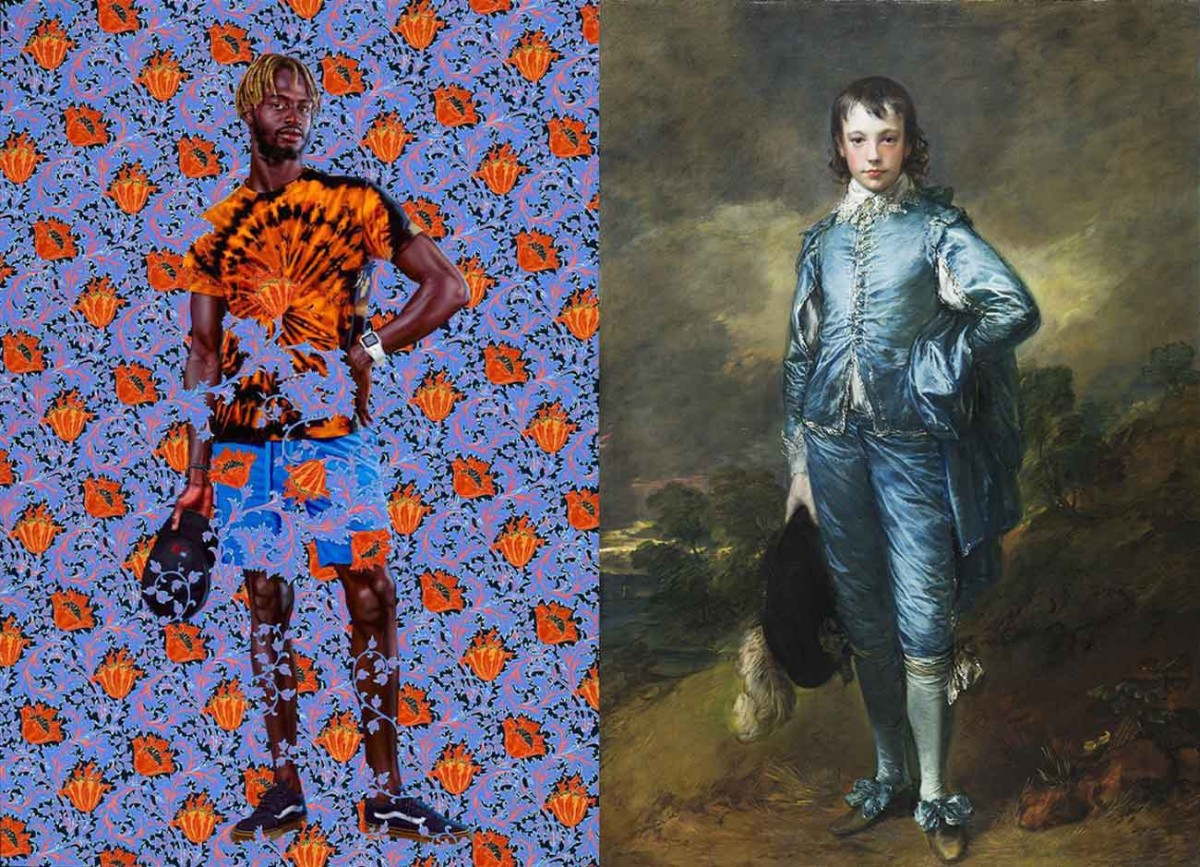 Left: Kehinde Wiley, A Portrait of a Young Gentleman, 2021. Oil on linen, canvas: 70 1/2 × 49 1/8 in. (179.1 × 124.8 cm.), frame: 87 × 64 × 5 1/4 in. (221 × 162.6 × 13.3 cm.) © Kehinde Wiley. Collection of The Huntington Library, Art Museum, and Botanical Gardens, and commissioned through Roberts Projects, Los Angeles. Right: Thomas Gainsborough, The Blue Boy, ca. 1770. Post-conservation photo by Christina Milton O'Connell. The Huntington Library, Art Museum, and Botanical Gardens.
On Oct. 2, 2021, visitors got a first look at Kehinde Wiley's A Portrait of a Young Gentleman as it made its world debut at The Huntington. The institution's newly commissioned work reconceives its famous painting The Blue Boy (ca. 1770) by Thomas Gainsborough in a contemporary context.
The new painting is on view through Jan. 3, 2022, in The Huntington's Thornton Portrait Gallery, opposite the recently restored Gainsborough icon. The acquisition of the Wiley portrait celebrates the 100th anniversary of the purchase of The Blue Boy by Henry and Arabella Huntington, the institution's founders.
What follows is a brief excerpt from an essay by Malik Gaines for the book Kehinde Wiley: A Portrait of a Young Gentleman (The Huntington Library, Art Museum, and Botanical Gardens, 2022).
Kehinde Wiley is well known for his large, colorful paintings that insert Black subjects into canonical European settings and ornate decorative patterns. His body of work is full of beautiful young men—and sometimes women—posing heroically in finery and regalia. His work is fine art; he emerges from contemporary art training and practice, having attended Yale School of Art and The Studio Museum in Harlem's artist-in-residence program, and having had prestigious exhibitions, including a 2015 survey at the Brooklyn Museum.
But Wiley is also engaged with a larger cultural sphere, contributing to the ways in which that sphere produces a sense of the present. We saw his work featured in the TV soap opera Empire. We noticed him on the cover of a portraiture-themed issue of Vanity Fair magazine wearing a suit of armor. We have passed through chambers full of 43 grim-faced men in Washington's National Portrait Gallery to reach his painting of President Barack Obama, which is now on view at the Los Angeles County Museum of Art through Jan. 2, 2022. Wiley's work circulates widely and helps shape our shared image world.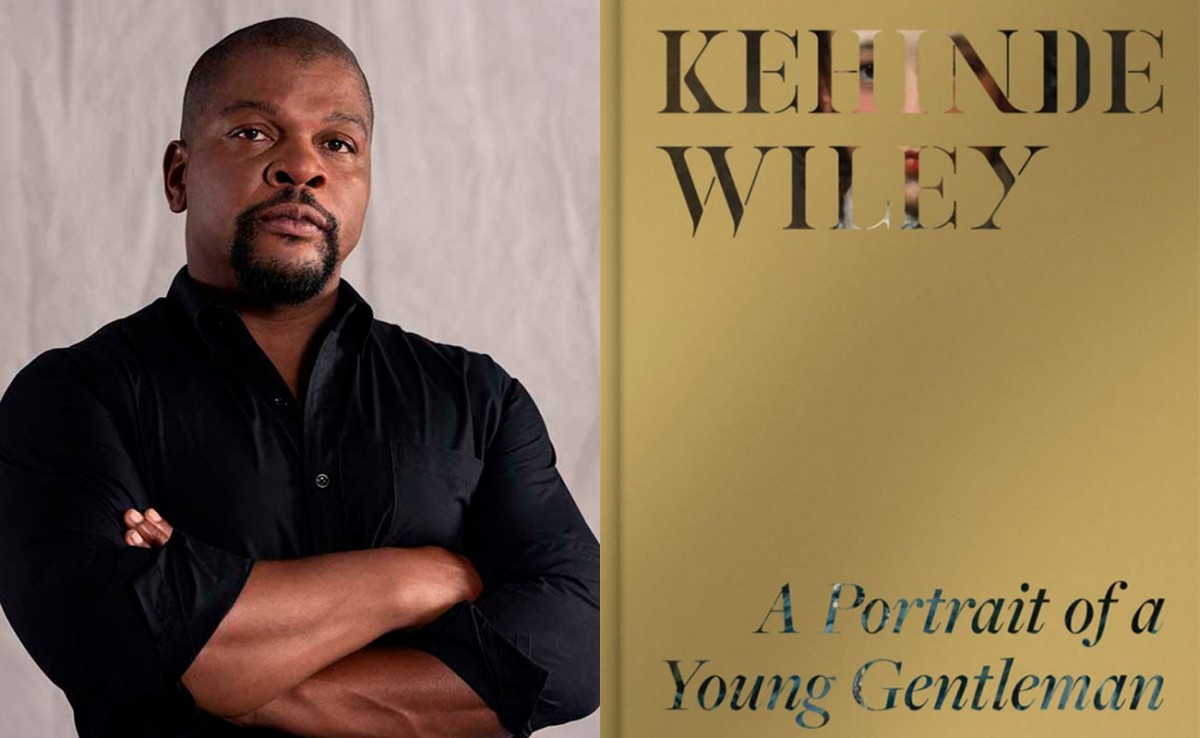 Left: Kehinde Wiley. Photo by Brad Ogbonna. Right: Cover of Kehinde Wiley: A Portrait of a Young Gentleman.
Wiley's approach can be appreciated on several levels. From the point of view of Black audiences, there can be some satisfaction in seeing Black figures treated nicely for once. From an institutional perspective—among museums and galleries and in the media—politics of inclusion offer a framework for situating Wiley's work. A general liberal audience might relate to this as politically appropriate diversity. Placing a figure onto a ground where he was previously prohibited is an integrative move, something like a human resources mandate. And in the realm beyond equitable policy, watching this change in status offers a kind of drama, the frisson of a Black figure centered in a place of prominence, holding that guise of certainty and posture of confidence—dominance, even—that European portraiture had secured for the wealthy, the elite, and the protagonists of history. There is a perverse pleasure in relating one's body to this rearrangement.
With a new painting that responds to Thomas Gainsborough's The Blue Boy, Wiley again revises a "masterpiece," adding Black youth to the repertoire of English grand manner portraiture, redirecting the genre's aggrandizing powers, and challenging its exclusivity. In an allusion to his own Los Angeles upbringing, when he was inspired by Blue Boy as a youth visiting The Huntington, Wiley proposes to place Gainsborough's jaunty young chap from about 1770 in direct dialogue with someone more like himself. This conversation broadens Blue Boy's historical reach.
Apart from the possible ancestral Moorishness of Britain's Queen Charlotte, the figures of this type of portraiture are decidedly white. The grandness of their milieu is undergirded by the profits of colonization. Theirs is a surround of England's world activities, including the transatlantic trade in enslaved Africans, then at its height, and more than a century of brutal genocidal conquest in North America and violent public/private imperial expansion in South Asia.
These campaigns and adventures not only enriched the empire through the appropriation of territory, resources, and bodies but also expanded a peripheral vision that buttressed the look of Britishness. Curiously, Blue Boy stands slightly apart from others in his painting tradition, revealing some of the precarity of this position. Neither politician nor aristocrat, the boy stands playfully askew in an unstable field, his attire delicate and superfluous, his unfulfilled masculinity marked by the youth of his face and unwigged hair, his very identity unconfirmed. He is the symbol of an ideal of potential.
Referring to Blue Boy, fashion historian Kimberly Chrisman-Campbell helpfully notes:
Grand manner portraits were infused with the visual and intellectual qualities of classical art and paintings by old masters like Van Dyck, Peter Paul Rubens, and Raphael. They appealed to both aristocrats steeped in these aesthetic traditions and parvenu patrons hoping to burnish their social credentials. The grand manner encompassed not just costume but also composition, monumental scale, backgrounds, props, and dramatic coloring. The sitters might wear modern dress, but they borrowed poses from ancient Greek marbles or the ceiling of the Sistine Chapel. And modern, fashionable dress was just one of many options available to sitters.
This consideration of the grand manner opens up ways of looking at Wiley's work beyond the simple establishment of affirmative representations. These paintings, like much of the European canon, are full of allusion and recombination, muddled by persistent attempts to attach their present to classical Mediterranean history, relying on a set of costumes and a dramatic mood that reference theatrical action.
In this sense, Wiley's strategy of juxtaposition, relying on postmodern appropriation, is not a radical reversal of the order but rather a fulfillment of its own logic. There is no centered and unified original against which to agitate; all representations are contingent in the first place, Wiley's no less. Rather than simply resolving painting's powerful tensions in positive images of Black people, Wiley's work casts Black figures deeper into the morass that the grand manner plays in, reminding us that history is an illusion, power is up for grabs, what disappears is as consequential as what appears, race is arbitrated, gender is a travesty, and size matters.
To continue reading this essay, preorder the book Kehinde Wiley: A Portrait of a Young Gentleman from the Huntington Store.
You can watch an online symposium related to the exhibition, "Looking Like a Person: Portraits after Coloniality," on The Huntington's website.
The commission of the Wiley portrait and its presentation are made possible by an Anonymous Foundation, Anne F. Rothenberg, Terry Perucca and Annette Serrurier, the Philip and Muriel Berman Foundation, and the WHH Foundation. Additional support is provided by Laura and Carlton Seaver, Kent Belden and Dr. Louis Re, and Faye and Robert Davidson.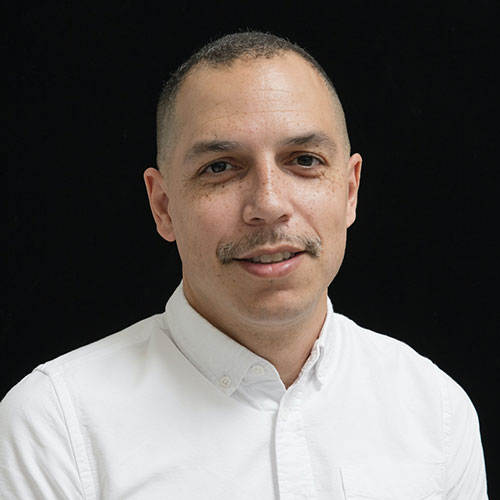 Malik Gaines is a writer, performer, and associate professor and director of undergraduate studies at New York University's Tisch School of the Arts. Photo courtesy of New York University.