Who's Behind the Curtain?
Posted on December 28, 2018 by By Lynne Heffley
Kathleen Quinn's elegant drapes accent the renovation of a grand staircase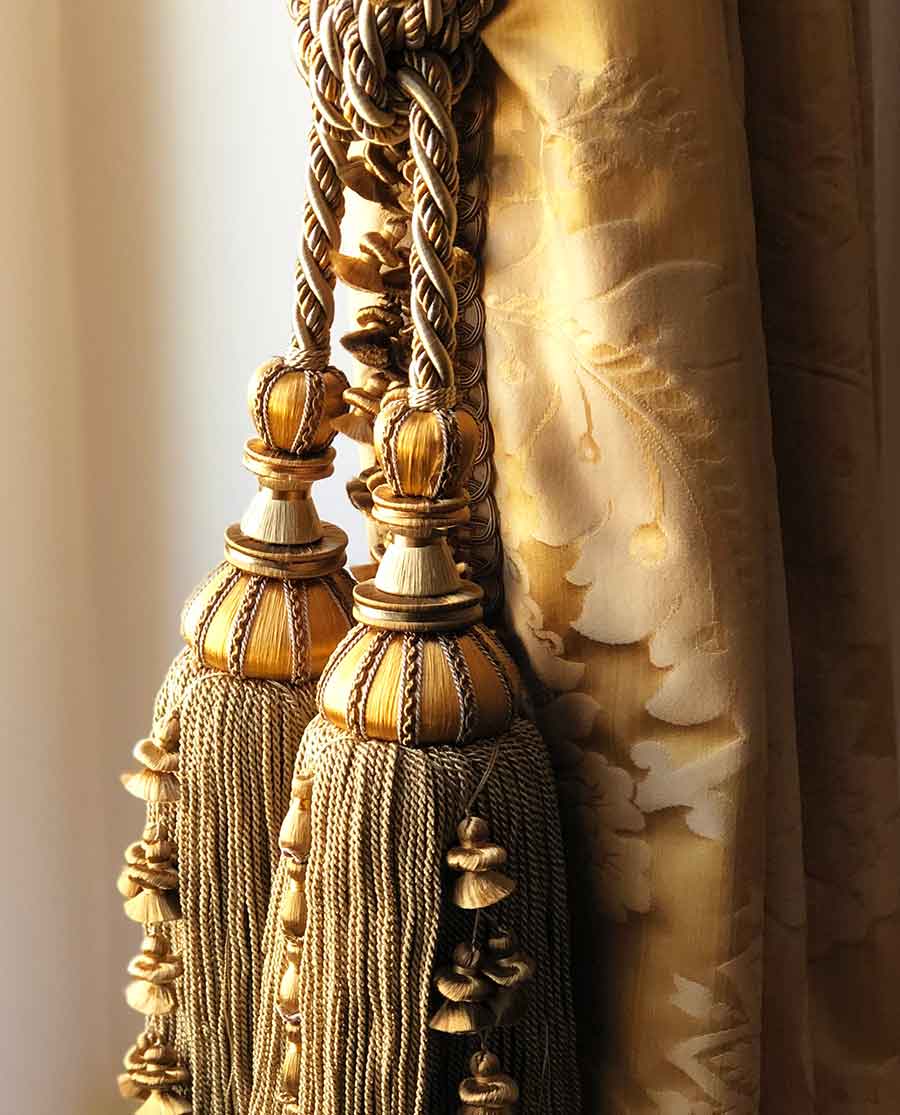 Detail of tassels and damask drape created by Kathleen Quinn. The Huntington Library, Art Collections, and Botanical Gardens.
In advance of The Huntington's Centennial celebration, which gets under way in the fall of 2019, Catherine Hess, chief curator of European art, decided that it was time to reimagine the décor of one of the most distinctive architectural features in the Huntington Art Gallery: the grand double staircase.
It was no small undertaking. The staircase's decade-old, grayish beige carpet had served a functional purpose by blending in and not competing with the house's ornate architectural features, but it had grown thin in spots, and discolored, from high traffic. Of a much older vintage and showing it, the pinkish drapes framing the staircase windows had to go, too.
Any replacements, Hess felt, should not only complement (and not overpower) the striking sweep of the staircase, but should be true to the Gilded Age origins of Henry and Arabella Huntington's Beaux-Arts mansion, which houses the institution's European art collection.
"The color of carpet was going to very much be determined by what was historically accurate for carpets of that time," Hess says. Early photographs of the mansion's interior in The Huntington's archives gave no definitive answer as to color and pattern, so "I tried to find a database showing carpet patterns from just after the turn of the century," Hess says. "Then I tried to find an archive of such patterns, but had no luck."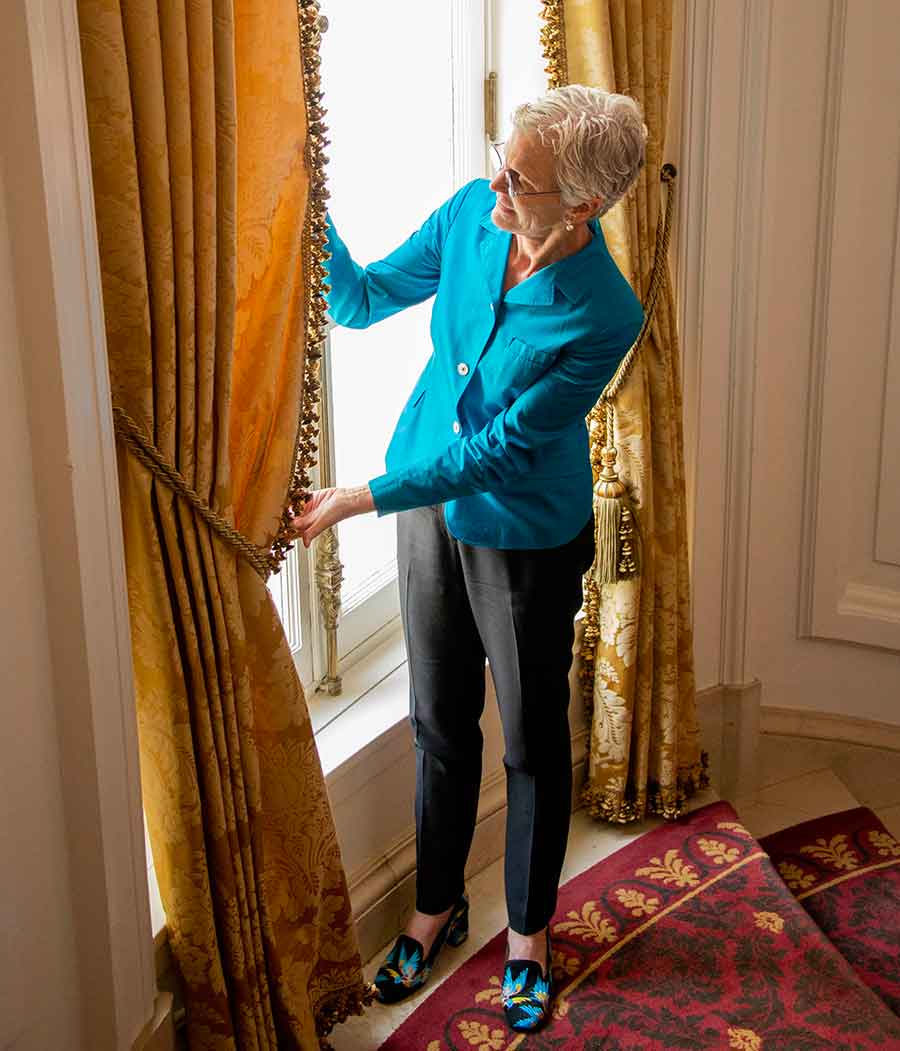 Catherine Hess, chief curator of European Art, examines the damask pattern of one of the new drapes in front of a window along the Huntington Art Gallery's grand double staircase. Photograph by Deborah Miller.
Hess consulted Los Angeles-based architectural historian Sam Watters and Paul Miller, the curator of the Preservation Society of Newport County in Rhode Island and an expert on early 19th-century mansions. Both agreed that a crimson-and-black color scheme ornamented with a French pattern of scrolls and swags would accurately reflect décor of the period. "With some documentation of what the original carpet would have looked like and experts to consult on the palette," Hess says, "we then felt comfortable creating a carpet that would be truer to the original spirit of the interior."
Significantly, the statement-making fabric that Hess chose—a black, crimson, and gold, nine-by-226-foot, wool Wilton in a Savonnerie pattern (custom made for The Huntington by New York-based Patterson Flynn Martin) connects to the French origins of other holdings in the Huntington Art Gallery. In fact, the pair of historic rugs on view in the Large Library, which were acquired by Henry E. Huntington from the estate of J. P. Morgan in 1915, are two of 93 great Savonnerie carpets commissioned in the late 17th century by King Louis XIV from the Savonnerie Manufactory (named for the former soap factory building it occupied on the outskirts of Paris). Intended for the Grand Gallery of the Louvre palace, the rugs were stored, unused, when the Sun King moved his court to Versailles.
Hess's next challenge was to find a drapery fabric that would offer a smooth, visual transition from the new carpet's rich color scheme and floral details. Looking for a damask pattern "that was appropriate, something French-inspired that would go well with other elements in the house," Hess found a subtle gold Stark/Scalamandré damask with a fittingly botanical-themed pattern called Broceliande, manufactured by the Paris company Lelièvre. "It was the perfect shade of gold to unify the space," Hess says.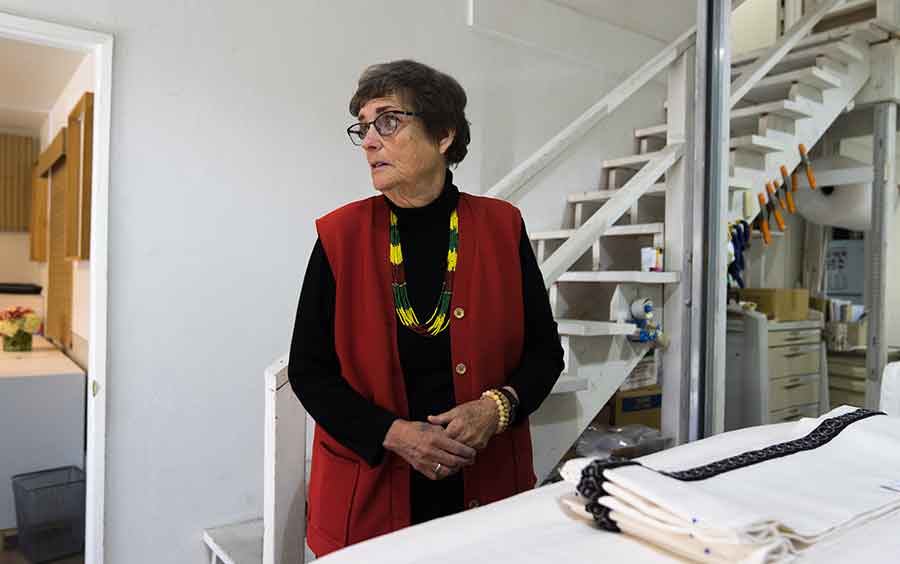 Kathleen Quinn, the owner of Los Angeles-based Creative Custom Draperies, Inc., one of the last companies of its kind in the country that specializes in handcrafted, historic restoration and other large-scale, custom-designed, textile projects. Photograph by Aric Allen.
And, while the new carpet for the grand staircase depended heavily on manufacturing machines working warp and weft magic, when it came to the design and fabrication of the drapes, just one name came to mind: Kathleen Quinn, the owner of Los Angeles-based Creative Custom Draperies, Inc. Quinn is known as a go-to for highest-end window treatments—think fine interiors in the mansions of the rich and famous.
Quinn's bespoke operation is one of the last companies of its kind in the country that specializes in handcrafted, historic restoration and other large-scale, custom-designed, textile projects. Don't bother Googling her: Quinn, who has gained a deep knowledge of drapery and upholstery styles of different periods and provenances from her decades in the profession, and who is a long-time fixture in the Los Angeles area, runs her intimate and remarkably successful business through word of mouth, working primarily with designers.
"We do pick and choose," Quinn says frankly. "We won't do jobs for people who want a certain style, but who don't want to use the right fabrics and trims, because we know it just won't look right."
Among Quinn's recent projects: The restoration of the mid-century Brody House in Holmby Hills. (Note: The restoration was not a Huntington project; the property was sold in 2010, and the proceeds were given to The Huntington as part of the Frances Lasker Brody bequest—the largest estate gift ever received by The Huntington.)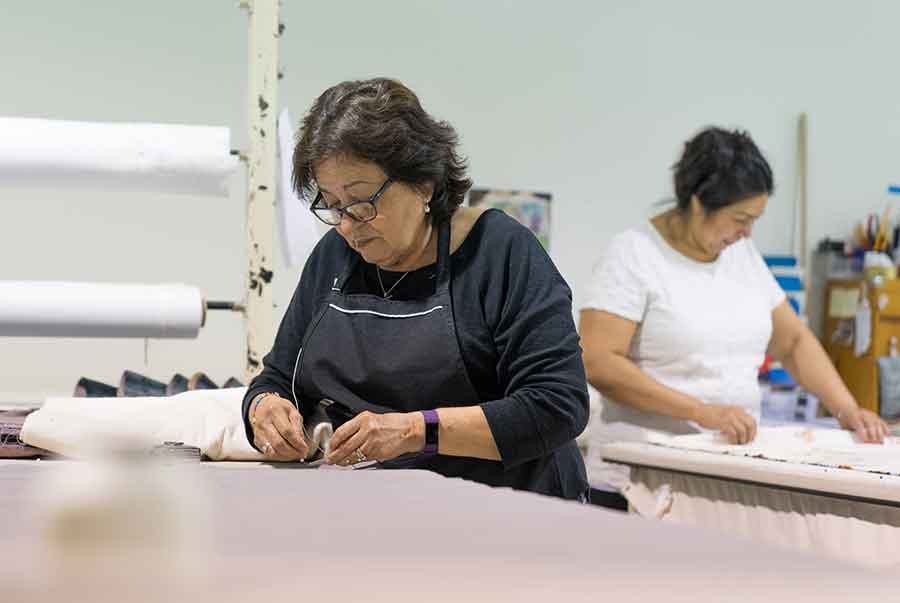 Quinn's expert staff puts finishing touches on dozens of window treatments in her company's Pasadena workroom. Photograph by Aric Allen.
For Quinn, who works with partner Richard Casillas and a six-member staff, the drapes for the five windows lining the wall of The Huntington's grand staircase entailed a nearly yearlong process of research, design, measuring, intervals of waiting for approvals, and, finally, the transformation of nearly 100 yards of the woolen-and-silk damask into decorative window coverings. This process culminated in March 2018, with a two-day, 12-hour installation overseen by Quinn personally.
"I left the design to Kathleen," Hess says. "I was familiar with her work, and I knew the project would be in good hands. She outdid herself."
Today, the windows of The Huntington's grand staircase are the image of understated elegance: upholstered cornice box valances and floor-length drapes with hand-sewn edges, trimmed with thousands of tiny, bell-like Houlès tassels. "It softens the fabric and yet gives it presence," Quinn says of the tasseled trim.
At her modest facility in a light-industry complex off a busy Pasadena street, Quinn offers her guest a seat in her decidedly utilitarian office: a couple of desks and computers, fat fabric sample books, binders of project records, and, pinned to one wall, design sketches, notated room dimensions, and swatches of material for an upcoming job. In the adjoining workroom—a high-ceilinged, well-organized, boxy space with long counters for cutting and hand-sewing, bolts of material on shelves, and a short row of sewing machines—three of Quinn's four expert seamstresses (one of whom does only hand-sewing) are putting finishing touches on dozens of window treatments.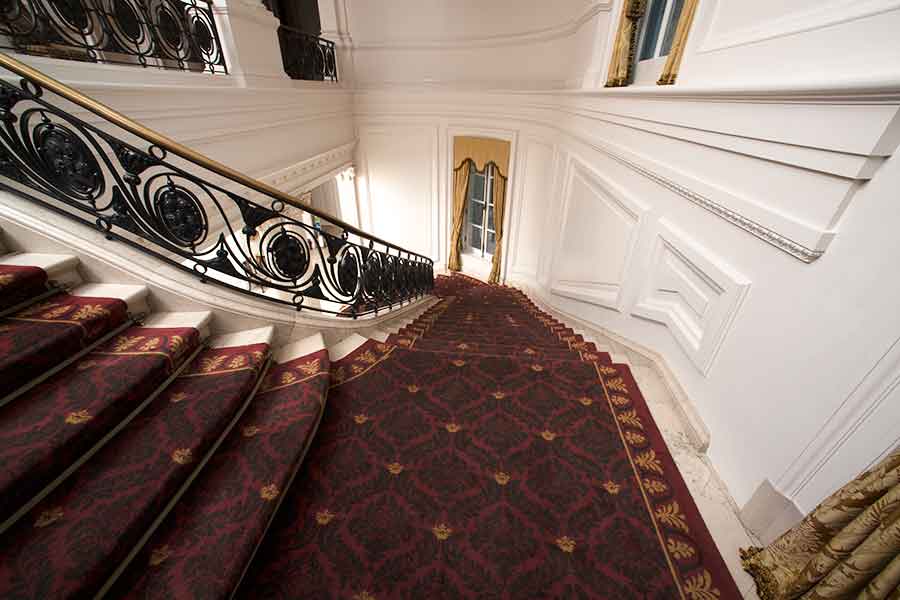 The new carpet on the Huntington Art Gallery's grand double staircase. The Huntington Library, Art Collections, and Botanical Gardens.
Energetic and focused, Quinn is joined in the office by draper Casillas, her business partner, whom she met on what turned out to be a massive, four-year job for a house being built from the foundation up. ("There are jobs where we're there through the whole process: when the house is framed, when the house is dry-walled, down to where they have to put the floor in before we can get the final measurements," Casillas says.) Finding their talents complementary, the pair joined forces eight years ago. Quinn continues to oversee installations and manage the overall job; Casillas manages the workroom and has a gift for the mathematics so essential to getting a job right the first time. Quinn notes that Casillas's mother, Rosa, the company's virtuoso fabric cutter, is also crucial to the company's success. "Many of these fabrics are very expensive," Casillas says. "If you get one cut wrong, you're looking at a couple of thousand dollars."
"Richard and I feel that sometimes we over-measure, too," Quinn adds, "but everything has to be perfect. The worst thing for a workroom is to have a job come back."
Most of her company's artisan employees, Quinn says, "were snapped up from workrooms that have closed." When she needs extra help, she goes to her former employees who have opened their own workrooms and have the expertise to do the work she requires. "Places like The Huntington use these historic swags and cascades, jabots, and lambrequins [valances]," Quinn says, "and most workrooms today don't know how to actually fabricate them. It's a small community," she observes, "and it's getting smaller and smaller. That's also why we have to be good in our industry: if anything goes wrong, word of it spreads like wildfire."
A Fortuitous Beginning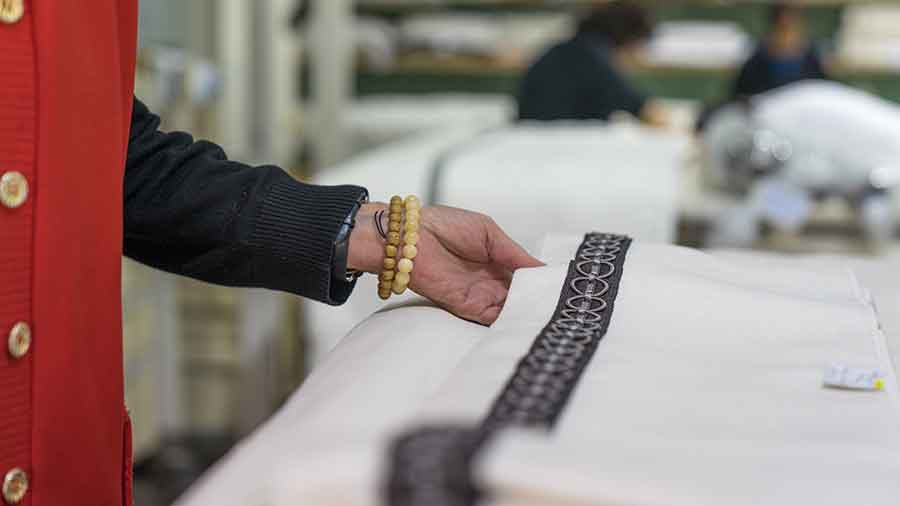 Kathleen Quinn touches one of her company's handcrafted products. Photograph by Aric Allen.
Quinn's path to her rarified calling was unexpected, to say the least. At 17, Quinn began working in the hustle and bustle of the Los Angeles trucking industry as an office manager, "and I loved it," she says. After two decades in the industry, Quinn was sidelined by a compound leg fracture and a three-month recovery period. Desperate for something to do, she took a part-time job answering the phone at a custom drapery company—the company she would eventually own.
By the time she regained full mobility, Quinn had developed a keen interest in every element of the craft. She enjoyed being around beautiful fabrics "and happy clients," she says, and with the encouragement of her mentor, the company's late principal, Lillian (Kaye) Fukaye, Quinn discovered that she not only had a good eye for high-end fabric and design, but a talent for installation as well.
"Kaye was an awesome teacher," Quinn says. "I went from being a gofer to cutting the fabrics, to doing one thing after another. Then I began specializing in the installation and seeing that the overall job was done."
She is still fascinated, Quinn says, by how a flat piece of fabric that looks one way on a bolt of material can end up creating, for example, "what we've done for The Huntington." She turns to indicate the workroom, where 80 to 90 new window treatments are nearing completion. Intended to grace one single (albeit very large) home, they include drapes, valances, and roman shades, all of off-white linen bordered with a distinctive trim.
"All of those drapes are linen," Quinn says with youthful enthusiasm. "Just linen. But you put the trim on them, you put in the pleats, you install the metal hardware, and even though it's just the same piece of fabric, each room is going to look different, and they're all going to look spectacular."
When asked if there will come a time when she's ready to hang up her measuring tape, it's clear from Quinn's firm answer that that day is a long way off. "I still enjoy doing this," she says, "and as long as I enjoy it, I'm not going to retire."
Lynne Heffley is a freelance writer and editor based in South Pasadena, Calif.