Robert Frost at The Huntington
Posted on April 1, 2017 by By Leslie Monsour
The famous poet paid an unheralded visit to the Library in 1932 to view his manuscripts
Robert Frost, date and location unknown. Unidentified photographer.
On Oct. 8, 1923, P. K. Foley, a well-known Boston bookseller and bibliographer, wrote a letter to Robert O. Schad, Henry E. Huntington's assistant curator of rare books. Huntington's vast private library had recently been transplanted from his New York City residence to his estate in San Marino, California. An entire building, constructed on the San Marino grounds for the sole purpose of housing the collection and hailed in 1921 by the Boston Evening Transcript as "the world's finest private library," was already filled to the brim with ongoing acquisitions. The latest transaction, en route from Boston to California, included over two decades of correspondence and manuscripts sent to The Independent, a weekly magazine published in New York City, by a young poet named Robert Frost. It was, as Foley's letter indicated, a promising group:
[It] should prove the most interesting in existence . . . Miss Ward (who conducted the poetry department of The Independent) was [Frost's] literary godmother. Rev. Wm. Hayes Ward, her brother, was the editor—you will note on a letter his pencilled testimony of Frost's merit as a poet.
The East-to-West-Coast transaction is not without its ironies. In 1885, at age 11, Robert Frost, who was born in San Francisco, made the journey in reverse, from California to New England, traveling on railroads financed by Collis P. Huntington, Henry Huntington's uncle. The untimely death of Frost's alcoholic and consumptive father had left the family destitute, forcing the poet's widowed mother to abandon the west coast and travel with her two children across the country to the home of Frost's paternal grandparents in Lawrence, Mass., north of Boston. That journey, as we now know, has made all the difference.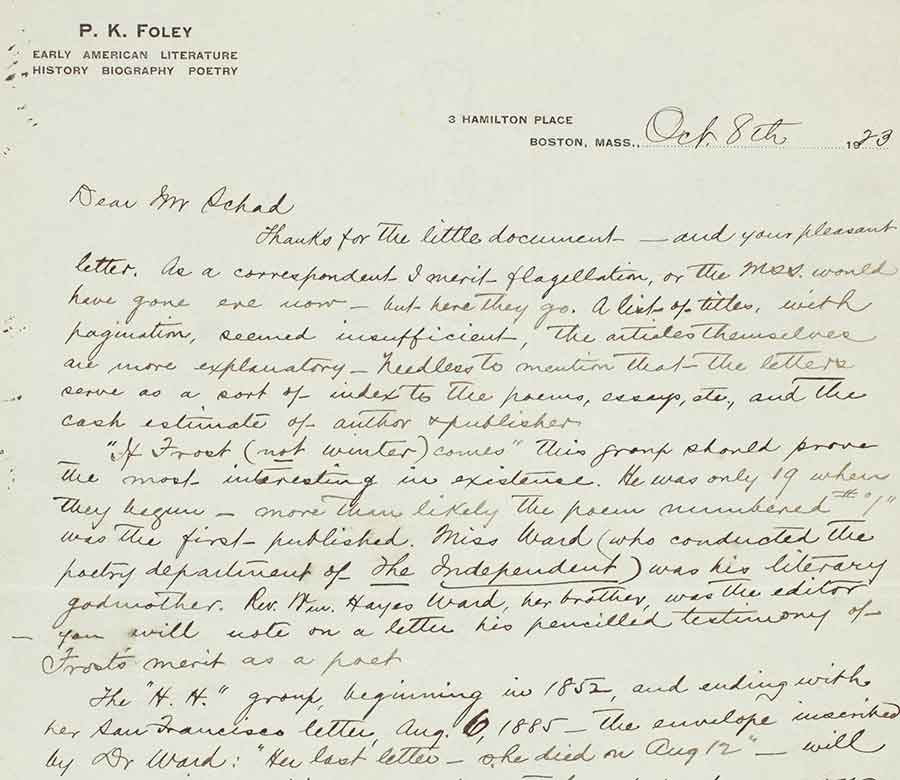 Detail of a letter from the Boston bookseller and bibliographer P. K. Foley to Robert O. Shad, Henry Huntington's assistant curator of rare books, Oct. 8, 1923. In the second paragraph, Foley writes of Frost's manuscripts.
By 1923, Frost had become a respected and popular poet. His fourth book, New Hampshire, was published that year and would win for the 49-year-old poet the first of his four Pulitzer Prizes. As further irony, the book's title poem tells of "someone who had just come back ashamed / From selling things in California." 
That same year, Capt. Reginald Berti Haselden, an Englishman who had served extensively in World War I, joined The Huntington's staff as curator of manuscripts. By all accounts, he had his work cut out for him. According to Schad's description of the institution, "The shelves in the huge vault were full, and thousands of volumes stood in the aisles. An entire basement of packing cases remained unopened because there was no space on the shelves for the contents." It was understandable that not until Feb. 1929 would Capt. Haselden get around to contacting Frost with a list of 14 poems, requesting information about the dates of their composition. It was only a partial list, for there were almost three times that many poems in the Independent group, as well as more than 30 letters written to the Wards by Frost and his wife, Elinor, from 1894 to 1916.  In the end, the collection would not be fully catalogued until Dec. 1935.
Haselden's 1929 query was evidently the first time Frost came to realize that dealers and collectors could sell and buy his manuscripts. He was worried, puzzled, and vexed by Haselden's letter. When he responded on Feb. 20, 1929, he said he recognized only four of the 14 titles on the list and questioned the authenticity of the rest, stating that, if they really were his, they were "probably very early and more than probably bad." Frost asked Haselden why The Huntington's buyers would want to keep the poems in the first place, unless they had paid so much for them, they couldn't afford to throw them away. He questioned the ethics of purchasing his "unguarded poems" without, as Frost put it, "consulting my wishes in the matter." One can't help but feel more than a little moved by Frost's unrest when he confesses that "the array of forgotten work scares me."

Left: Leslie Edgar Bliss, The Huntington's Librarian at the time of Frost's visit in 1932. His 43-year career with the Huntington collections began in 1915. Center: Capt. Reginald Berti Haselden, curator of manuscripts, initiated correspondence with Frost in Feb. 1929, sending him a list of 14 poems and requesting information about the dates of their composition. Haselden's query was evidently the first time that Frost came to realize that dealers and collectors could sell and buy his manuscripts. Right: Robert O. Schad, assistant curator of rare books at the time of Frost's visit, served on the staff of the Library for 44 years. He was curator of rare books, administrator of exhibitions, and secretary to the board of trustees at the time of his death in 1961.
In his response of March 1, Haselden appears neither impressed nor intimidated by the literary stature of the man he is addressing. "I am afraid you will have to plead guilty to more than four of the poems on the list I sent you," he wrote, and went on in a brisk and lively manner to point out Frost's misconceptions:
It is not within the province of the Curator of Manuscripts to pass judgment on the merits or demerits of poems…Suppose some of these poems of yours are what you call bad; why worry? You thought well enough of them once to put your name to them…
Imagine me going around destroying the things I did not approve of in the Library. Poor Ruskin would suffer very severely; several of Swinburne's and Byron's effusions would burn to make incense for my nostrils and whole authors would entirely disappear. But I really think it would annoy our trustees if I took home any of the manuscripts to make pipe spills of.
Curators of Manuscripts have no use for ethics or morals; when one lives among manuscripts relating to every conceivable subject from transfer of land by a monastery in the 11th Century to a 16th Century love letter, or from the burning of a fat friar to other documents too unpleasant to mention, such things appear trivial, but I will explain the law to you as far as I understand it. If you write a poem and present it to a friend, he is at perfect liberty to sell it, but you still retain the copyright. The poems [of Robert Frost] in our Library were purchased from P. K. Foley, I believe, who in turn got them from William Hayes Ward.
Ultimately, Frost took strenuous issue with the authenticity of two of the poems in the collection—one called "Sea Dream," and the other, "I had a love once…"—which, by all appearances, were in the hand of his wife, Elinor. In 1932, the couple paid a visit to The Huntington.

Details of three poetry manuscripts in the hand of Robert Frost—"The Flower Boat," "Reluctance," and "Despair."
By the apparent absence of any institutional record or local publicity, we may assume the visit was relatively unheralded. The event is only briefly described in Lawrance Thompson's massive (and notoriously hostile) biography of Frost:
In 1932, when RF [Robert Frost] and EWF [Elinor W. Frost] visited the Huntington Library and were shown the manuscripts, EWF is reported to have made no comment …but RF again insisted that he was not the author of either poem. He might also have denied the authorship of some of the other early poems there, if the manuscripts had not been in his own handwriting.
In March of 1937, Frost granted Prof. Robert Newdick of Ohio State University (Frost's first biographer, who died unexpectedly in 1939) access to his manuscripts, in order to, as Frost instructed his delegate, convince The Huntington to "throw the two…spuriosa out…or at least separate the two from the poems undeniably and admittedly mine." Newdick reported back to Frost from California: "You must have given them a pretty good going over at the Huntington when you were here. They are still talking about it. As with a Scottish ballad, there are half a dozen various accounts, with certain common denominators constant."
Following his trip, Newdick wrote to Leslie Edgar Bliss, The Huntington's Librarian, urging him to cut the two problematic poems from the Frost file, arguing that "only a professional handwriting expert is competent" to determine if they are truly in Elinor Frost's handwriting.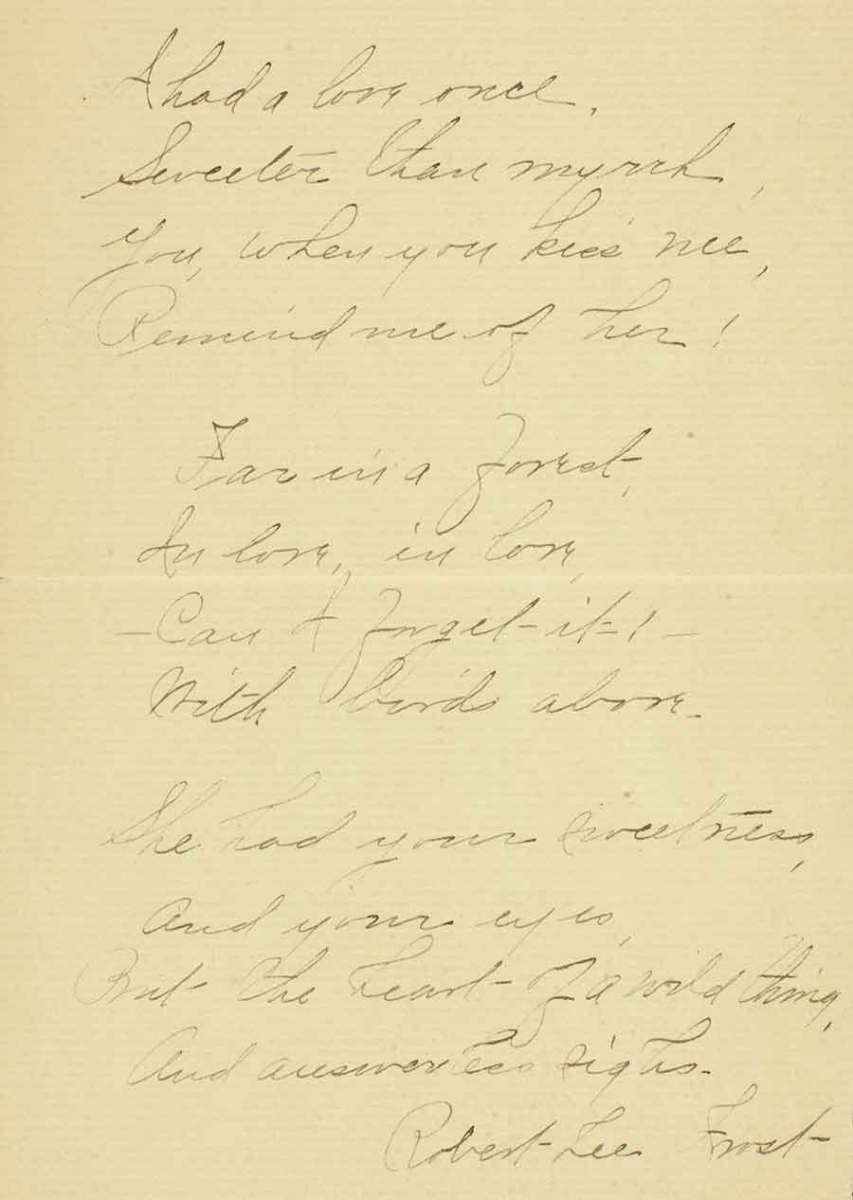 Frost took strenuous issue with the authenticity of the fourth manuscript, "I had a love once'—which appears to be in the hand of his wife, Elinor Frost.
On seeing this, Capt. Haselden reacted with a memo to the Librarian, in which he reasoned, "I do not think there is very much question as to the two poems being in Elinor M. Frost's hand, and I can think of no conceivable reason why any person should write out these two poems, imitating, not the hand of Robert Frost, but that of his wife." He then proposed a solution to the problem of cataloguing:
As Mr. Frost himself repudiates both of these items there is nothing more to be said on that point. On the other hand, they are apparently in the handwriting of Elinor M. Frost, so, in the matter of cataloguing, we shall still put them under Robert Frost, with a note stating that Mr. Frost has repudiated these poems, and that they are, apparently, in the hand of Elinor M. Frost, in just the same manner as, for example, we have done with the Lincoln forgery, which is still catalogued under Lincoln, but with an annotation that it is a forgery.
Regarding the three dozen or so uncontested poems in the collection that are confirmed to be in Robert Frost's own hand, it is not known if Frost made fair copies when he submitted them to The Independent. However, in a separate letter to Bliss, Newdick stated that "HM 7652 'My Butterfly' is not a 'Contemp.cop.' but the original MS." This is an important claim, since the poem, originally called "My Butterfly: an Elegy," and published in November 1894, was Frost's first accepted poem, earning him $15 (nothing to sneeze at in those days). It represented a crucial turning point in the young poet's career. Years later, in 1915, during a reading at a private school in the Boston area, Frost described the breakthrough he experienced while composing the poem:
I recall distinctly the joy with which I had the first satisfaction of getting an expression adequate for my thought. I was so delighted that I had to cry. It was the second stanza of the little poem on the butterfly, written in my 18th year. And the sound in the mouths of men I found to be the basis of all effective expression—not merely words or phrases, but sentences—living things flying around the vital parts of speech.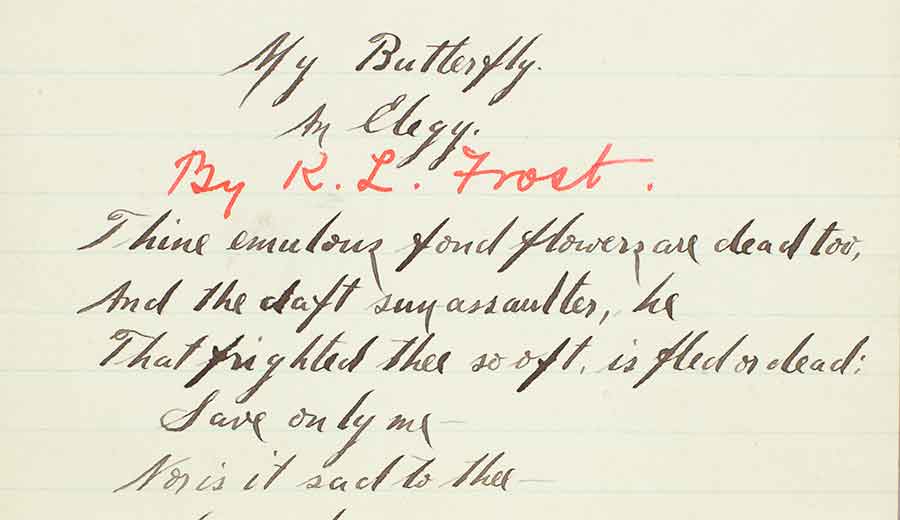 Detail of Frost's original manuscript of his first accepted poem, "My Butterfly." The poem was published in The Independent in Nov. 1894.
"My Butterfly" marked for Frost his first recognition of the principle he would later refer to as "the sound of sense" or "live sentence sounds," the artistic ideal that defines all of his poetry. The manuscript is an extraordinary piece to find among The Huntington's holdings.
Also of particular significance is The Huntington's manuscript of the poem "Despair." In 1962, less than a year before he died, Frost mentioned the poem to Lawrance Thompson and recited it accurately from memory, adding that he could locate no copy of the poem in his files. Interestingly, there is a striking similarity in tone and subject between "Despair" and the repudiated poem "Sea Dream." Both have themes of drowning in murky water, and both were written during a turbulent phase in Frost's youth when he was influenced by the work of Edgar Allan Poe. After Frost's death, Thompson confirmed that, indeed, the only known manuscript of "Despair" was in the group purchased from The Independent in 1923.
Frost's letters at The Huntington provide biographical details and inner ponderings that shed light on specific works. Of these, no passage is more momentous than an excerpt from a Feb. 1912 letter, written to Susan Hayes Ward from Plymouth, N.H., a few months before Frost left the United States to take up residence in England:
Two lonely crossroads that themselves cross each other I have walked several times this winter without meeting or overtaking so much as a single person on foot or on runners. The practically unbroken condition of both for several days after a snow or a blow proves that neither is much traveled. Judge then how surprised I was the other evening to see a man, who to my own unfamiliar eyes and in the dusk looked for all the world like myself, coming down the other, his approach to the point where our paths must intersect being so timed that unless one of us pulled up we must inevitably collide. I felt as if I was going to meet myself in a slanting mirror.
The letter is signed with characteristic playfulness, "Nonsensically yours, Robert Frost."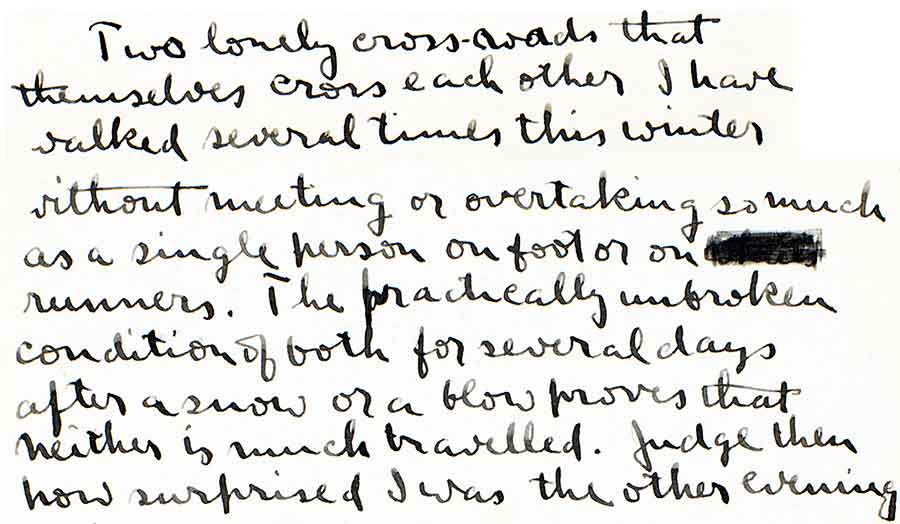 Detail of a Feb. 1912 letter from Frost to Susan Hayes Ward, poetry editor of The Independent, containing the seed of Frost's poem "The Road Not Taken."
In 1915, after Frost returned from England and was living in Franconia, N.H., "The Road Not Taken" was completed and published in The Atlantic Monthly. The following year, Frost used it as the opening poem for his third collection, Mountain Interval. He later attributed the poem to his walking tours of the Gloucestershire countryside, guided by his good friend, the English poet Edward Thomas, who sometimes fretted about the sights they'd missed by not taking a different route from the one he'd decided on. Undoubtedly, Thomas served as the poem's muse. However, the seed of what was to become one of the most famous and beloved poems in all of literature was clearly planted in the poet's mind before he ever set foot in England, as shown in the remarkable record of Frost's musings on the "two lonely crossroads" that were not "much traveled"—musings preserved at The Huntington in a collection that remains, as Foley wrote to Schad in 1923, one of "the most interesting in existence."
Leslie Monsour is a Los Angeles poet and a reader at The Huntington. Her most recent collections of poetry are The House Sitter and The Alarming Beauty of the Sky.