Collectors' Councils
The Collectors' Councils play a critical role in supporting The Huntington's collections, ensuring they will be vibrant for generations to come, and assisting library and art curators in selecting works for acquisition that further enhance the holdings begun by Henry and Arabella Huntington. The councils are a convivial group of Huntington supporters who enjoy exclusive events throughout the year including behind-the-scenes tours of special exhibitions and collections, and curator-led trips to institutions and private collections around the world.
Art Collectors' Council
Founded in 1994, the Art Collectors' Council meets every spring to select works for acquisition presented by The Huntington's curatorial staff. Annual dues: $10,000.
Sept. 2020 - The Huntington acquired a newly discovered painting by John Singleton Copley (1738–1815) depicting celebrated 18th-century British actress Mary Robinson, as well as works by British artists Alice Mary Chambers (ca. 1855–1920) and Madeline Green (1884–1947) and a set of screenprints by R.B. Kitaj (1932–2007), who, like Copley, was born in America and worked in England. The acquisitions were funded by The Huntington's Art Collectors' Council at its annual meeting last month. In addition, longtime council members Hannah and Russel Kully purchased as a promised gift for The Huntington a painting by the 19th-century British artist and designer Edward Burne-Jones (1833–1898). The painting, a portrait of the artist's daughter, had been kept in the family since it was painted around 1888. More
John Singleton Copley (1738–1815),
Mrs. Mary Robinson in the Character of a Nun
, ca. 1780. Oil on canvas, 26 3/4 x 23 1/2 in. The Huntington Library, Art Museum, and Botanical Gardens.
Library Collectors' Council
For over two decades, the Library Collectors' Council has assisted in the development  of the collections by supporting the purchase of important works the Library would not otherwise be able to acquire. This group of supporters, with their sophisticated understanding of what would constitute significant enhancements to the collections research value, meets annually to add to the library holdings. Annual dues: $5,000.
April 2021 - The Library Collectors' Council acquired an archive of papers and correspondence to, from, and about inventor and Nobel Laureate Guglielmo Marconi (1874–1937)—a towering figure in the history of long-distance wireless telegraphy and radio transmission. The Council also purchased manuscripts by the British author Amelia Opie (1769–1853), the private journal of U.S. Navy officer Henry Cadwalader (1817-44) about a secret trade mission to the Indian Ocean and East Indies, the world's first published English-Japanese and Japanese-English dictionary (1830), and the first printed sea chart and navigational guide for Scotland (1583). More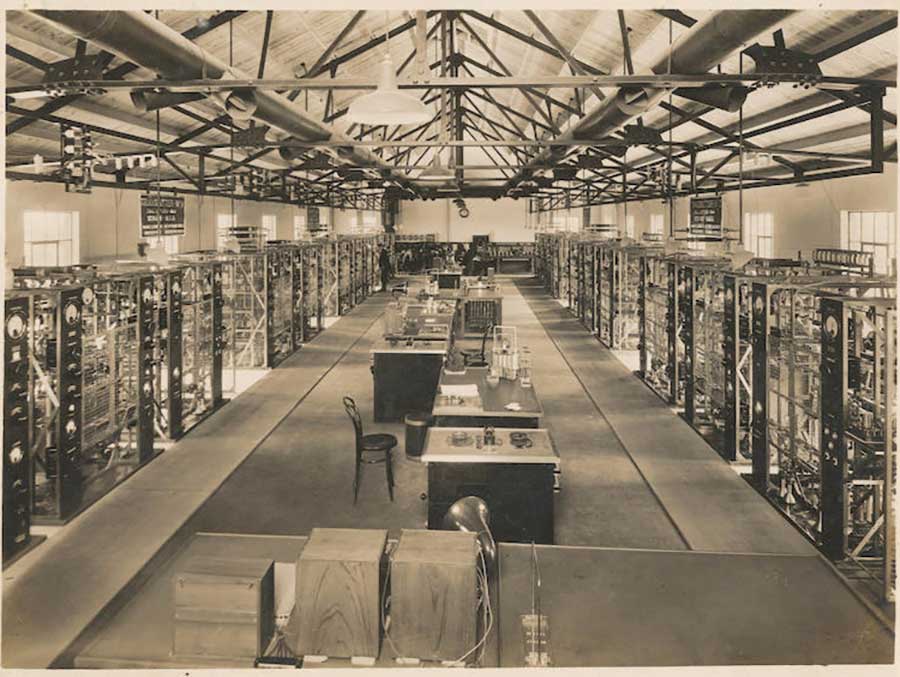 Marconi's Short-Wave Beam-1 transmitters in the transmitter hall of Dorchester Station, England, 1928. The Huntington Library, Art Museum, and Botanical Gardens.