Collectors' Councils
The Collectors' Councils play a critical role in supporting The Huntington's collections, ensuring they will be vibrant for generations to come, and assisting library and art curators in selecting works for acquisition that further enhancing the holdings begun by Henry and Arabella Huntington. The councils are a convivial group of Huntington supporters who enjoy exclusive events throughout the year including behind-the-scenes tours of special exhibitions and collections, and curator-led trips to institutions and private collections around the world.
Art Collectors' Council
Founded in 1994, the Art Collectors' Council meets every spring to select works for acquisition presented by The Huntington's curatorial staff. Annual dues: $7,500.
May 2018 - The Art Collectors' Council purchased two panel paintings by Italian Renaissance master Cosimo Rosselli (1439–1507); Saint Ansanus (left) and Saint Anthony Abbot (right), made in about 1470, originally formed the lower third of an altarpiece, the centerpiece of which was The Huntington's own Madonna and Child in Glory, one of the core works in its Renaissance paintings collection. More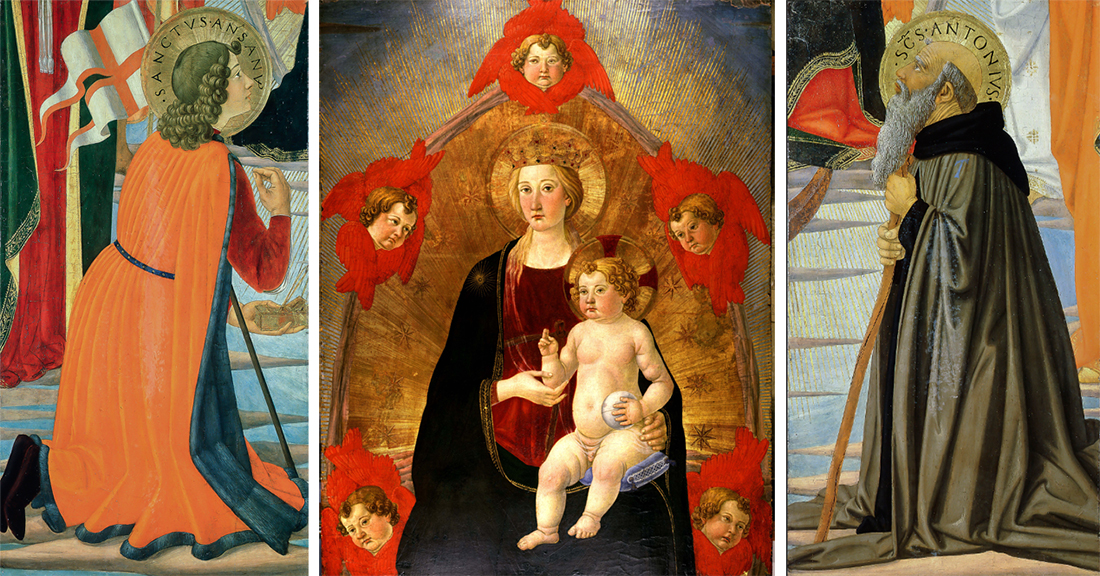 Library Collectors' Council
For 21 years, the Library Collectors' Council has assisted in the development  of the collections by supporting the purchase of important works the Library would not otherwise be able to acquire. This group of supporters, with their sophisticated understanding of what would constitute significant enhancements to the collections research value, meets annually to add to the library holdings. Annual dues: $5,000.
Feb. 2018 - The Library Collectors' Council purchased a unique photograph album, containing 19 prints, that offers a tantalizing glimpse into the intimate family circle of renowned scientist Charles Darwin (1809-1882). Inscribed to a member of Darwin's circle about whom nothing is known, and depicting several unpublished images of sitters ranging from close family members to those not yet identified, the rarity was purchased at The Huntington's 21st annual Library Collectors' Council meeting held earlier this month (left and center). Included in the purchase was the John F. Mercer collection of 126 letters, manuscripts, and documents, bound in three-quarter calf and paper-covered boards by "Seton Bookbinder Edinburgh" (Robert Seton III, 1844-1905) (right). More