Oct. 24, 2009

–

Feb. 9, 2010
During the 1920s and '30s, the Harlem Renaissance brought about a flourishing of African American literature, art, music, and social commentary. The New York neighborhood attracted scores of talented blacks, including many who fled the Jim Crow racism of the South. The same renaissance occurred in cities across the nation. In Los Angeles, a vibrant scene of jazz clubs, literary societies, and concert venues sprang up around Central Avenue, where African Americans nurtured their talents in an atmosphere of cultural energy.
To celebrate L.A.'s contributions to this dynamic era, The Huntington has joined forces with the Mayme A. Clayton Library, an emerging institution in Culver City, to present "Central Avenue and Beyond: The Harlem Renaissance in Los Angeles." 
The exhibition draws from the collections of both libraries to tell stories of the black renaissance in Los Angeles, focusing on jazz, classical music, literature, journalism, social activism, film, and theater. Among the never-before-exhibited items from the Clayton collection are vintage photographs of such Central Avenue jazz performers as the California Cotton Pickers, the Top Hatters, and the Rajahs of Swing, plus a program from a performance by Duke Ellington. Photographs and interview clips tell the story of Marie Dickerson Coker, whose remarkable career as an entertainer encompassed singing, dancing, and playing both piano and string bass. She went on to become one of the first woman aviators, performing in air shows as a member of the "Five Blackbirds."
The Clayton collection is based on the superb holdings gathered by the late Mayme Clayton, who worked for more than 40 years as a librarian at USC and UCLA. Clayton amassed one of the largest and most distinguished African American collections in the United States. The Clayton Library is not yet open to the public, and this is the first time any of the material has been publicly exhibited.
Items from The Huntington include the typescript of Dixie by Langston Hughes and Clarence Muse; an early treatment for the film Way Down South, starring Muse and Bobby Breen; and the libretto for the opera Blue Steel, a collaboration between composers Harold Bruce Forsythe and William Grant Still. Scarce issues of the periodical Flash, for which Forsythe served as an editor, represent examples of  black literary journals. Other materials highlight talents of the First Negro Classical Ballet, the extraordinary achievements of civil rights attorney Loren Miller, and the accomplishments of Juanita Miller, a founder of the League of Allied Arts.
From Central Avenue—and beyond—the remarkable stories of these talented individuals are an inspiration for all Angelenos.
Events
Events below will be held at The Huntington in Friends' Hall.

Oct. 28 (Wed.), 7:30 p.m. – Black Angelenos: Roots and Renaissance, a lecture by Judith Narcisse, Pan-African Studies Department, California State University, Los Angeles.
Nov. 12 (Thurs.), 7:30 p.m. – Clarence Muse: Central Avenue and Beyond, a lecture by independent scholar Renita Lorden. 
Nov. 18 (Wed.), 7:30 p.m. – An Evening of Jazz with Ron McCurdy 
Reservations required.  Members: $25; Non-Members: $35. Celebrate great jazz innovators like Duke Ellington and Cab Calloway. Call 626-405-2128 for tickets.
Nov. 21 (Sat.), 10-11 a.m. – FAMILY PROGRAM, Make Music with Rhythm Child!  Norman Jones will have children and parents alike tapping their feet and dancing. Tickets include entrance to the exhibition "Central Avenue and Beyond: The Harlem Renaissance in Los Angeles." Children must be accompanied by an adult. Tickets (per person): Members: $10. Non-Members: $15. Registration: 626-405-2128.
Nov. 23 (Mon.), 7:30 p.m. – The Music of Harold Bruce Forsythe performed by soprano Elizabeth Tatum, baritone Conrade Immel, and pianist Philip Smith. 
Dec. 9 (Wed.), 7:30 p.m.– A NIGHT AT THE MOVIES, Central Avenue Live!  a film by S. Pearl Sharp and Rosie Lee Hooks, for the City of Los Angeles' Cultural Affairs Dept., featuring inter­views with some of the jazz greats. Mama Laura's Boys is a 30-minute docu­mentary about Babe's and Ricky's Inn, a Central Avenue blues club founded in 1955 and still operating.
Event at Clayton Library
Nov. 21 (Sat.), 3 p.m. – Central Avenue Revisited: Masters of Jazz. A panel discussion featuring master musicians Ernie Andrews, Clora Bryant, Buddy Collette, Jackie Kelso, Charles Owens, and Gerald Wilson.  Moderated by Leroy Downs, radio host, 88.1 FM, KKJZ, with Michael Dolphin, Jeffrey Winston, and Chet Hanley. Screening of film Central Avenue Live, and jazz photography exhibition by Warren Berman.  Free, but reserve your place by calling 310-202-1647.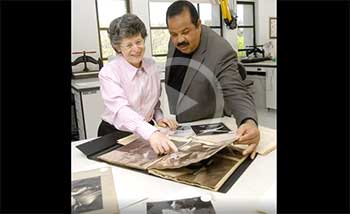 Co-curators Sara S. "Sue" Hodson and Avery Clayton discuss highlights of their new exhibition, "Central Avenue and Beyond: The Harlem Renaissance in Los Angeles."