President's Welcome
Black History at The Huntington
Just east of The Huntington's admissions area, in a courtyard surrounded by classrooms, stands a massive, 17-foot-long mural composed of nearly 5,000 hand-formed, fiery red-orange and brown tiles. The work is by the artist Doyle Lane, made for a bank in Pasadena in 1964 and given to The Huntington in 2015.

With our galleries closed, this is one spectacular work by an important Black artist that is currently on view—and it's well worth seeing.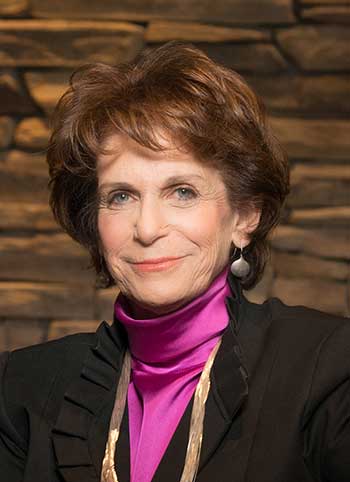 Lane (1927–2002) was a gifted ceramicist, and while the New York Times last year wrote about his spectacularly diminutive "weed" pots (tiny vases big enough for just a single sprig), The Huntington's Lane is anything but understated – it's a monumental display of the artist's virtuosity. Here is how it was described in a Huntington Frontiers magazine article published when the mural was installed: "While from a distance the mural has a pleasing regularity and seems to be a bright red-orange, on closer inspection you notice that Lane injected an element of irregularity. A master of notoriously finicky red glazes, he worked with rather than against their unpredictable nature—the tiles' color shifts from red to orange with areas of green and black in between. Moreover, patches of unglazed brown clay peek through in some places, and bubbles from gases formed during firing vary the tiles' surfaces. Lane turned each small tile into an abstract painting that seems to radiate light, and then stacked them into a wobbly, almost-animated wall. The mural reveals an artist pushing the ceramic medium to new levels of complexity and using an architectural commission to realize his own vision."
The Lane mural is one of my favorites, at once formal in its linear nature, but also playful and, as you get closer to it, experimental, with a lot of vibrant energy and verve. It's a major work you just have to see in person.
Lane is among several artists we are presenting in this e-newsletter, on our website, and on social media platforms this month in celebration of Black history, along with other material from our collections—from familiar names like Octavia E. Butler to those perhaps a bit less familiar, such as lithographer Grafton T. Brown. Spoiler alert: We have a Coretta Scott King rose in our spectacular rose garden, and while they have just been pruned and aren't likely to bloom before April, we'll share a photo of the blossom this month so that you can be on the lookout for it come spring.
We celebrate Black History Month in full recognition that we have much work to do in acquiring and displaying more art by African American artists, as well as in raising up Black voices in the exhibitions we present in the Library , the displays we mount in the gardens, in the programming we create, and in the outreach that we do. We are hard at work bringing those narratives forward.
One of those voices is that of Carter G. Woodson, who, set on writing and publishing about Black history and culture, created the Journal of Negro History in 1916 and The Negro History Bulletin in 1937. Born during Reconstruction and the son of former enslaved people, Woodson became the second Black man to earn a doctorate from Harvard University and made it his life's work, as a historian, to delve into this long-neglected and critically important part of the American story. Not able to gain purchase in the white world of American historians, he created his own vehicles for studying, representing, and promoting the Black experience.
One of those was The Negro History Bulletin, which The Huntington holds in its collection.
A post on our blog, Verso, mentions that one of Woodson's lasting legacies was the creation of "Negro History Week," which, over time, and with his continued effort, was extended to Black History Month and made official by President Ford in 1976. It's in the spirit of Woodson that we celebrate this month in honor of Black history. We have stories to tell, voices to amplify, and historic achievements to share. We look forward to doing just that, with you.
Karen R. Lawrence, President
Events
Why It Matters: James P. Folsom in Conversation with Karen R. Lawrence
Recorded Dec. 2, 2020 | Watch Now
President's Series: Inspired by Octavia E. Butler - A Handful of Earth, A Handful of Sky: Lynell George in conversation with William Deverell and Karla Nielsen
Recorded Aug. 26, 2020 | Watch Now
Centennial Launch Event
Recorded Sept. 5, 2019
The Huntington's Centennial Celebration kicked off Sept. 5, 2019, setting in motion a yearlong series of exhibitions, public programs, artist interventions, and more—inviting people with a range of interests to engage with the venerable institution's collections and the connections they offer, and to join an exploration of ideas that will shape the future. The launch event included news announcements from Karen R. Lawrence, president of The Huntington; panel discussion with Roy Choi, Juan Devis, Victoria J. Orphan, Yuval Sharon, and Melodie Yashar; music performance and conversation with Dexter Story and Josh Kun.