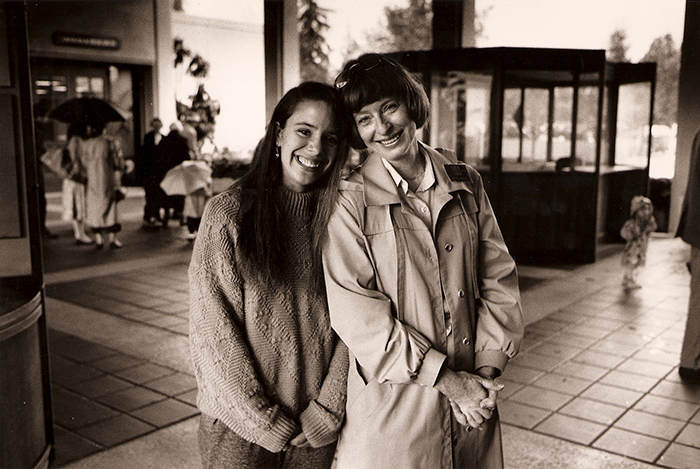 During her 25-year career at The Huntington, Peggy Bernal (seen here in the 1990s with her daughter, Victoria) made major contributions in several areas, including fundraising, communications, and publishing.
There are jobs, and then there are callings. Most of us have at least a passing acquaintance with the former; we take a job because we need a paycheck, and we move along without regret when a better offer presents itself. But if we're lucky, we also know what it means to find our true calling—a life's work inspired by passion and fueled by enthusiasm; a career so rewarding that we couldn't imagine being anywhere else.
Peggy Park Bernal was one of the lucky ones: her calling was The Huntington. From 1982 to 2007, she made major contributions here in fundraising, communications, and publishing. And she didn't let retirement slow her down; she merely traded in her employee's badge for that of a dedicated volunteer and applied for a reader's card so she could pursue her own research projects. Peggy's death on March 25 after a brief illness stunned and saddened her colleagues, many of whom recalled having laughed and chatted with her just weeks before. Her passing is a loss deeply felt by all who knew her, but it's also an opportunity to look back on a stellar career and celebrate a friend and colleague whose far-ranging talents—and warm smile—were constant reminders that Peggy and The Huntington were a perfect fit.
Peggy came to The Huntington in 1982 as a grant writer, joining what was then a fledgling development office with a staff of three. Twenty years as a journalist with Sunset magazine had honed her craft as a writer, but more importantly, it had fostered a love of Southern California and its history. And what a paradise The Huntington was for a history buff!  Right from the start, Peggy knew she'd found her place.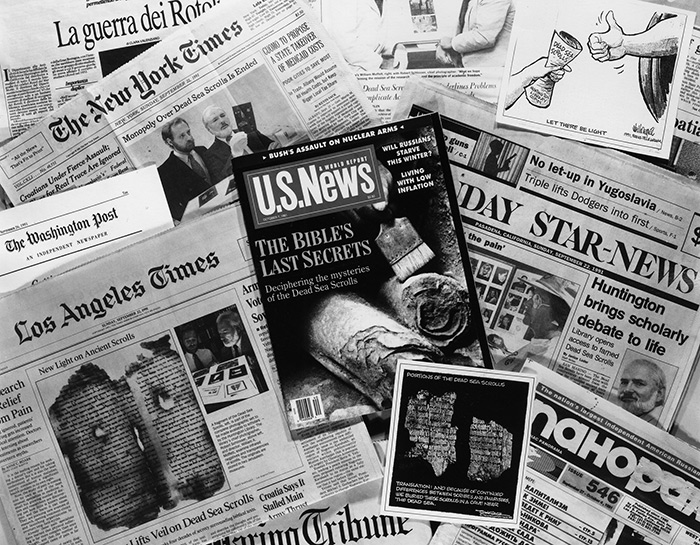 As head of communications, Peggy Bernal played a key role in coordinating the 1991 announcement by then Library director William Moffett of the institution's decision to release microfilm of the Dead Sea Scrolls—news that generated international headlines.
In 1985, Peggy was promoted to director of development at a time when strengthening the institution's finances was becoming an urgent priority. The staff was growing, and fundraising activities were heating up—quite literally. A fire in the Huntington Art Gallery in the pre-dawn hours of October 17, 1985, closed the gallery for an entire year, and a "Fire Fund" was quickly established to raise money for the costly clean-up and painstaking conservation of soot-covered art objects. Two months later, Peggy and her team helped launch The Huntington's first-ever endowment campaign. Chaired by trustees R. Stanton Avery and Robert F. Erburu, the campaign raised $13.5 million in just 12 months.
As fundraising efforts increased, so did the need for media relations and public outreach, so in 1986, Peggy added the management of the communications office to her job description. It was in this capacity that she made her most historic contribution to The Huntington: coordinating the announcement in 1991 of the institution's decision to release microfilm of the Dead Sea Scrolls. When William A. Moffett, then director of the Library, declared that The Huntington would make photographs of those ancient texts available for the first time to researchers around the world—ending a monopoly by a small group of Biblical scholars—the news made international headlines. The story ran on the front pages of the Sunday editions of both The New York Times and Los Angeles Times, among other papers, and was widely hailed as a victory for scholarly access.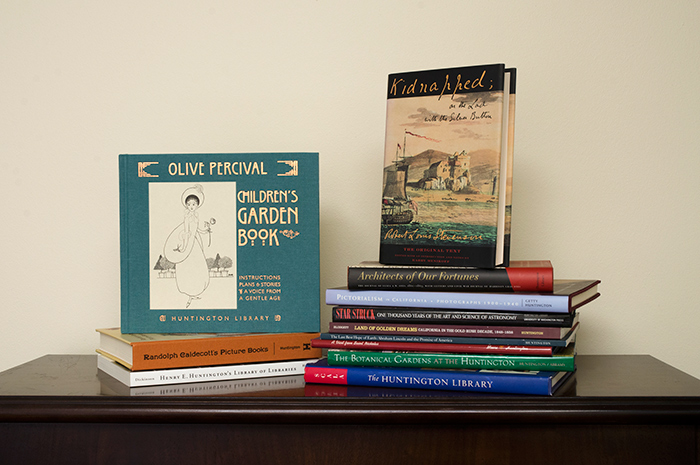 Books published by the Huntington Library Press under Peggy Bernal's direction included a wide range of scholarly and collections-related titles. Among her personal favorites were an edition of
Kidnapped
by Robert Louis Stevenson, based on the original manuscript at The Huntington, and
The Children's Garden Book
by Olive Percival, from Percival's unpublished manuscript.
Having helped make history with the Dead Sea Scrolls, Peggy's passion for the historical side of The Huntington soon lured her down the hall to the Huntington Library Press, which she directed from 1992 until her retirement in 2007. One of Southern California's oldest book publishers—it was established in 1920—the Press publishes a quarterly journal for scholars and a mixture of scholarly books, conference papers, exhibition catalogs, facsimiles from the collections, and visitor publications. Working with curators and scholars, Peggy was in her element.
Collections-related books that she helped usher into print included an exquisite facsimile edition of the Ellesmere manuscript of The Canterbury Tales; an edition of Kidnapped based on Robert Louis Stevenson's original manuscript; Olive Percival's The Children's Garden Book, from an unpublished manuscript in the collections; and many others. She also focused some much-needed attention on marketing and sales. Local bibliophiles could count on seeing Peggy every year at the Los Angeles Times Festival of Books, where she would greet people at the Huntington booth with a radiant smile, some hilarious stories, and an irresistible pitch.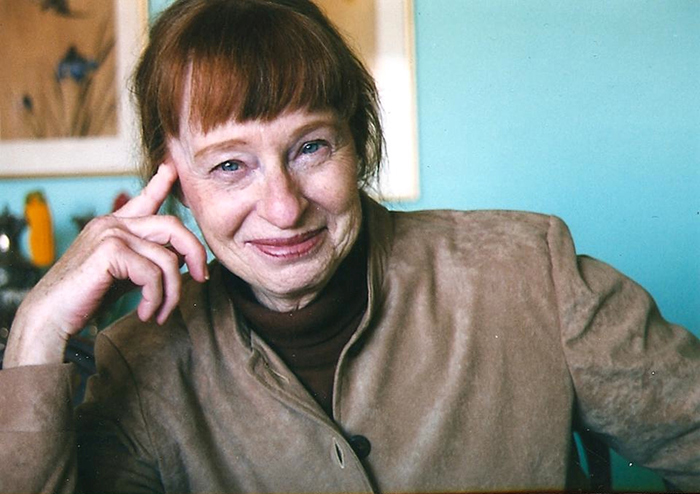 After retiring in 2007, Peggy became an active volunteer and a Huntington reader, pursuing projects in two areas close to her heart: women's history and the history of Los Angeles.
To say that Peggy "retired" in 2007 is hardly accurate. She merely shifted gears and transferred her energies to new projects as a volunteer and a reader. In the botanical library, she helped create a finding aid for the extensive papers of Bargyla Rateaver, a pioneering educator in organic gardening. In the manuscripts department, she organized the archive of historian Edwin Carpenter (who may be best known to Verso readers as the man whose collection included slices of his parents' wedding cake).  She also compiled a bibliography of the Huntington Library Press, organized book sales, and wrote about Huntington history for the volunteer newsletter.
As a card-carrying reader, Peggy also spent time in the Library working on her own research projects in the fields closest to her heart: women's history and the history of Los Angeles. She even took the plunge into social media, starting a Tumblr page, Peg O'Los Angeles, devoted to books about the city, and co-founding (with her daughter, Victoria Bernal) the L.A. History project, which garnered a large Twitter following. And, as always, she made time to play lots of Bridge, a tradition started at The Huntington in the 1930s.
Looking back on all that Peggy accomplished during her too-short time among us, we're left with an enormous sense of gratitude. She touched so many members of The Huntington's community (including this writer, whose own "true calling" Peggy helped nurture), and unstintingly shared with us her gifts of intelligence, energy, warmth, humor, friendship, generosity, experience, and dedication. Thank you, Peggy, for everything!
A memorial fund has been established in honor of Peggy Park Bernal. Donations can be made online; include the words "Library Fund/Peggy Bernal" in the comments field at checkout.
Lisa Blackburn is communications coordinator for the office of communications and marketing at The Huntington.