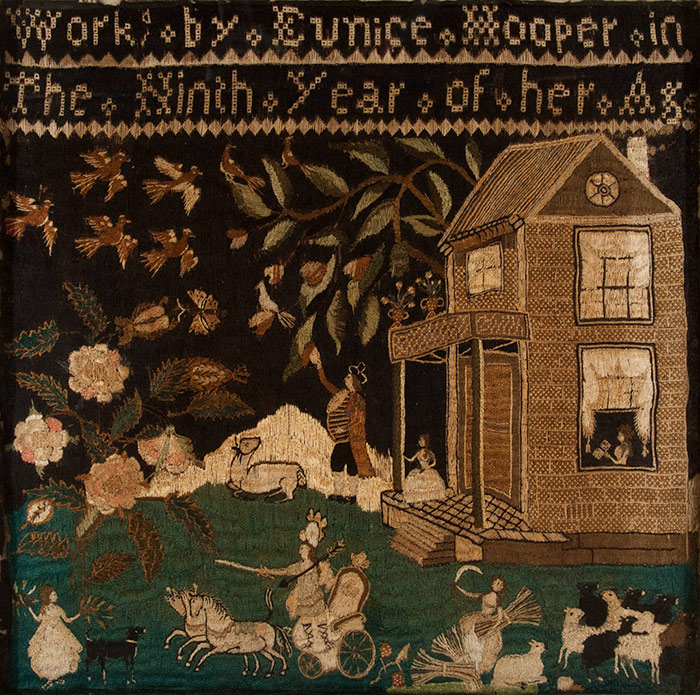 Eunice Hooper's 
Sampler
, ca. 1790. Silk on linen, 21 x 21 ¼ in. Collection of Jonathan and Karin Fielding.
You might skip right past it. In a room of the Jonathan and Karin Fielding Wing dominated by kaleidoscopic starbursts and spirals on huge early American quilts, The Huntington's new Virginia Steele Scott Chief Curator of American Art, Chad Alligood, stops in front of a small, dark piece of needlework. In other rooms of the Virginia Steele Scott Galleries are major works by standard-bearers of the American art canon—from John Singleton Copley (1738–1815) to Andy Warhol (1928–1987)—yet Alligood effervesces over little Eunice Hooper's own masterwork, or homework assignment, as it were—it's her sampler made in 1790, when she was nine years old.
Alligood says this sampler is more than the typical lesson in Bible verses or the alphabet. "Look at the thickness, the density of the stiches in the foliage. Look how she's repeating patterns here and there. This is evidence of an art being passed from a master to a very talented young pupil," he says. "Here she depicts a modest home with an everyday woman in the window, then Athena in a horse-drawn chariot! Frolicking lambs. She's imagining this bounteous, strange world outside her doorstep."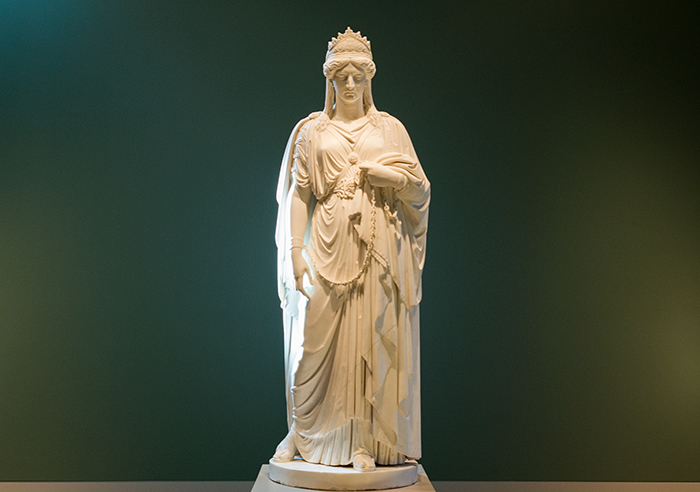 Zenobia in Chains
, 1859, a monumental sculpture by Harriet Goodhue Hosmer (1830–1908). Photo by Kate Lain.
The fact that he took me to the sampler on a recent tour of the Scott galleries shouldn't have been surprising. He says he's always been invested in "offering a window onto stories not adequately told," like those of women artists and artists of color who have often been overlooked by museums. He stopped in front of Zenobia in Chains, a monumental sculpture by Harriet Goodhue Hosmer (1830–1908). The towering marble, created in 1859 by an artist whose abilities were suspect because of her gender, depicts the grace and dignity of a third-century queen of Palmyra (near present-day Syria) as a prisoner of the Roman Empire. "I'm drawn to this work because it uses the ancient Greek and Roman artistic ideals that informed much of 19th-century American art to address issues that are pertinent today."
Alligood also lingered in front of the powerful 1944 painting Soldier by Charles White (1918–1979), who drew from experience for the subject. When drafted for military service, White assumed he would be contributing to the fight against the Nazi regime in Europe, but instead found his African-American troop had been demeaned with an assignment to dig Mississippi River mud on the home front. "This is a rare, momentous work to have in the collection—by an artist who is finally getting his due." He points to White's virtuosic use of tempera paint, with multiple layers of tiny strokes, and to the soldier's hands that look as though they are sculpted of stone.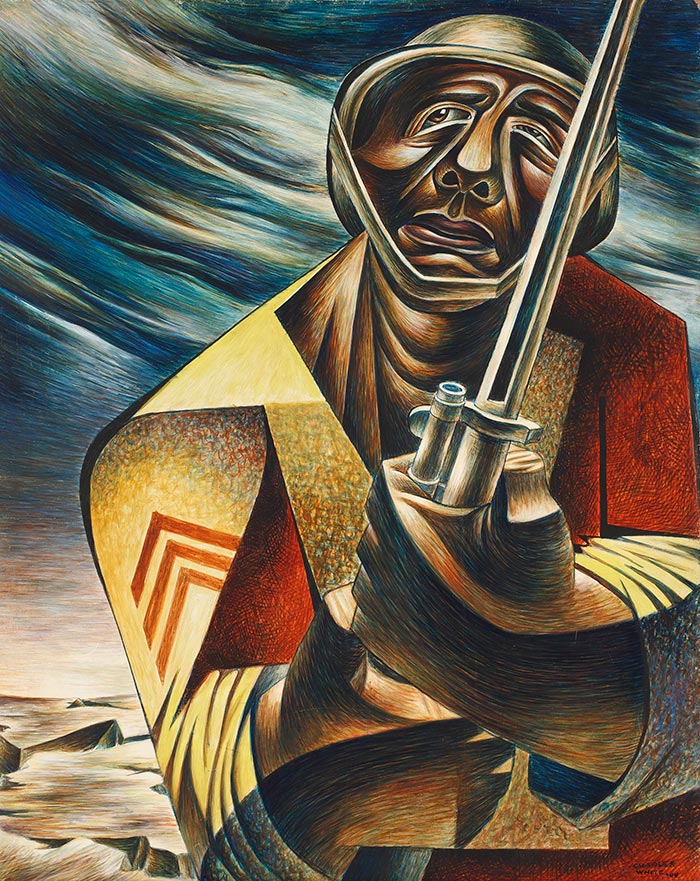 Charles White (1918–1979), 
Soldier
, 1944, tempera on masonite, 30 x 25 in. The Huntington Library, Art Collections, and Botanical Gardens. © 1944 The Charles White Archives.
Why such interest in marginalized subjects? Maybe it's because Alligood didn't go to art museums as a child. He still remembers his first visit to a museum in his first year of college and recalls that, when you're not used to them, "museums have a kind-of omniscient, disembodied museum voice" that wasn't speaking to him.
Of The Huntington, Alligood says, "This wondrous place draws some 800,000 visitors a year. We can make quite an impact with such a high-quality collection—which is really without peer in the Western half of the country. People might quibble with that, but when you go from gallery to gallery and see how it's presented, there's great possibility." How do we entice visitors to spend a little more time indoors and connect with the American art galleries? The new chief curator says, "We have to relate it to who they are. I always curate for my 10-year-old self."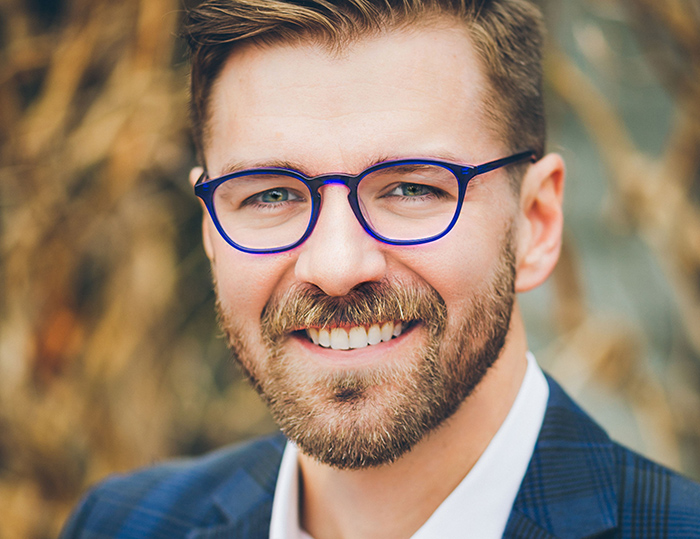 Chad Alligood, the new Virginia Steele Scott Chief Curator of American Art at The Huntington. Photo by Stephen Ironside. © Ironside Photography.
You can read more about Eunice Hooper's sampler online in the Fall/Winter 2016 issue of Huntington Frontiers.
You can read more about Charles White's works online in the Spring/Summer 2015 issue of Huntington Frontiers.
Thea M. Page is the director of marketing communications at The Huntington.