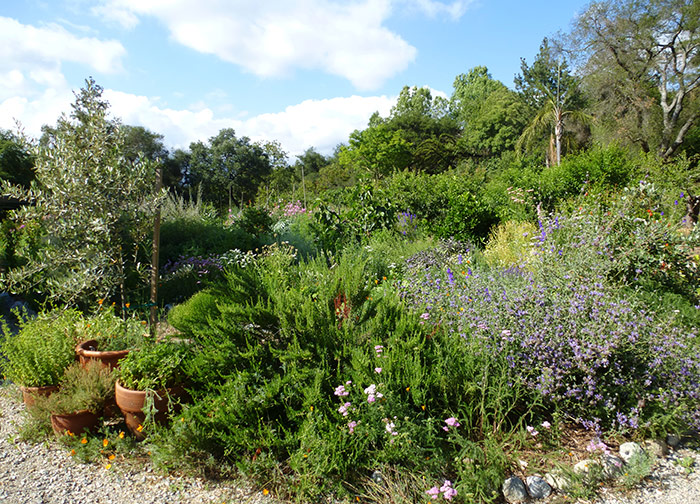 The Ranch site, once a gravel parking lot, has been transformed into a thriving ecosystem. The secret? Mulch! Photo by Kyra Saegusa.
As a research horticulturist and coordinator of the Huntington Ranch Garden, I spend my days on this half-acre experimental site working to create a balance between a productive garden, a livable space, and a wildish ecosystem. Part of the work I do is researching varieties of vegetables, herbs, and fruit trees that thrive with little care and less water in the hot and arid climate of Southern California.
The key to growing edibles in a time of drought is healthy soil. In the same way that our bodies depend on millions of microscopic organisms to stay functional and in balance, healthy soil is host to a microscopic world that gives it—and the plants that grow in it—the necessary building blocks for a healthy ecosystem. The organisms in the soil create and maintain the pathways through which water and nutrients travel. Without happy soil life, you don't have soil—you just have dirt.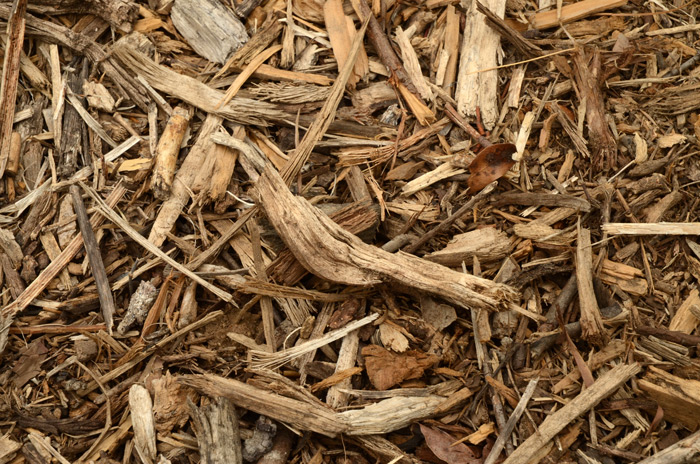 An ideal mulch is a mixture of woods in different sizes and textures that will break down at an uneven rate. Photo by Lisa Blackburn.
There really is only one basic rule for building healthy soil biology in your garden: keep your soil covered. MULCH! And when I say mulch, I don't mean thin layers of pretty, unnaturally colored redwood bark or other decorative options, such as lava rocks, that you get at the local garden store. I'm talking about four to six inches of the good stuff. An ideal mulch is a mixture of woods in different sizes and textures that will break down at an uneven rate, not only providing long coverage, but also creating habitat and food for the decomposers in your soil: worms, fungi, and bacteria, among others. Diverse, clean mulch can be purchased and delivered in bulk from local soil yards. Avoid using mulch made of strongly scented woods—such as cedar, redwood, pine, and eucalyptus—until their scents have faded, indicating that their volatile oils have broken down. The oils contained in these woods can inhibit soil life.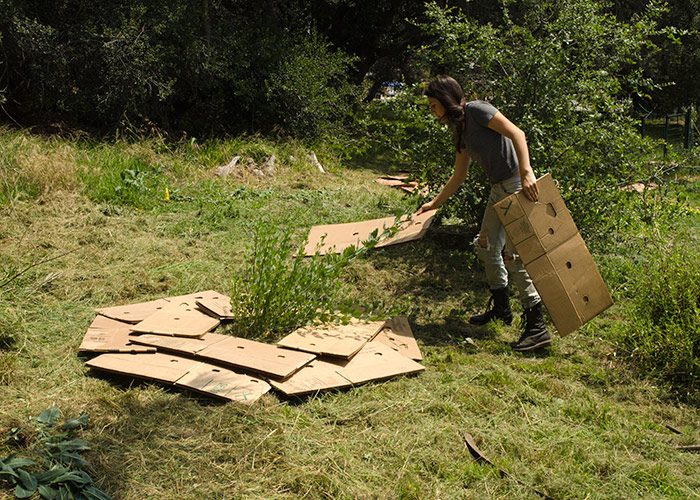 Ranch apprentice Ellen Herra arranges sheets of overlapping cardboard as the first step in sheet mulching. Photo by Lisa Blackburn.
Seven years ago, the Ranch site was nothing but a gravel parking lot for construction crews building the Chinese Garden. Since then, we've transformed the place into a glorious and flourishing ecosystem. What's our secret? Seven years of sheet mulching. There are a few variations to this technique, but the one we use at the Ranch is amazingly simple and is the quickest shortcut to producing good soil. Here are the steps:
Make sure your soil is moist. (You don't even have to weed, unless you have Bermuda grass.)
Place thoroughly wet cardboard over your soil, having first removed all non-biodegradable tape. (Use only matte cardboard, not the shiny type.) Double layers of cardboard are best, with as much overlap as possible to ensure that all the soil is adequately covered. It is very important that the cardboard be thoroughly wet to ensure moisture in this layer.
Spread four to six inches of damp mulch on top and water it deeply.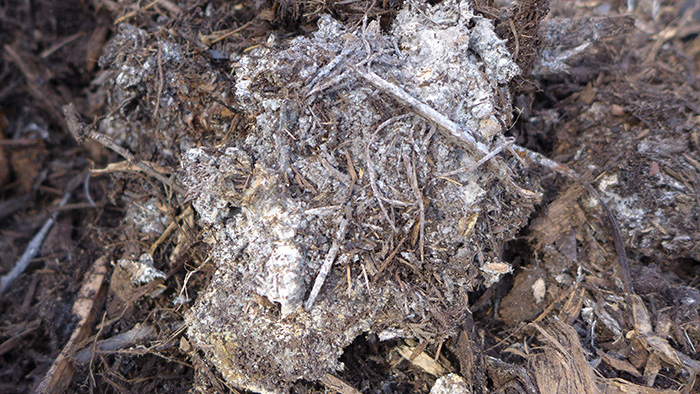 Beneficial fungi spread through the mulch layers, slowly breaking them down. Photo by Kyra Saegusa.
Soil life loves to inhabit and eat the cardboard. Beneficial fungi use the corrugation as housing, forming webs throughout the small tunnels as the cardboard decomposes. Good bacteria go wild over the glues in the cardboard, and worms and macroarthropods—such as roly-polys, earwigs, and centipedes—hunt prey as they break down the material. In six months or so, depending on the weather and moisture level, the cardboard will have disintegrated, and a layer of rich compost, teeming with soil life, will have replaced it.
Even if you aren't interested in growing your own food, healthy soil is the number one way to conserve water in your Southern California garden. Happy and healthy biology in your soil helps retain moisture and cut down on the need to water.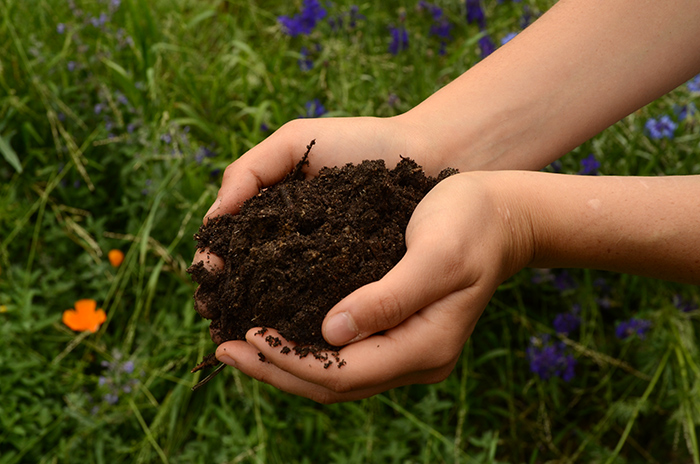 In roughly six months, sheet mulching produces rich compost, teeming with soil life. Photo by Lisa Blackburn.
If you're interested in learning more about creating healthy soil, you can attend a workshop, "Paving the Way for an Organic Planet: Growing with Healthy Soil Biology," cohosted by The Huntington and the Rodale Institute, a world-renowned leader in organic gardening. The workshop runs June 6-7 and is open to the public with advance registration.
Visitors to The Huntington who would like to explore the Ranch Garden can self-tour the site (follow the signs from the Brody Botanical Center) and talk to staff during a monthly Open House on the fourth Saturday of every month. (Confirm dates and times on The Huntington's online calendar.) A visit to the Ranch is a great way to pick up ideas and inspiration. Advanced gardeners can learn even more by signing up for workshops in our Ecosystem-Based Gardening Series.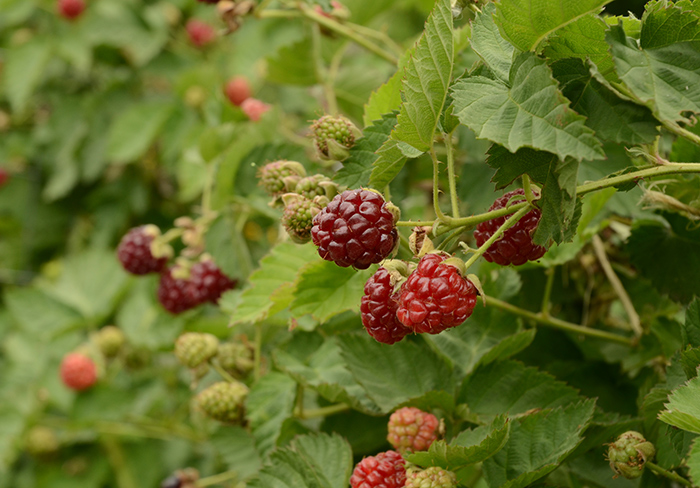 Boysenberries thrive in the Ranch Garden's rich soil. Photo by Lisa Blackburn.
Additional resources:
Learn how to make your soil richer with microbes from the Soil Doctor, Doug Weatherbee.
You can purchase quality mulch in bulk from Soil and Sod Depot: 818-686-6445.
Related content on Verso:
Harvest Time on the Ranch (Nov. 5, 2014)
Kyra Saegusa is Ranch coordinator and research horticulturalist at The Huntington.