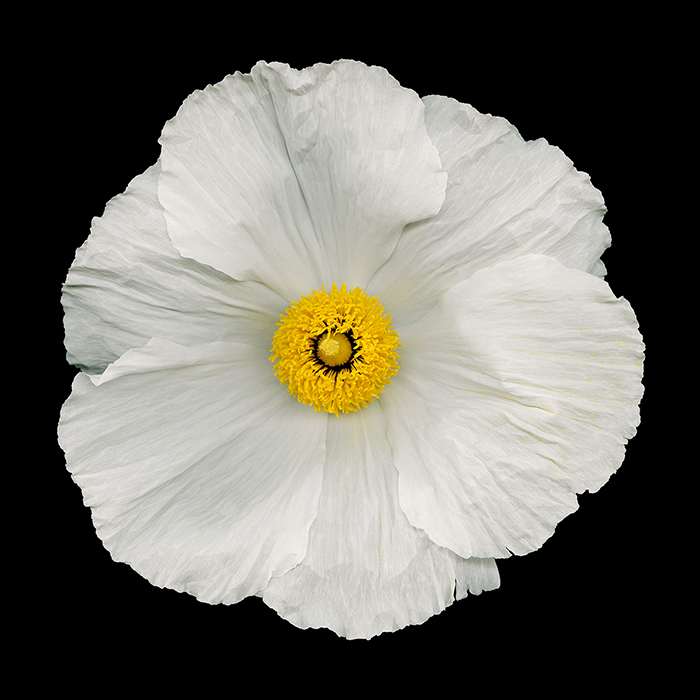 Matilija poppy (
Romney coulter
). Photo by David Leaser.
While traveling in the Amazon region of Ecuador, award-winning photographer David Leaser had an epiphany. What if he could use a computer to help him capture images of the tiniest flowers on the rainforest floor and blow them up to dazzling effect in large format prints? Leaser will be showing the stunning results, along with newer works he's produced of California's wildflowers and other native plants, at a talk he'll give at The Huntington on April 14. Titled "Exploring the Beauty of California's Native Flora," the discussion will also include insights into the technology he used to produce these highly detailed images. Here are excerpts from a conversation with Leaser about what inspires him, his techniques, and his hope that his images of flowers will prompt a renewed appreciation of nature.
Q: Tell me about your connection to The Huntington and the importance of the painting Chimborazo, 1864, by the American artist Frederic Edwin Church (1826–1900).
A: I've always been an admirer of Church. I remember spending a few hours at The Huntington wandering through the 2006 exhibition "Treasures from Olana: Landscapes by Frederic Edwin Church" and being mesmerized by his photorealistic imagery. The techniques in Chimborazo and in Church's The Heart of the Andes, 1859, (at New York's Metropolitan Museum of Art) inspired the landscape work I created early on.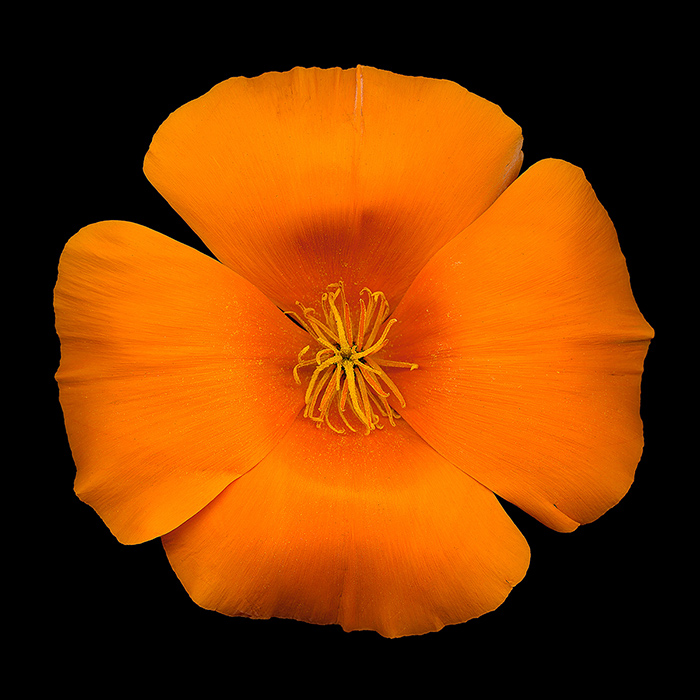 California poppy (
Eschscholzia californica
). Photo by David Leaser.
Q: Is it true you decided to visit Ecuador as a result of seeing the Church show? How much did that trip influence your photography career?
A: As a result of seeing "Treasures from Olana," I became enthralled with the story of Church's explorations through South America. I decided to try to recreate Church's work in photographs, so I booked a flight to Ecuador to explore the places Church had visited a century ago. While in the Amazon, I started to focus on the tiny flowers on the rainforest floor. I had a moment like the elephant in Dr. Seuss' Horton Hears a Who, when he discovers an entire planet in a speck of dust. I could see complete ecosystems in these flowers—tiny insects and lizards that blend in and are hardly noticed. A few days later, I was sitting in a café in the capital city of Quito, when I had an epiphany. I thought, lots of people are photographing beautiful landscapes, but what about the tiniest of flowers that are overlooked and even stepped on? Maybe I should try to elevate them so they can be enjoyed and appreciated.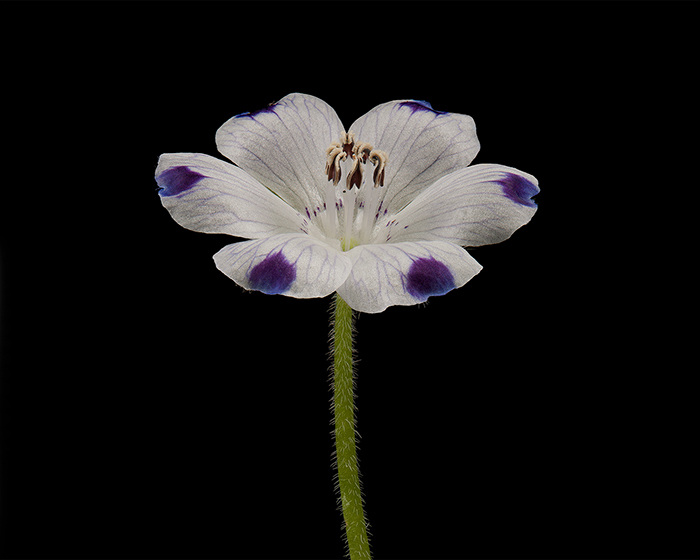 Five spot (
Nemophila maculate
). Photo by David Leaser.
Q: You use a method for manipulating photographs called a focus-stacking technique. Can you explain what this is?
A: It would have been impossible to create this type of work even 10 years ago, because traditional macro photography has a very shallow depth of field. Focus stacking allows you to produce images with more detail than you would think possible. Focus stacking is like an MRI, where you robotically move the camera or the lens closer and closer to the subject, taking dozens of photographs along the way. The images are then stacked together, revealing just the areas which are in focus on each layer of the stack.
Q: Can you describe the process?
A: I use specialized software to control the camera. I tether my camera to a computer with a cable, and the software takes the photographs. Depending on the subject, I may set the software to take 100 photographs, each one moving deeper and deeper into the flower. After I have the raw images, I use different software to layer the images together. If the flower moves even slightly, the images do not align, and I have to start over. That's what's challenging. Flowers naturally move toward the light—so I take my photographs in a dark studio. After the images are stacked together, I create a composite and then spend many hours going through the image, pixel by pixel, to make sure the composite is perfect. I don't need to embellish the images because, when shot so closely, the flowers reveal incredibly vivid details.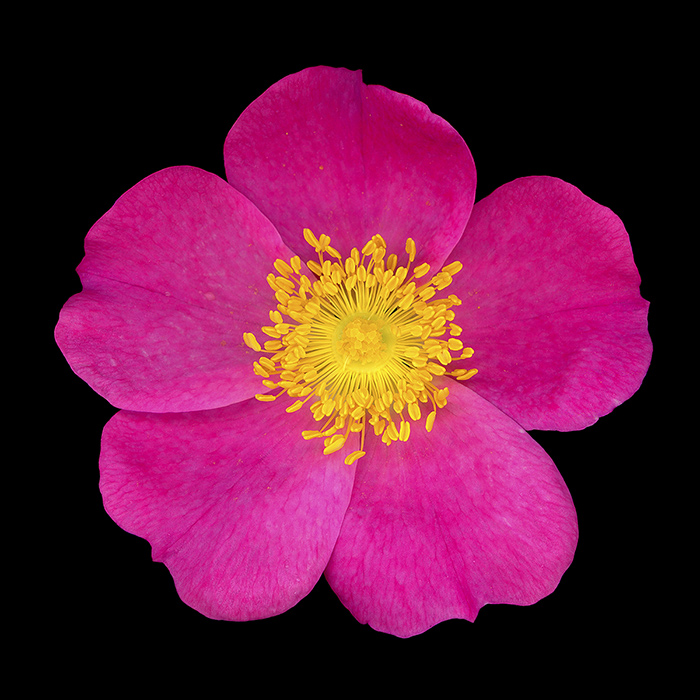 California wild rose (
Rosa californica
). Photo by David Leaser.

Q: What's unique about the result?
A: You get a bee's-eye view of nature that you cannot achieve with traditional photography. With this technique, photographers can rival the work of painters, who can craft a perfectly focused image. Many of my subjects are the size of your thumbnail. When I enlarge them to four feet across, you are enveloped in nature in a way you couldn't have been even a few years ago.
Q: Do your techniques have relevance for the amateur photographer? If so, which ones?
A: Most of the technology I use is surprisingly very affordable. The software is no more expensive than a nice dinner out. The learning curve was steep for me and took years—nobody had done this with botanical subjects. I'm looking forward to sharing my tricks and techniques at the talk. Hopefully, they will speed up the time it takes for others to get good results. The real art happens when you develop your own personal style and vision. But you need to have a bit of patience. I have been frustrated many times by flowers that will simply not sit still for their close-ups.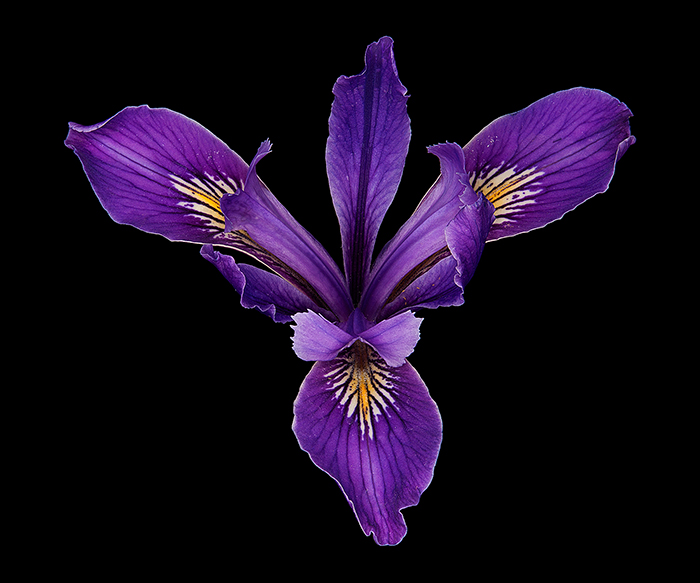 California's native iris (
Iris douglasiuna
). Photo by David Leaser
.
Q: Do you think your photographs serve any other purpose beyond being beautiful?
A: I do. I have always been interested in nature, but the work changed me. Now I see common freeway daisies as works of art, and I stop and look more closely at the tiniest things. I'm trying to elevate these botanical subjects to pop-star status. I hope viewers will gain a heightened appreciation for nature in a similar way.
"Exploring the Beauty of California's Native Flora" takes place on Thurs., April 14, at 2:30 p.m in the Ahmanson Room of the Brody Botanical Center. It's free with admission. Reception to follow.
Diana W. Thompson is senior writer for the office of communications and marketing at The Huntington.