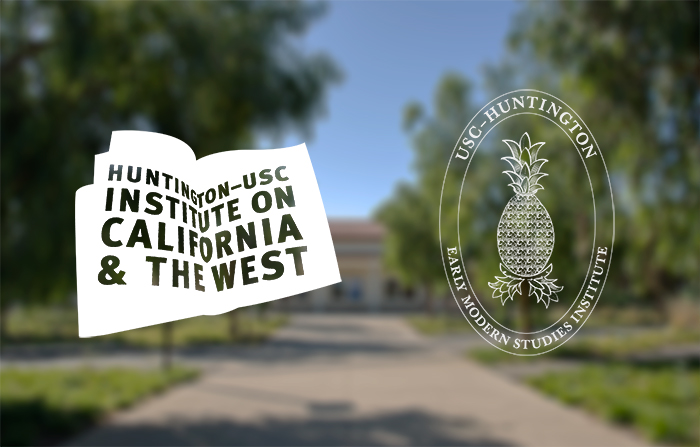 USC and The Huntington have re-affirmed, in an affiliation agreement, their commitment to their two jointly run advanced research enterprises.
Seeking to further encourage and support research and teaching in the humanities, USC and The Huntington have re-affirmed, in an affiliation agreement, their commitment to the Early Modern Studies Institute (EMSI) and the Institute on California and the West (ICW), their two jointly run advanced research enterprises.
Laura Skandera Trombley, president of The Huntington, describes the continued alliance with the university as underscoring a deep mutual commitment to promoting innovative scholarly research that allows us to better understand our past, present, and future.
Established in 2003, EMSI focuses on advancing knowledge of human societies—across the globe—as they developed between 1450 and 1850. Peter Cooper Mancall, Andrew W. Mellon Professor of the Humanities and vice dean for the humanities and social sciences in USC Dornsife, and Linda and Harlan Martens Director of the EMSI, has led the institute since its inception.
Similarly, William Deverell, professor of history at USC Dornsife, has directed ICW since its founding, one year later, in 2004. The institute supports research, teaching and public outreach programs focused on the history and culture of the American West.
Below, these three leaders—Trombley, Mancall, and Deverell—discuss the excitement around and goals of their renewed partnership.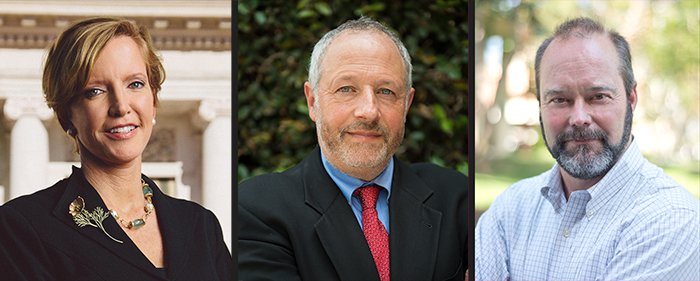 Left: Laura Skandera Trombley, president of The Huntingon. Photo by Meeno. Middle: Peter Mancall, Andrew W. Mellon Professor of Humanities and vice dean for the humanities and sciences at USC Dornsife, and Linda and Harlan Martens Director of the of EMSI. Photo by Peter Zhaoyu Zhou. Right: William Deverell, professor of history at USC Dornsife and director of ICW. Photo by Peter Zhaoyu Zhou.
Laura Skandera Trombley: This collaboration represents a most extraordinary pairing: USC has the faculty and the students, and The Huntington has the collections and the curators. It's been a magical combination that over the years has led to a tremendous range of scholarly output.
USC doctoral candidates have completed their dissertations, and USC faculty have published books, articles and essays, all of them based on rare books and manuscripts held here at the Huntington. Careers have been established and enhanced by way of the two institutes, and together we have produced and disseminated humanities research to ever wider and more engaged audiences.
William Deverell: For ICW, I'd point to the success of the Aerospace History Project. Working closely with The Huntington, and especially with senior manuscripts curator Dan Lewis and our project director Peter Westwick, we launched a multi-year effort to collect and study the documentary legacies of the aerospace industry in Cold War Southern California.
The project yielded a major conference and book; led to the launching of two careers out of funded postdoctoral appointments; garnered a major National Science Foundation grant; brought in magnificent collections to The Huntington; generated dozens of oral histories from aerospace workers and executives; and established a center of gravity for continued research on this most critical theme of our region's recent past. It has been a great project, and we would like to re-energize it with what we call Aerospace 2.0.
Peter Cooper Mancall: While ICW has played a major role in collections development at The Huntington, EMSI has focused more explicitly not only supporting the Huntington-based research of Ph.D. students and postdoctoral fellows but also on fostering partnerships with the Omohundro Institute for Early American History and Culture and with the University of Pennsylvania Press.
Every post-doc EMSI has had has gone onto a tenure-track or tenured position, itself a sign of the great use they have made of their time in Los Angeles, notably in their extended access to the resources at The Huntington. And our graduate students have benefited just as much. One is now a postdoctoral fellow at Caltech, and Yale University Press will publish the revised dissertation of another. In both cases, materials at The Huntington relating to the early modern world have played a direct role in their success.
LST: Exactly, together, we have helped a whole cadre of humanities scholars launch and hone their careers. What started as something of an experiment more than a decade ago has evolved into much more. So we all recognized that it makes sense at this juncture to formalize an agreement and make a renewed commitment to it.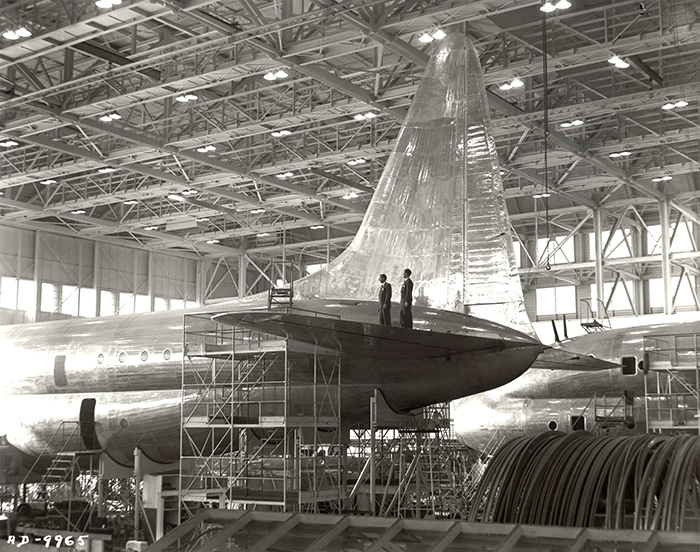 The tail section of the Constitution, an aircraft under construction at Lockheed Aircraft Co., Burbank, 1946. Harvey Christen collection. The Huntington Library, Art Collections, and Botanical Gardens.
PCM: And, Laura, you have deep experience in both camps — aside from serving as the Huntington president, you're also a USC Dornsife alumna as well as a Huntington reader. Given your perspective, how do you believe our partnership enriches both institutions?
LST: I can say from my own experience that coming to The Huntington as a young Ph.D. candidate proved critically important to my research and, ultimately, to my career.
When you take the world-class scholars of a place like USC and provide them with access to the vast primary sources that exist at The Huntington, you end up creating an intellectual phenomenon that is more powerful than the sum of its parts. We benefit from having the brightest minds here, essentially in residence, interacting with our curators, our staff, our community more broadly. It really is a virtuous circle.
WD: As director of ICW, I would add that, along with EMSI, we have been extremely productive institutes. As we know, not all academic collaborations are successful or sustainable. What has made these two institutes so successful over the last decade-plus is the spirit of collaboration and mutual institutional curiosity that has developed around the themes that we have investigated.
LST: I couldn't agree more. Successful collaborations depend heavily on the people engaged in them, and from The Huntington's perspective, you'll not find a more committed pair than you two.
You've devoted countless hours and astonishing energy toward assembling a spectacular array of institute-sponsored lectures, workshops, conferences and related projects over the years. You love what you do. And as a bonus, you love The Huntington and have a deep, deep regard for the collections and the people who steward them. You are completely aligned with this institution and us with you. And so that's what it takes — an ongoing commitment to the same goals and values, and the belief that what we're doing, together, makes a difference.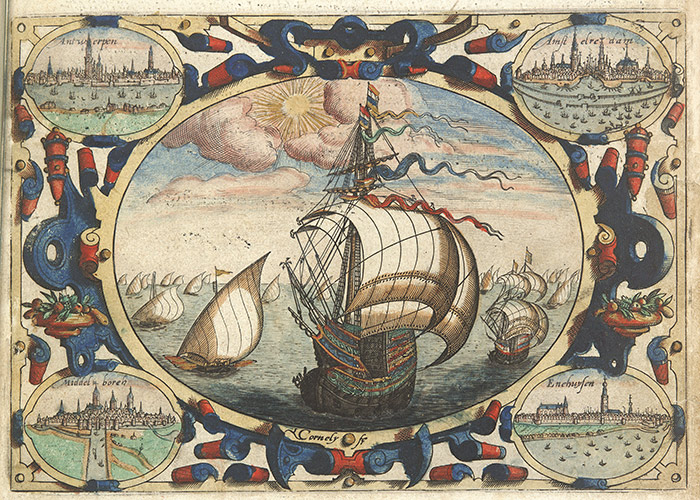 Detail from the title page of
Itinerario, voyage ofte schipvaert
, 1596, Jan Huygen van Linschoten. The Huntington Library, Art Collections, and Botanical Gardens.
PCM: This has been an ideal partnership, a marriage between a world-class archive that is strong in many aspects of the early modern era and a vibrant community of faculty and Ph.D. students at USC whose work concentrates on this period. In an age when much of our past is being digitized, The Huntington is that ever-rarer place where scholars can have direct access to the material substance of the past.
Seeing a 17th-century text on the screen is fine, to a point, but it will never replace the experience of holding a book or manuscript in your hands, knowing that you as a scholar are in direct contact with the materials that were part of the birth of the modern world as we know it. The Huntington, for example, has phenomenal materials relating to the history of navigation and exploration, which was ideal for a conference we held this past year on the resurgent field of maritime history. As it turned out, many of the scholars who presented their work there had done archival work at The Huntington.
LST: I believe this is precisely the kind of thing Henry Huntington would have applauded: using his collections in a very specific way to promote research and education. With a formal arrangement, we put in place a stability and strategy that's forward-looking.
We love the idea that this formal partnership is being re-affirmed just ahead of The Huntington's centennial, which happens in 2019. But, specifically, if I could choose one area I'd like to further develop in the short term, I think we can do more to broaden the audience we reach with institute activities through audio and video; I'd like to see those avenues explored more expressly.
WD: As would we. One aim of the institutes from the get-go has been that we can and should serve multiple audiences: scholars who come to The Huntington to further their research; members of the loyal and ever-curious public who know and love The Huntington; the K–12 educational community of students and teachers. But that's only a fraction of those we think we can, and are obligated to, reach.
So moving into digital distribution of text, words and images only makes sense — over the years we've built the foundation of what we do. It's time now to think bigger and bolder about our work. We should reach beyond traditional venues, and, as we do, we will find that new dialogues with new publics will only invigorate our questions and our findings.
This post is co-published with USC Dornsife.
Save
Save